The Mirror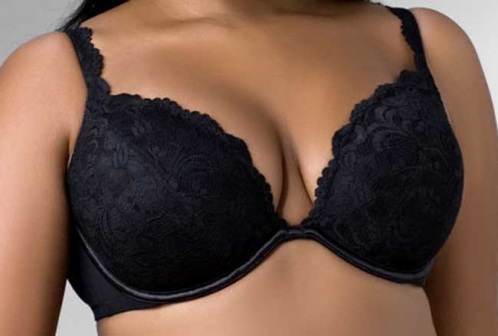 A staggering 82% of women are still wearing the wrong size because of not taking width and length into account
Have you ever wondered why you can't seem to find the right bra? Despite having step-by-step guides and excellent bra-fitting services, surely this is one thing we should all be getting right?
So what on earth is going on? Not knowing what shape your boobs are may be the issue.
It's not just your back measurement or cup size that helps determine what bra you should be wearing, but also your bust shape, ie the width and length of your boobs and where they sit on your chest.
Round
A thin bra without underwire so you don't need to change the position of your breasts.
East West
A T-shirt bra will help to create a smooth silhouette and pull the breasts in, giving a streamlined shape.
Side set or Slender
A plunge bra helps lift them and you might want extra padding to give you a bigger silhouette.
Asymmetric
A bra with removable padding is ideal for this particular shape, allowing you to add extra on the smaller side or remove some from the larger breast.
Bell Shape
You should avoid skimpy balconette-style bras and choose ­something with plenty of material that offers good coverage. And because women with bell-shaped breasts tend to have fuller busts, this type of bra will also offer more support and lift the boobs.
Teardrop
Most styles would suit from strapless to push-up bras.
The one simple fact that all bra experts do agree on, however, is that regular bra fittings are essential for all women.
So how do you know if you're wearing the right bra size? The big questions to ask yourself are: Does your underwire sit flat on your body? Does your bra move around during the day? Do your bra straps leave a mark? Does your bra sit around the middle of your back? Does your cup runneth over? If you've answered yes to one of these, then you need to invest in a new bra.
Six key ways to check for the perfect bra fit:
Underband – this should be parallel to the floor and secure enough so that only two of your fingers can fit under the elastic.
Centre front – should sit completely flat against the sternum.
Side wire – this must lay flat against the ribcage and should never dig into breast tissue.
Cup capacity – breasts should sit fully in the bra cups without any extra spillage.
Straps – these should be adjusted to fit two fingers on top of each other, which will give the right pressure for your shoulder.
Know your body type – finding which bra shape suits you is just as important as getting the size correct.