Tony Mochama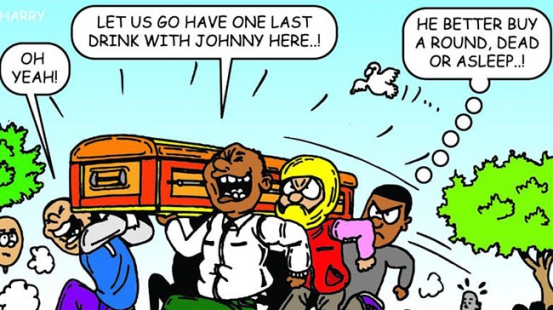 Recently, Beryl Itindi wrote about how she is 'not afraid of death' and how peaceful everything is on the other side. I am now worried if she will be in the Eve delegation destined to come to my place for a do in a month's time.
ALSO READ: Meghan Markle 'worryingly silent' and 'struggling to cope with new LA life'
Someone will have to keep an eye on this Wanga since I live six floors up and don't want 'jumpers' – unless of course it is cold, then they are warmly welcome.
Seriously, this is what happens when you live seven storeys up in a building 'constructed' on a riparian area (I like that word, 'riparian,'; like an alumni society of the dear departed).
Which brings me to the rather grave matter that we will address today, mademoiselle.
We all have been in situations where we have to condole with those who have recently lost a loved one. But what about when the surrounding circumstances are horrible?
Last Sunday at Capital Centre, I was with my little lass Chelsea getting her late evening pizza (a once-in-a-week treat) when an old friend we call Bensouda bumped into us, looking rather wan. I asked her if she was recovering from a long drinking weekend because she was drinking milkshake.
'You didn't hear?' Bensouda told me. 'Last weekend, my kid brother Junior stabbed my dad to death in South C.' I had gotten to know Bensouda when I was living in South C a few years ago. Turns out Junior tried to kill her too, but she fled upstairs and locked herself in a bedroom.
Her dad's funeral is this weekend, but I told her, rather unnecessarily, that I wouldn't be able to come because I'll be in Meru, which is true, but even if I wasn't, would I really go to Kisumu for it?
ALSO READ: Harry and Meghan's son Archie 'taking his first steps and loving life in LA'
That's what death does to all of us. It leaves us devastated, but never more than the bereaved. People make promises to be there for each other, forever, in the heat of death, but soon forget.
The dead fade away fast, no sooner buried are they, then they get forgotten by most except those who were nearest and dearest to them.
That is why I like that 'my guy' ad where some young man has died in a drink-drive crash. His sad buddies carry his casket out of a cathedral and onto a hearse. In the next scene, it is Friday night and they are giving hugs to his 'replacement,' as if the dude never existed.
At best, they will drink to his memory. At better than best, they will get laid by a lady ready to give them 'comfort,' other than the Southern Comfort they are drinking by the bottle.
That is why, in spite of the criticism leveled at them, I am glad the three Opposition chiefs last week stayed away from the funeral of Mama Lucy and let those near, dear and allied to her bury her.
Their friend Jacob Juma had just been assassinated on Thursday. On Tuesday, they were going to 'eat' the teargas of the State.
Imagine them sandwiching these two happenings with a funeral on the weekend, where they would have to tell the usual political lies about working together going forward into the future, 'because it is what Mama Lucy would have wanted.'
ALSO READ: Mum shares 'life-saving' oven cleaning hack which requires no scrubbing at all