Evelyne Ogutu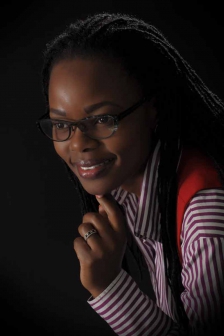 EVELYNE OGUTU spoke with fashion designer EVELYNE AKINYI ODONGO as she shared the ups and downs of the industry
ALSO READ: Women in Laikipia produce face masks, sanitary pads for girls amidst COVID-19
As the curtain closed on the 6th Global Entrepreneurship Summit (GES), one fashion designer is excited about the opportunity that the summit bestowed her - to interact with the leading lights in the world of entrepreneurship and innovation.
Evelyne Akinyi Odongo, Managing Director, MEFA Creations, is among the chosen few entrepreneurs who exhibited at the Kenya House in the United Nations compound in Gigiri where President Barack Obama addressed the over 3,000 business leaders drawn from all over the world.
Although our interview was scheduled to take place at 2:30pm at her studio off Riara Road, the lady who goes by Akinyi sent an email at 10:39pm the night before, asking that we bring forward the interview to 9:30am. The organisers of the GES, have asked her to be at KICC by 12 noon for security clearance.
As I step into her studio at 9:30am, I am welcomed by her fashion assistant Beatrice Wanjiku who informs me that Akinyi is in a brief meeting and will see me in a few minutes. In 10 minutes, she emerges and, with profuse apologies for keeping me waiting, shows me to her office. Her walk, demeanour, handshake speak volumes.
Her journey to the top has not been easy. After completing her high school at Rangala Girls, Akinyi started off at the Military barracks in Gilgil, where she underwent the military training.
"We used to wake up at 3am for the morning exercise in Gilgil and life was tough. In fact the trainers would often tell us that is the only way uraia unatolewa kwa mwili (for a civilian to become a service-woman)," explained Akinyi.
ALSO READ: Congolese designer, Anifa Mvuemba, hosts first virtual fashion show with 3D models
Akinyi, however, does not regret having gone through the training. The military training not only instilled discipline in her but also work ethic that she applies to date.
"I still wake up very early, in fact my day starts at 4am when I spare time for my morning devotions before preparing breakfast for my family. By 5:45am we are out of the house whereby I drop my children in school and I religiously head straight to the gym. I am always in the office by 8:30am," adds Akinyi.
MEFA is born
Akinyi set up MEFA Creations in 2002 while still in college. By then she was already married and a mother of two. "After my training in Gilgil, I got married and my goal was to be a fashion designer.
"I graduated from Evelyn Design College in 2003 but did not set up my shop immediately. I worked for African Inspirations owned by Molly Mungai and set up my shop in 2005 with her blessings. I learnt a lot from her and she has remained my friend l to date and exchange Ideas. I am sure she is proud of me," she says.
However, before setting up her shop, Akinyi used to work from home. "My children's bedroom was my working area. I strategically marketed my designs by wearing them. I always say the sewing machine's sound was lullaby for my young sons," she recalls.
With time, her business grew and with many customers asking for her designs, she set up a shop off Ngong road, near Prestige Centre. "It was a tiny room which I used to pay Sh12,000 a month as rent. Customers used the washrooms to fit their clothes. But this did not deter them from coming back to MEFA. Quality was our drive and not quantity," she tells Eve Woman.
Within few years her business, with steadily growing clientele, outgrew her little premies off Ngong road and she needed to relocate to accommodate the growing clientele and business needs. This triggered MEFA Creations' move to its current location at Hekima College building where she has been situated for three years.
MEFA Creations is going places and is poised for regional and international fame. Evidence of this is the fact that MEFA Creations was shortlisted by the Export Promotion Council (EPC) to produce and market its products for export.
"I have attended several exhibitions in, South Africa and now the one at Gigiri, and I will be on my way to Rwanda after this then Milan all courtesy of the EPC. All these exhibitions will be for test marketing and B2B meetings with buyers for our upcoming brand AkinyiOdongo-Kenya.
I encourage all looking into export market to go to EPC. I have never seen such enthusiastic government employees," she counsels.
Her clientele has also grown from a handful friends to where she now has brand ambassadors who wear only MEFA attire. Akinyi, 5 feet 4 inches tall and youthful, believes in professionalism and good ethics. "I have come this far because of my strong belief in professionalism and hard work. I am a champion of anti-corruption and all these, I attribute to my mother and father.
Her clients include the who's who in Kenya. Last year, Kenya's First Lady, Margaret Kenyatta, donned MEFA Creations apparel at an event organised by Sally Mahihu, a long-time client of Akinyi's. The event provided Akinyi a showcase for her work.
On that evening, Akinyi involved a number of young ladies she mentors as models for her designs. She mentors young ladies from Beacon of Hope, a civil society organisation whose mission is to bring hope to women living with and affected by HIV/AIDS within poor communities; that evening eight young ladies who she mentors during their training students were her showcase models.
"The girls were very excited. In fact to some of them, being at Windsor Hotel and sharing a room with the First Lady was a dream come true. This year I have a target to mentor and coach at least 120 youths from Ongata Rongai.
This will be done in partnership with Beacon of Hope. I want to reach out to the youth and bring out the best in them. If I can change one or two, that is my happiness," Akinyi told Eve Woman.
In 2004, Akinyi was also identified by the EPC to showcase her products during an Origin Africa Event that attracted over 10 African designers "The event is the largest cotton, textile and apparel event in the region and is profiled to raise the awareness of Africa as a place to do business, sourcing destination, changing perceptions, and to make the value chain in the continent more visible as a source of supply of cotton, textile and apparel products for the domestic, regional and international buyers," explains Akinyi.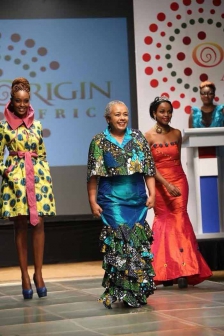 First Lady Margaret Kenyatta graced the runway with the opening walk wearing a Kenyan design by Akinyi. Akinyi has dressed many other notable personalities. In 2013, she dressed the only woman presidential contender – Hon Martha Karua, who wore an African print green jacket and silk black dress.
Martha is one of several prominent personalities who patronise MEFA Creations. In fact, according to Akinyi, Martha is her design ambassador.
Familylife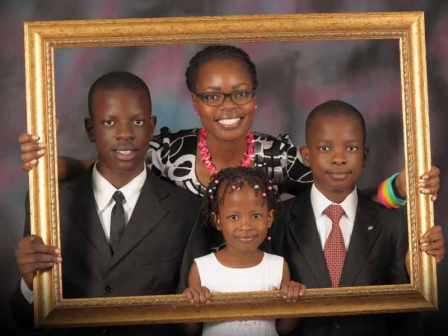 Married for 17 years, Akinyi is mother of two sons and a daughter. Her eldest is 16 years old, the second born, 14 while the youngest is 5 years old. "I involve my children in the business and at times we attend exhibitions with them when they are not in school," she adds.
The second-born in a family of six, Akinyi identifies herself as a village girl who came to Nairobi in search of opportunity. She was born and bred in Rangala village in Siaya County. Her mother was a tailor and the father a secondary school bursar.
"My mother taught me basic tailoring skills like stitching, hemming and cutting simple designs. But I did not want to be like her. I wanted to be a designer not a tailor. My husband has a lot to do with my success too," she says. So in 2001, she enrolled at Evelyn College of Design where she pursued a Diploma in Fashion Design.
With a goal of mentoring, empowering and passing the baton to the young generation, Akinyi has established the MEFA Art Centre, where children and even adults can nurture their talents in fashion and design.
The centre organises training camps for children aged between 10 and17 during school holidays. This, she says, is one way to impart basic tailoring skills – which are no longer taught in primary schools with removal of Home Science from the curriculum – to the young.
Accolades bestowed on Akinyi
In 2014 she was awarded the prestigious ELNET business leader ethics award.
"As a leader and as an organisation, we attained the ELNET mark of Ethics (80 percent perception Index of Ethical practice) as evaluated by internal and external audiences. This award is given after an independent ethical audit is done which involves interviewing employees, clients, and the directors of a company and assessing different aspects of a business.
She has also been identified by EPC as one of the key Small and Mid-sized Enterprises (SMEs) that the council promotes through exhibitions. Recently she was nominated by the Government of Kenya to attend an international exhibition which was held in South Africa. The exhibition's main objective was to promote African made textiles, garments and footwear to international and African buyers as well as to boost intra-trade between African countries.
Akinyi Odongo Kenya is born
Akinyi is now working on her own apparel line which she will be marketing internationally. She has already identified a factory that she will work with, and at the moment, she is putting up the last patches for the high-end line which will go by her name – Akinyi Odongo Kenya.
"We are set to make the first mark and precedent in Kenya in the fashion industry and I am excited about my new project which I will be launching soon," she says.
Her product was recently certified by the Kenya Bureau of Standards (KEBS). This rubber stamps her zeal to explore the international market. "I believe in standards, quality, professionalism and ethics. That is why I had to ensure my product is certified by the standardisation body," she adds.
With 10 full time employees, Akinyi is truly soaring sky-high in the fashion industry, from humble beginnings 10 years ago in a corner of her children's bedroom.