Some twelve youths from Kangundo and Matungulu sub-counties are among the few who will join thousands of others across the country in the Kenya Defence Forces ranks.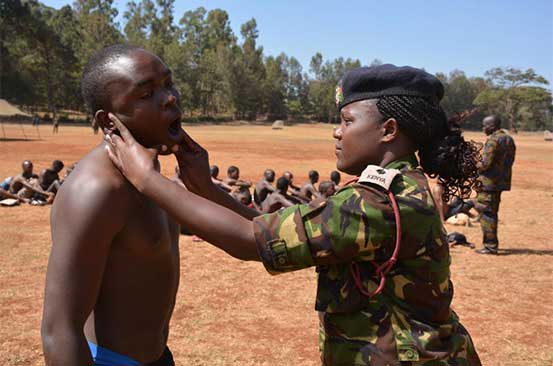 The exercise was concluded yesterday at Kisukioni Secondary School grounds in Matungulu constituency, as well as at Kangundo DEB Primary School in Kangundo constituency, where the six were picked on Wednesday.
In Kangundo sub-county, five of the successful recruits will join Kenya Army, while the sixth one is expected to join the air force. In Matungulu, four will join the Kenya Army, while the other two will be shared between the air force and navy.
Lt Colonel Eric Oloo, who was the chief recruiting officer at both station, said those picked are expected to join the Recruits Training School in Eldoret on October 18.
"We congratulate the successful recruits and wish them well in their training and military life," said Colonel Oloo. The exercise was described by residents as fair and transparent.
Related Topics