Gardy chacha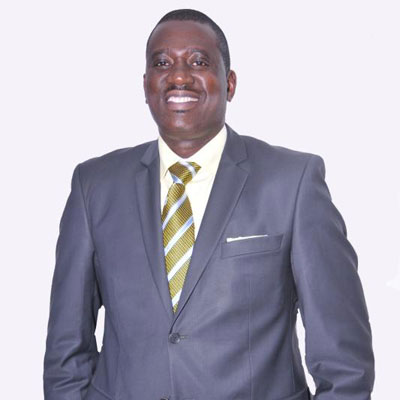 ALSO READ: Meghan Markle's comment about Kate Middleton years before joining royal family
Clean, nice haircut, tie, well dressed; are you always well put together?

Not at all. I am like a duck – I wade through and try to keep afloat. But I have developed a brand for sure. This is something I have grown through. As one develops in a particular realm, you surround yourself with right people who help you keep checks. You learn as you get older.

Resolution Health (RH) is among the best insurance brands known in Kenya. It is believed that it is your brain child...

I am the founder of RH. In 1997, I knew I wanted to go into business. At the time, I was already working for an established insurance company. Nevertheless I began working on a proposal. When I was done, I kept it safe and would improve on it every time I looked at it. In 2003, the proposal gave birth to RH.

What is the secret?

I don't think there is a secret. It is having a vision and knowing the trade. Hard work is a must. I have also tapped the right people with skills I needed. These are people I knew. Through sheer hard work, innovative minds, passion and willingness to work, we are here today.


Is RH your greatest success story?

RH has been successful; we made it where many failed. I am proud of how far we have come. However, the biggest success is owning the largest record label in East Africa. Growing up, I had a passion for music and dancing. I wanted to be a musician; a performing artiste who brought joy to people through the art of singing and dancing. But fate had it that I would go into business. Through Pine Creek Records, I have seen that dream come true, though indirectly.


You mean all these business stuff was never really your thing?

Exactly! After finishing high school, I was admitted at Egerton University to study Horticulture. I stayed for one semester and left to study Business at Punjab University in Chandigarh, India. My parents wanted me to study Business and nothing else. Deep down, however, I knew my passion was in music, so I opted to make the best out of 'business'. I believe I did: I became an entrepreneur.

Will you also decide for your children what they should study?

No (laughs). The world has changed now. This generation is different. I will let them choose their career paths. It is upon them to identify and work on their passions.


How far did you go as far as music and dancing is concerned?

I was in a band of young musicians. We performed at functions and got paid Sh100. One time, we were called by Fox Theatre to perform break dance. I was convinced from long ago that you can make a career out of music. Pine Creek Records was, in a way, a proof to my parents that it is possible to be successful doing music.

These pictures behind your desk (in his office) are they your children?

Yes. I am a father of three; two girls and a boy. If there is something I am proud, it is fatherhood. This is one thing I want to do with all that I have. My children come first. They have grown this far and am happy to see them become who they are through the years.


Your wife, their mother, must be proud of you...

Actually, my marriage to their mother ended long ago. When we divorced, part of the deal was that I keep the children. I have a partner with whom I live. She has made it easier for me to perform my work as a husband. We both care for the children and our life together is awesome.

Do you regret marrying the mother of your children?

Not at all. If I was to do it again, I would do it differently. I would have gotten married for a more practical reason. It is not a regret because from it, we got some beautiful children.


Did your marriage fail because it was not insured?

(Laughs) Love is not enough to decide that you want to marry someone. If you are marrying, you need more reasons – not just love. Relationships need to be planned and analysed. Just like when one is planning to buy something, you need to think and know the parameters of the relationship.


Do you always buy your children everything they want; they know 'daddy has money'?

Not always. Parenting is a tricky thing. I want to keep them happy but as a parent, you can't say 'yes' always. Just recently, my 12-year-old daughter asked for an iPhone 6. I told her she will wait until she is 16. And even then, I will probably get her a 'mulika mwizi' (simple phone) because I need them to learn that good things don't come cheaply – you have to work hard for them.


Do they fly first class?

They fly economy class. I need them to aspire to fly first class. They will get there when they'll be making their own money.


You are very tall; does it work to your advantage?

Height has never been an advantage. It hampers me in many ways. I stand out in a crowd – which is not a good thing. Then, think hotel beds, getting into a door, tailor-made clothes, the list is endless. I have to get things made to fit my height. Trust me, being 6.6ft is not as fun as many may think.

With such a height, were you able to play sports?

I grew up on Riara Road, next to Impala Club grounds. I am big with rugby. I played positions four and five, which are usually for tall and lanky chaps. I played for Impala and at one time captained the team. I became a director in charge of Sevens at the Rugby Union, national squads. Just before I went into rugby, I played basketball – my height may have been a contributing factor.

How did you make your first coins?

Butchery. My parents ran meat business at butcheries around town. Right after completing Form 4, they opened a branch in Dagoretti and employed me as the person in charge.


The corporate world is very busy; how do you fit in everything?

Like I said, my children come first. I attend so many events and meetings. I have a team that helps me accomplish what I can and what is important. In all these, I create time for my family.

Is your family covered by RH?

Yes.

Why should anyone care about health insurance?

Unless you have a contract with God, that on a particular date you will have a heart attack, you need to relinquish the responsibility of your health to somebody else.

Are you emotionally attached to the brands you have created?

No. Everything is for sale. If you offer me a good deal now I will sell them to you. However, the founder will always remain Peter Nduati. Every business has to outlive the founder.