Make Up Tips For Black Skin
Skin Care By
Stacy Okafor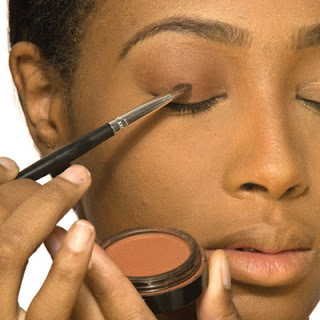 Tips for making up that beautiful dark skin. Photo: Courtesy
Stacy Okafor is an international make-up artist who has worked with celebrities for film, music videos, television and fashion shows, and specialises in make-up and skin care for black women.
1. Use Light Foundation
Avoid using heavy-texture foundations, as black skin tends be oiler. Instead, ask for a foundation that is lightweight in texture with a high pigment concentration. This basically means that a little of the foundation covers well. This will avoid a heavy look to the skin.
2. Match Your Foundation
When choosing a foundation, always pick a colour that matches the majority of your face. If you want to adjust any discoloration on your face, use a lighter or darker concealer as a colour adjuster for the areas of your face which appear different. Remember to match your shade in natural daylight.
3. Get Clever With Concealer
If you need to correct any discolouration, use an orangey/red-based concealer first to neutralise the darkness, then set this lightly with powder. Next, use a concealer that matches your skin and blend this over the area you have colour corrected.
4. Don't Use Silvery Eyeshadows
Eye shadow colours with silvery undertones can tend to be a bit harsh on black skin so use colours that are warmer and have more golden tones for a more flattering look.
5. Groom Your Brows
When grooming brows, use a pencil or powder in a dark brown. Often black skins tend to opt for black pencils to match their hair colour. On the brows, this can look too hard as the hairs create natural shadow and make the black pencil appear deeper.
6. Line Your Lips
Use lipliner to play with your natural mouth shape. If you want to make your lips fuller, use a lip liner to draw just outside your natural line. Likewise, if you want to make your lips appear less full, line them just inside the natural lip line with a darker lip pencil in a neutral tone.
Source: Channel4.com