Home
/
Entertainment
The big business of gender reveals, pregnancy shoots and baby showers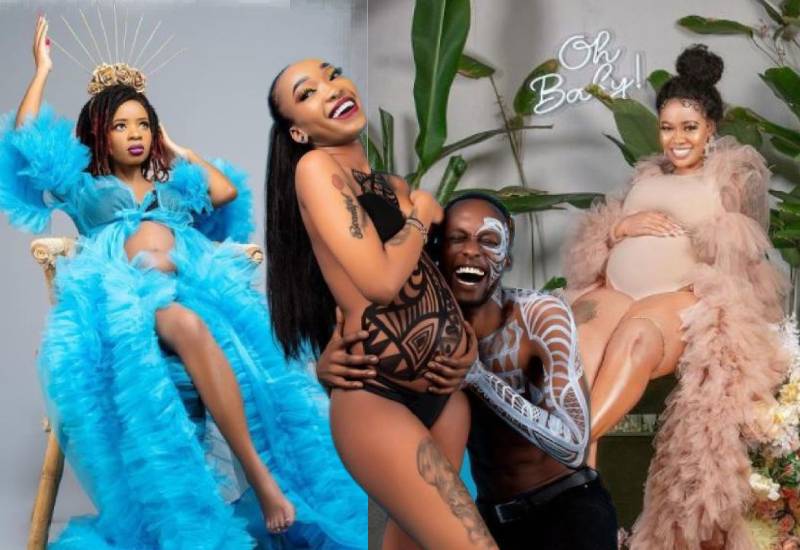 Being pregnant nowadays comes with a lot of fanfare ? at least, that's how it seems on social media.
First, there's the pregnancy announcement. Then there are the weekly progress photos, tracking the growth of the "bump" - in this social media crazed world, baby showers seem to be more elaborate than ever. It feels like a requirement to take epic, stylised maternity photos. And of course, there's the so-called gender reveal.
Let's be honest, we've all come across photos or videos of expectant parents' gender reveals. Generally, these occasions are full-on parties. They're centered around a special moment when the parents to be cut into a cake, pop balloons filled with confetti, or even set off fireworks to find out if they are having a boy or a girl.
It's raining babies. And a large number of our favourite celebrities have either recently announced their pregnancies or are new parents.
And in the true nature of the internet age that we live in, public figures, influencers and popular TV personalities have made sure we know about it through elaborate social media posts.
What initially started out as a viral joke and meme that babies born after the pandemic would be called "coronials" has transpired in real sense- if the growing families of public figures is anything to by.
As the 'coronials' continue to populate the earth, the business of maternity photoshoots, gender reveals and baby showers continues to expand.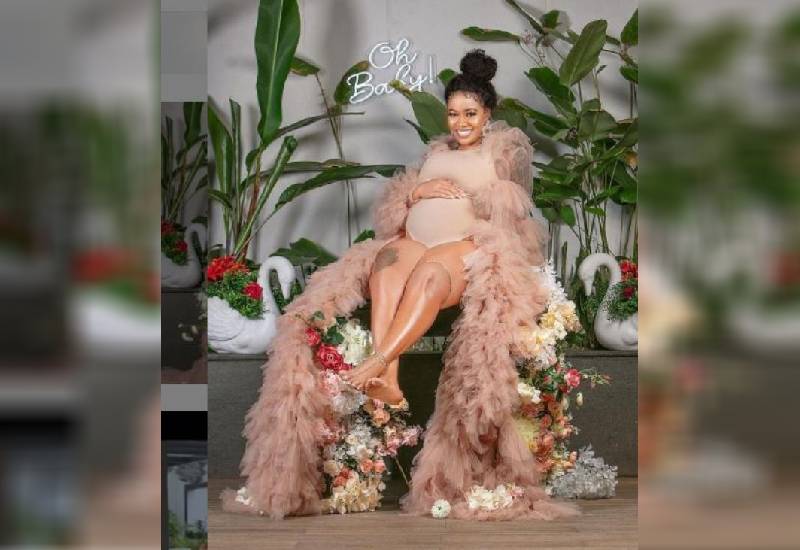 This rising trend and demand for these methods of capturing crucial family and social moments has paved the way for a booming business for photographers, make-up artists and stylists. These and other artists that may be involved make sure that the parents to be and sometimes infants look immaculate in the final images released to the world.
When popular social media personality Vera Sidika announced her pregnancy with husband, Brown Mauzo, it was a pompous affair.
The 31-year-old and her singer beau revealed the big news with both an over the top maternity shoot and a video.
Sidika, glamorously made-up in a full face of make-up and bedazzled baby hairs, smiles at the camera briefly before turning around to show her growing bump as Beyoncé's song, Halo plays.
"An adventure is about to begin, I love you so much my husband, Brown Mauzo," Sidika captioned the video, tagging her make-up artist and the designer of a flowing brown gown she spots in the post.
The maternity image released by the socialite is carefully put together, the ambience clearly well thought out and staged.
Sidika sits on a raised surface, cradling her bump, a translucent ruffled robe cascading down the elaborate arrangement of flowers that is laid out.
Glamorous post
"We are pregnant and we couldn't be more excited. We decided it was time to add an entertainer to our little family. We've waited for some time to share our lovely news," Sidika captioned the announcement post.
"I love the mother that you are going to be my love," Brown Mauzo wrote on his own post of his heavily expectant wife.
But how much did the glamorous post cost the popular couple?
Make-up artist Miss Keysha, who runs Miss Keysha Make-up says that it can cost a mom-to-be up to Sh10,000 to achieve a flawless face of make-up for the big photoshoot.
"I charge my clients Sh5,000 if they are coming to the studio and up to Sh10,000 if I am conducting a house call. The prices change based on the logistics of meeting up with the client, and I bring the make–up and tools with me," Keysha says, noting that she has witnessed an increase of clients who are preparing for a maternity shoot.
"My regular clients are usually getting ready to attend parties, weddings and red carpet events, but since the beginning of this year, I tend to serve at least two maternity-shoot customers in a week," says Keysha.
The make-up artiste attracts a sizeable following of over 100,000 on Instagram, glamourising the who's who in Kenya's entertainment scene while showcasing her work on the social networking site.
While Sidika's outfits for the shoot were styled by actress Noemi Ng'ang'a's plus size fashion line, Style by Neomi, another celebrity couple sought different options for their own pregnancy reveal, exposing a real and competitive market for maternity photography.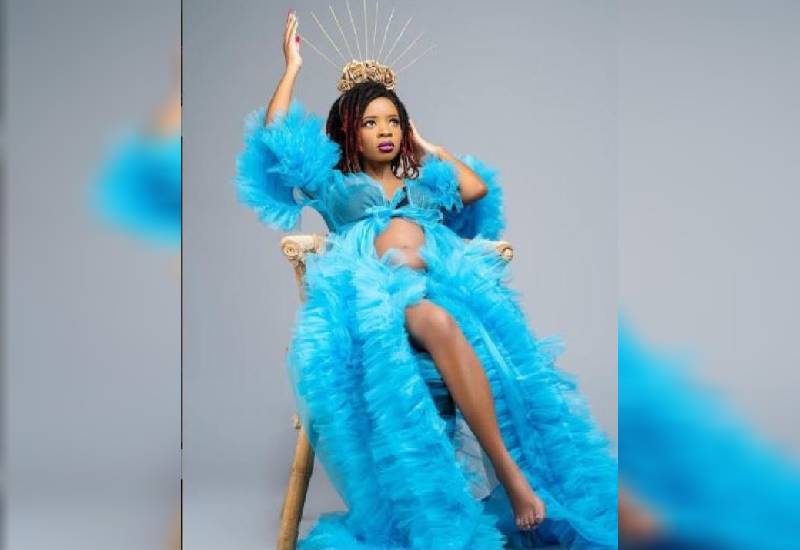 Professional photographs
Comedian Mulamwa and girlfriend Caroline Muthoni, alias Carol Sonnie announced that they were expecting in April through Instagram.
The funny man, real name David Oyando took to his social media pages to post a video of Muthoni at an ultrasound examination.
"We thank God for the blessings. May he see us through to the end as we open a new chapter in our life," Mulamwa captioned the post.
While the couple did not immediately release professional photographs of Muthoni's growing bump, they followed suit with the trendy shoots in August.
Muthoni posted a picture of herself in a crown and satin golden dress exposing the belly, along with an emotional letter to her unborn child as the caption.
"I can't wait to give you the best of this world my love. We have been through a lot, but you have been strong for me and giving me more reason to be stronger for you," reads her caption in part.
Her second photo was another professionally done picture that portrayed the actress and model with her partner Mulamwah, while the third was a breathtaking image of Muthoni, seated, in a translucent blue ruffled gown.
She tagged the fashion store where she bought her robe - Vintlyne Fashion.
Vinta Njeri, the entrepreneur behind the retail store tells Eve that she reaches most of her clients through social networking sites, especially Instagram.
Njeri revealed that it can cost a couple up to Sh7,500 to purchase a glamorous robe like the one Muthoni has on in her photos.
"Our robes can also be hired, though, for a more affordable price of Sh1,500. Gowns range between Sh3,500 and Sh5,000," Njeri says, noting that she, just like Miss Keysha, serves up to two maternity shoot clients in a week.
Some clients opt for body art as the key styling for their chic photoshoots like popular blogger an influencer Xtian Dela, real name, Aurther Mandela, and his content creator girlfriend Fatma Banj.
Dela and Banj announced that they were pregnant in August through their social media pages, the maternity shoot images revealing the beaming couple's torsos painted in black and white patterns.
"The butterflies he gave me turned into tiny feet," Banj captioned the pregnancy reveal photos.
The body artiste, who goes by the username Hueman on Instagram, was tagged on the precious moments shared by the popular pair.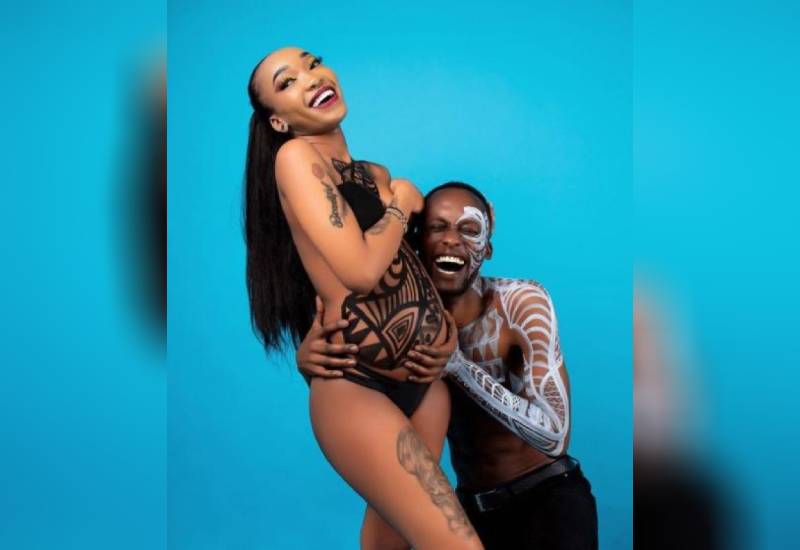 Flawless images
Paul Macharia, the artist behind the couple's body art has been an artist for over 11 years, though he says he ventured into body art two years ago.
Macharia tells Eve that it can cost a couple up to Sh12,500 for maternity shoot body art for both parties.
"For the lady and her bump alone, the body art costs Sh5,000 and if the dad-to-be is getting art done on him too, that costs Sh7,500," the artist says.
Further, the glossy, flawless images released by the expecting couple have to be executed by skilled photographers who capture their clients best angles.
Musician Linet "Size 8 Reborn" and her husband, Samuel "DJ Mo" Muraya announced that they were expecting baby number 3 towards the end of August.
The couple released images on the their social media pages of a full-on photo shoot. There were images of the bump, the couple and their two children in a family photo.
"Another blessing. God is faithful. Baby number 3," wrote DJ Mo on his August 27 post.
Their glamorous pictures were taken by a popular digital creation brand, Infinity Clix.
Steve Mugo, the man behind Infinity Clix, tells Eve that more couples are booking shoots because they want to save memories and remember beautiful times.
Mugo says that a shoot costs between Sh20,000 to Sh25,000, changing based on location, time spent, and whether the couple will bring the whole family.
He adds that while he often recommends make-up artists to his clients, celebrities usually have their own people catering to that.
Natural resources
It's not just baby bumps being photographed, its' infants too.
Popular fitness Trainer Frankie Just Gym It and his influencer fiancé Corazon Kwamboka released the first images of their son, Taiyari on Instagram.
The images were creative, cute and well thought out, portraying the infant as a gorgeous little angel casually resting on make-shift household items.
Loliphotography, the talented photographers behind the photoshoot tell Eve that a baby reveal photoshoot costs Sh20,000 for five pictures.
The family photography company adds that inspiration form the shoots comes from natural resources and the work of celebrated photographers.
Baby showers are another costly affair for modern day couples and young families, setting them back a couple tens of thousands of shillings in food, drinks gifts.
The event is traditionally set for later in the pregnancy, and is used to celebrate the joy of a new coming child and offer good wishes.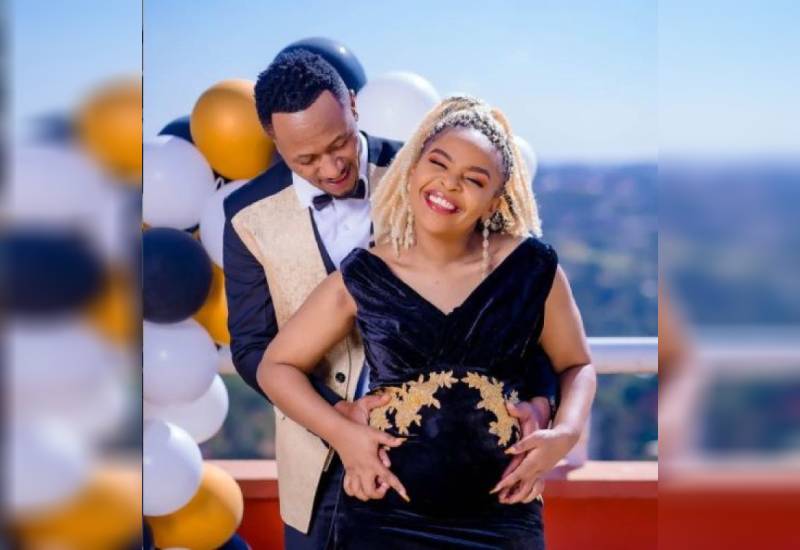 In 2019, Tanzanian bongo superstar Diamond Platinumz and his then girlfriend Tanasha Donna threw a lavish baby shower at Best Western Coral Beach Hotel in Dar es Salaam, with the guestlist including the who's who of the entertainment industry.
In the same year, singer Kevin Bahati and his content creator wife Diana Marua held an equally extravagant baby shower that doubled up as a gender reveal party, with a white and gold theme.
The event reportedly cost millions of shillings.
This year, multiple A-list couples both locally and internationally have either announced that they are pregnant or welcome newborn babies.
Beauty mogul and reality TV star Kylie Jenner and her rapper boyfriend Travis Scott confirmed that they were expecting on September 8 with a heart-warming clip of special moments between the couple from the moment of a positive pregnancy test.
Famous rapper Cardi B and her husband, Migos rapper Offset welcomed their second child together, a son, on September 6.
"We are so overjoyed to finally meet our son. He is already loved so much by family and friends," the couple said in a statement.?
The birth of gender reveal parties
In 2008, Jenna Myers Karvunidis was pregnant for the first time and itching to throw a party. During their 20-week ultrasound scan, she asked her midwife to keep quiet about whether the baby was a boy or girl. Instead of telling the expectant couple in person, the bemused professional sealed a note containing the secret in an envelope.
Karvunidis then baked two cakes in the shape of ducklings, filling one with pink icing and the other with blue – a discrete toothpick for differentiation.
Her family took some convincing to gather for a midweek party without apparent purpose, but as soon as the butter-cream duckling showed its contents – pink for a girl – everything changed. There were gasps, tears and someone shrieked: "I feel like she's been born!" In that moment the cake and the party did all Karvunidis had hoped to bring her pregnancy to life.
The arrival of Bianca (the eldest of Karvunidis's three daughters) was still months away, but that day she did unwittingly birth something: the gender-reveal party.
Related Topics