Home
/
Achieving Woman
Welfare programme empowers officers' wives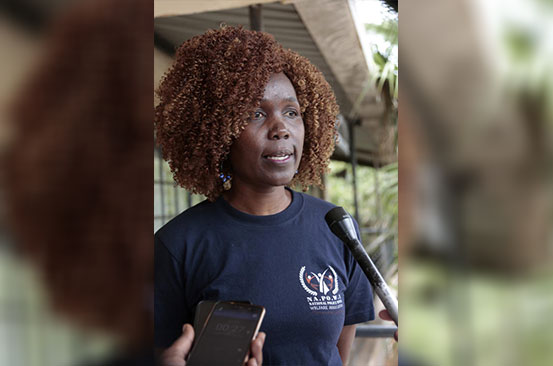 In 2014, Jenetrix Orwa Otieno's brother-in-law, who was a police officer, died of malaria.
After his death, his wife started to follow up on her husband's pension. At nearly every office she visited, the officials would ask her for a bribe.
She was about to give up on the claim before Ms Otieno took it upon herself to follow the matter up for the sake of her sister. She came across conmen, some who were asking for bribes to process the pension faster.
Eventually, Otieno succeeded in the process, even though she did not get the entire amount that was owed to her sister.
"After going through the struggles to help my sister, I wondered how many more widows were going through the same. I thought of coming up with something like a group, where they could be educated to avoid such and other challenges," Otieno, who is in her early 40s, now says.
"These police officers have written different people, not their wives, as next of kin. When he dies, other people come to claim the pension, yet without it, police officers' children fail to continue with education or their wives struggle," she adds.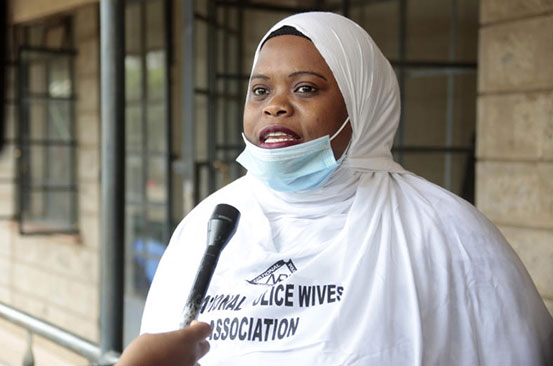 It is here that an idea to form the National Police Wives Association (Napowa) came to mind.
She wrote a proposal and sent it to former Police Commissioner Mathew Iteere, but she says he did not respond. She does not know whether he even received or read it.
Otieno did not tire. She visited National Police Service Commission (NPSC) Chairman Johnstone Kavuludi's office, where she met a police officer who advised her to form a police wives' welfare association.
"He also asked me to get a letter from the service, which would help me register a welfare association. I got the letter after one year," she says.
Otieno then registered the association in January 2015, with 10 members. These 10 sold the idea to other policemen's wives at Security Government Building (SGB) and Uhuru camps.
At one point, the association had grown to 6,000 members. However, when President Uhuru Kenyatta declared that police could live among civilians, the membership reduced since many went in different directions.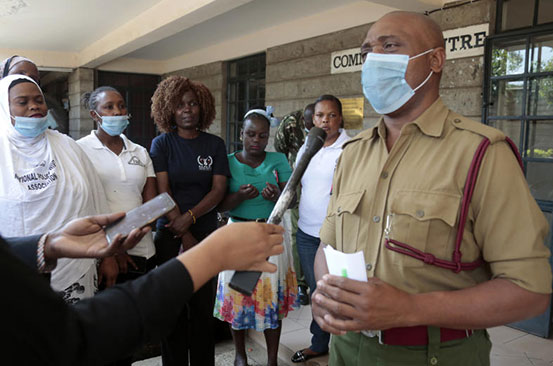 Today, there are 600 active members, with 100 dormant. They are still recruiting more, although resources to visit all the 47 counties has been a challenge.
Otieno says one of the challenges she faces in running the association is from officers who misunderstand the group's objectives and forbid their wives to join. "We have to hold meetings with the police officers to educate them about what we are doing. Those who know and understand our objectives have started to support us and allow their wives to join Napowa," she says.
Her vision in three years is to see every police officer's wife join the association, get empowered with skills and trained on how to handle their husbands when they return home.
"We also have big visions of opening a savings sacco, and we have started saving. Apart from the welfare scheme, we have a chama, which is divided into four groups, each with a treasurer. Our plans are for them to save till they build their own houses so that when their husbands are transferred, they don't have to move with them, but stay there. The men can then be only returning home to visit when off duty or on leave," Otieno says.
The association also advises members on marital issues. "We also teach them that they need to know a police officer is someone who can be transferred any time and that they might live alone for a long time. We also prepare them to know that their husbands' work in risky environments and sometimes may go out and not return, and that they should be prepared psychologically and financially to live in such situations," she said.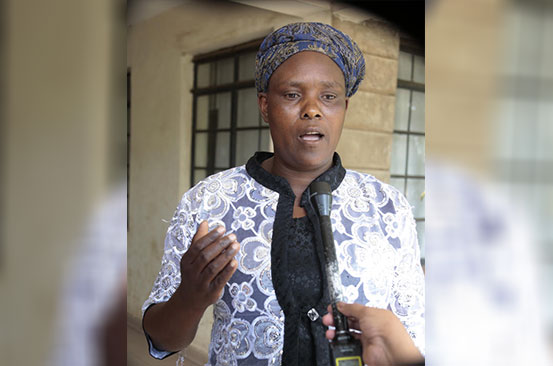 According to their counselor Gladys Sifuna, who is also the wife of a senior police officer, Otieno came to her in 2015 and asked her to counsel the members.
"It's not easy, but I am trying, considering police officers don't stay in one place for long, but relocate, leaving their wives and children behind. I counsel them on how to manage stress. I refer to more difficult cases," says Mrs Sifuna, a trained counselor.
Rabia Salim, a member of the association, says it has helped her a lot. "Civilians out there do not know our deeper challenges; only we do. The programmes in the association have helped us share our challenges because we are in the same boat. We have started to help our husbands meet daily household needs through things like making soap and detergents and we have big plans for a police wives' sacco," Mrs Salim says.
Amos Katana, a senior sergeant who we found at Shauri Moyo Administration Police camp, says the programme empowers women so they can help their husbands.
"They are the ones who live with our children most of the time. I urge fellow police officers to allow their wives to join such groups to benefit from the teachings they get there," said Sergeant Katana. He also called on fellow police officers to be faithful and transparent to their wives.
Related Topics