After widowerhood came sunshine
EVE WOMAN
By - | May 18th 2013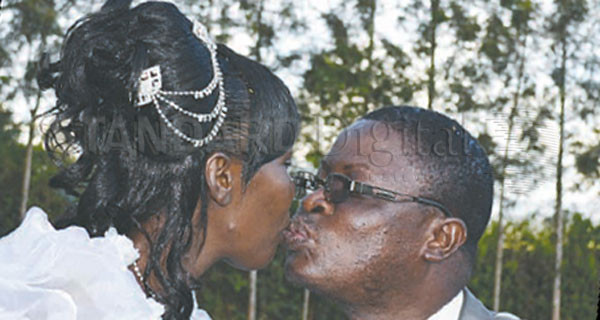 Elizabeth and Samuel exchange their first kiss as wife and husband.
BRIDE: Elizabeth Akello Ochieng'
GROOM: Samuel Ochieng'
VENUE: Awendo Maranatha Cathedral
NO OF GUESTS: 450
BUDGET: Sh675,000
INTERVIEW: MAUREEN AKINYI
Describe the first time you met.
Samuel: We met at an international interdenominational youth conference in Arusha, Tanzania. Coincidentally, we found out we were representing southern Nyanza at the conference, this made us get close, working on our presentations together.
What struck you about her to the point of proposing?
Samuel: Her beauty, respect and her command of the English language. She is also caring, hardworking, reliable and understanding. Above all, is the fact that she is born-again.
How long did you date before getting married?
Elizabeth: Two years.
When and how did he propose?
Elizabeth: On November 15, last year, he gave me an urgent call as if something serious was happening to him. I rushed where he was and there and then he popped the magic question.
How did she react?
Samuel: She was shocked and broke down into happy sobs. She looked straight into my eyes, wiped her tears and said 'yes' to my proposal.
How long did the wedding plan process take?
Elizabeth: Plans took four and a half months.
What major challenges did you encounter during planning?
Samuel: We didn't have wedding planners and we lived in different towns, so planning was a challenge for both of us.
Finances were also a challenge but family members from both sides and friends came to our aid.
The planning was a bit hectic because it was being done during the election period, which was tense and unpredictable.
The highs and lows of the occasion?
Samuel: When I went to their home to seek the consent of marriage and her parents gave me a nod.
Elizabeth: When I went to Sam's home to meet his parents for the introductions. I was received with warmth and love
Samuel: The warm reception accorded to us during the pre-wedding ceremony at Liz's home.
Elizabeth: The numerous phone calls from Sam's parents and family members were encouraging.
The low point is when both of our parents became sick, which made us worried sick they may not see our big day. But thanks to God's grace, they made it.
Did you attend pre-marital counselling?
Elizabeth: Yes. We learnt that we should accommodate each other's weaknesses, love one another at all times, and trust in God always.
Did you have any fear on the day?
Elizabeth: Being a rainy season, we thought it would rain and disrupt the occasion but it didn't.
What was the memorable part?
Samuel: When her parents were matching towards me for official handing over.
Elizabeth: When I walked towards the man I love.
If you were to do this again what would be different?
Samuel: We would involve the service of professional wedding planners to avoid the stress that we went through.
Where and how was the honeymoon?
Elizabeth: We decided to go back to the genesis of our love (Arusha where we first met). The hotel we were staying at was simply superb.
What would you tell lovebirds intending to wed?
Elizabeth: Planning a wedding is not easy. You should start early and have a budget.
Samuel: You should also choose wisely the friends and relatives you want in your committee because they play a big role.
How is marriage so far?
Elizabeth: It is so sweet to have a husband that loves and cares about me always.
Samuel: For me being a widower, marrying the second time round is heavenly. I never imagined I would be this happy again after the demise of my first wife.
What are some of the adjustments you have had to make now that you are married?
Samuel: Budgeting and planning on family issues together. We have developed a consultative approach in solving issues and making decisions.