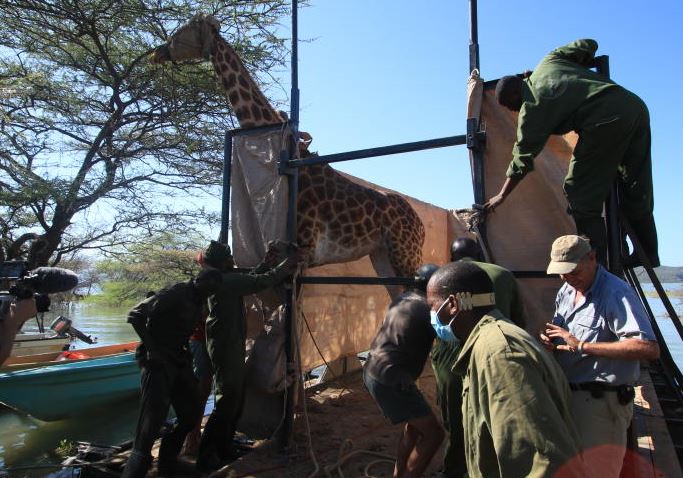 The Kenya Wildlife Service (KWS) and Ruko Community Conservancy have moved two Rothschild's giraffes from Longicharo Island in Lake Baringo to the mainland.
Approval to translocate the giraffes to a purpose-built sanctuary was granted by the KWS after the lake started encroaching on the island by an estimated six inches a day.
The giraffes are being moved in a rectangular barge that is custom-built out of steel and designed to float on a series of empty drums that provide buoyancy. It has tall, reinforced sides to keep the giraffes from jumping out during towing.
"The survival of these giraffes is critical to our ongoing efforts to implement the National Giraffe Recovery Strategy to 2020-2025. At the sanctuary, they are safe from the rising waters and will be protected from predators, poachers and other threats," said KWS Director of Biodiversity Research and Planning Patrick Omondi.
In a statement, Northern Rangelands Trust said the female giraffes that were moved on Wednesday and Thursday are Asiwa and Pasaka. The remaining females–Nkarikoni, Nalangu, Awala, Susan and Nasieku and one adult male, Lbarnnoti, will be moved early next year.
Read More
The giraffes have also faced challenges in breeding. Out of eight calves born, only two have survived the wilderness. The others are thought to have been lost to python predation, nutritional deficiencies and other natural causes.