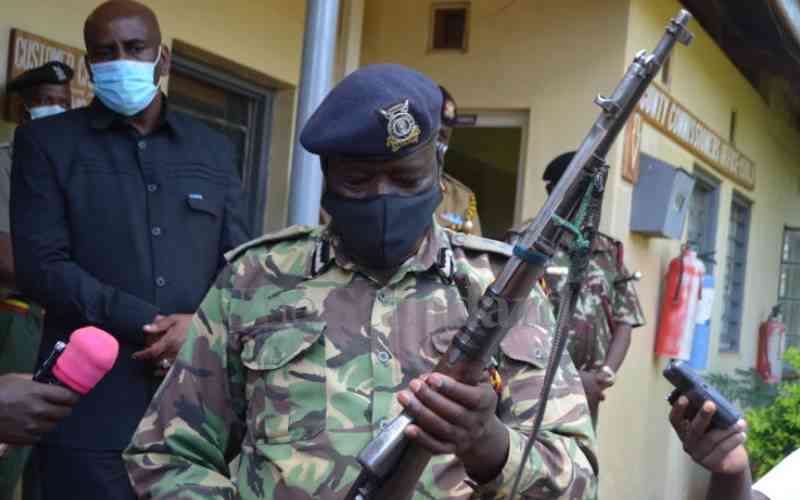 Could the recent killings witnessed in Kakamega town and its environs have anything to do with a cult?
Police investigating the incidents believe a terror gang calling itself Mbogi la Izraim Territory could be behind "ritual murders" reported in the area.
A series of gang attacks in the past three weeks have left at least four people butchered in a ritualistic manner. Some six people seriously injured are admitted at Kakamega County General Hospital with deep cuts in their foreheads and necks.
Investigators have not established why the gang has been killing and turning their victims' bodies upside down after killing them.
They are pursuing a theory that the gang could be a member of a sect as demonstrated in the manner in which the attacks are executed and the fact that nothing is stolen from the victims.
The gang has also been linked to a series of assault cases and robberies reported in the area.
Earlier, Kakamega County Police Commander Joseph Kigen said they have managed to arrest at least 13 suspects, three of them last Saturday.
Last week, the police were granted prayers to continue holding suspects arrested earlier for at least 16 more days to pave way for thorough investigations.
Police told the court that they needed more time to establish whether the gang subscribes to a certain belief, how it operates its activities, membership, and its origin among other things.
According to police, preliminary investigations revealed that the suspects belong to Mbogi la Izraim Territory, an organised gang whose modus operandi is administering oaths to its members with instructions to revenge by killing if one of their own is attacked or killed.
Police also want more time to pursue more suspects belonging to the gang who are yet to be arrested, arguing that members of the gang do not have a clear place of origin and they may escape to unknown places before completion of investigations hence terming the group as a flight risk.
The investigating officers believe the gang has been recruiting more members into their group, many of them vulnerable youths.
Police also said they needed more time to analyse the DNA data exhibits recovered and compare them with those of the suspects, analyse mobile phone gadgets recovered from the suspects, and take crude weapons recovered to Kisumu Government Chemist for analysis.
According to police four people have been killed at Kambi Somali and Jua Kali Markets within Kakamega town, Mahiakhalo area on the outskirts of Kakamega town, and at Amalemba stage. Among those killed are two-night guards, a cook, and a university student from Masinde Muliro University of Science and Technology.
Additionally, six people are reported to have been seriously injured and are recuperating at the Kakamega County General Hospital. Worst-hit areas include Shirere, Jua Kali and Amalemba estates on the outskirts of Kakamega town.
Related Topics