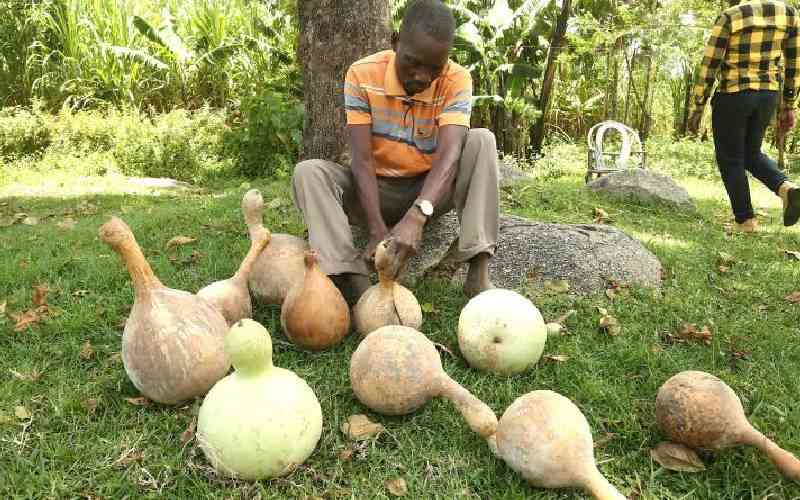 In what is arguably a plastic world, Peter Osanya sits quietly at his Chevoso village home in Malava Constituency, surrounded by traditional gourds that he makes for sale.
His main customers are the neighbouring Kalenjin community, who, unlike the Luhya, have maintained an affinity for the gourds for several reasons, including the storage of their favourite milk product, mursik.
The gourds keep the flavour of the milk intact besides making it cool without the need for refrigeration.
Osanya says he inherited the business from his grandmother in 1980. At first, he used to sell to people around his area and Kakamega County, who used the gourds and calabashes for drinking porridge, tea, milk, as the locals could not afford ceramic plates and cups.
"My grandmother used to sell them as decorations to put on walls in the living rooms. I used to see how she made them and she also loved to send me to the farm to harvest the fruit that is used to make the calabash from the lagenaria and crescentia cujute plant," he says.
In 1990, while in Uasin Gishu on an assignment, Osanya served mursik in a gourd that fell down and broke. His hosts regretted that the kind of gourds and calabashes in the region were weak.
He returned home and took several gourds and calabashes to the hosts, which proved to be of high quality, and just like that they demanded more, this time promising to pay. This ushered him into the business.
A calabash is made by cutting a gourd into two symmetrical pieces.
Osanya says most gourds and calabashes in the market do not last as people rush to harvest the fruit that makes them before they mature. "The type of seeds we have produces hard fruits as our soil and temperature is favourable for their growth compared to the soil in Rift Valley," he says.
"The fruits must be harvested after six months and stored for three months to dry to get high-quality wares."
Osanya says he sells the products on a wholesale price since he transports them in bulk. A small calabash goes for Sh75 as the larger one goes for Sh200.
He harvests almost 300 gourds every six months that he sells for between Sh40 and Sh80, depending on the size, with his main markets being Nandi, Bomet and Uasin Gishu. He has a shop in Eldoret town.
"Malava is a cane-planting zone but I have gone against the odds to venture into gourds and calabashes, through which I have educated my five children besides taking care of my father," said Osanya.
He also sells the wares in Kakamega for those who prefer to take their porridge and traditional brew in calabashes.
His father Peter Okuya, 88, says he likes his porridge and tea served in a calabash. "It's ability to cool the porridge and tea is what I like, and I do not need to use a spoon to drink from it," says Okuya.
Related Topics