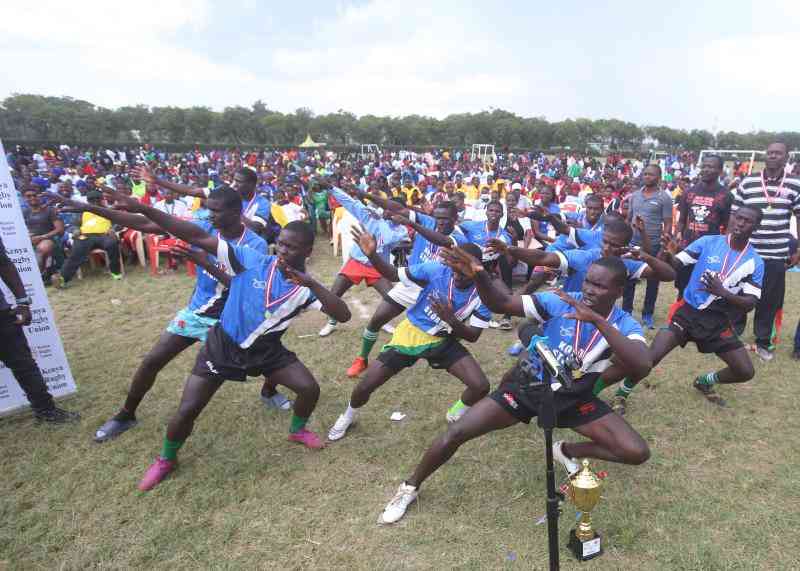 Wiyeta, Kobala and Koyonzo put a smile on the face of Kenyan teams after they staged sterling performances at the ongoing East Africa Secondary School Games in Arusha, Tanzania.
However, it was not a smooth sailing for Kenya's reigning boys football champions Ebwali after they lost their second consecutive match at Sheikh Abeid Karume Stadium.
Wiyeta did not let down their fans after they beat Uganda's Noa girls 3-1 to enhance their chances of making it to the knockout stages. Noa caught Wiyeta's defence flat footed to surge ahead in the 14th minute.
But the Kenyans responded immediately with Shallyne Opisa scoring a brace in the 16th and 28th minute before Edna Wanda wrapped up the match with a stunning goal in the 69th minute.
In another match, Dagoretti Mixed of Kenya were beaten 2-1 by Uganda's Kawempe Muslims. Concentration lapse in the injury time cost the Nairobi-based team the match.
In rugby 7s, Koyonzo made good runs to hammer Ntare of Uganda 17-0 after taking a comfortable 5-0 lead at the breather.
In netball, Kobala coached by George Adoyo set their goals high after silencing Tanzania's Katoro 46-29 after taking a 26-15 lead at half time.
Kobala enjoyed a 14-9 lead at the end of the first quarter and went ahead to lead 37-21 in the third quarter.
In handball, Kenyan teams were not up to the task after they lost to their opponents.
In the boys' category, Kamito were beaten 39-29 by ES Kigoma of Rwanda. Dynamic School of Uganda defeated Tanzania's Maweni 39-18 in another boys match.
In girls' handball, St Joseph's Kitale narrowly lost 31-29 to Kawanda School of Uganda.
In boys' football, Ebwali's chances of making it to the semifinals remained minimal after they lost their second match yesterday to defending champions Buddo of Uganda 3-0. Ebwali lost their opening match on Friday 1-0 to Katoro of Tanzania.
In boys' volleyball, Cheptil of Kenya were beaten 3-1 (18-25, 18-25, 25-20, 20-25) by Namukongo of Uganda. The Kenyan boys had won their opening match 3-1 (25-20, 23-25, 25-10, 25-14) against Uganda's Buremba School. Buremba recovered yesterday to beat Tanzania's Nsumba 3-2 (25-22, 20-25, 17-25, 25-13, 15-3).
Girls' champions Kwanthanze of Kenya started their title defence strongly after beating Katikamu of Uganda 3-0 (25-10, 25-10, 26-24). Another Kenyan side Keseson outclassed St Elizabeth, Mbarara of Uganda 3-0 (25-22, 25-15, 25-23). [Ernest Ndunda]
Related Topics