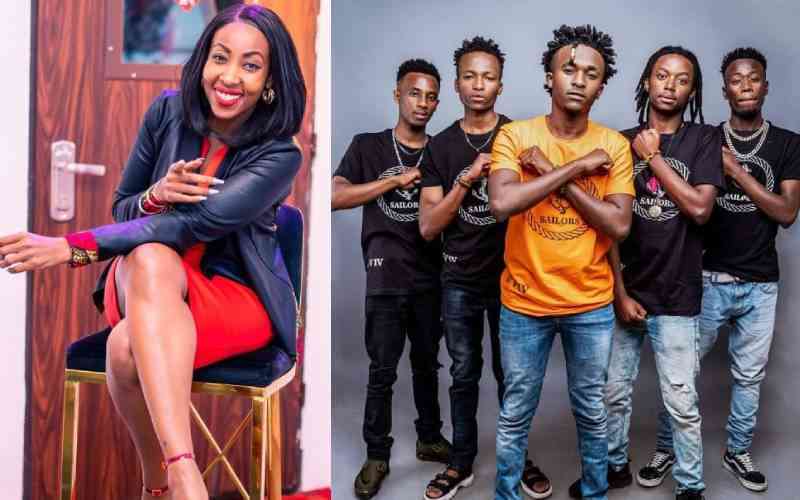 Radio Presenter Mwalimu Rachel has disclosed that she highly regrets managing popular gengetone music group Sailors.
Speaking with SPM Buzz, the media personality hinted that she has ever been locked up in a police cell and shared that managing Sailors is her biggest regret in life so far.
"Managing Sailors is one of the biggest regrets. Have you ever been locked up by the police? I have," she said.
However, she insinuated that if she could go back in time, she would have never accepted to take up the job.
A while back, she disclosed that due to the fallout – where she was accused of blocking access to Sailor's YouTube channel – she and her son received online death threats that shook them to their core.
"The negativity I have found online has really shaken me. My son and I have received death threats from the fans because of the YouTube channel," she said.
At the time of their fallout, in 2019, Mwalimu Rachel was accused of killing the gengetone's musical career, adding that Sailor's fans kept on reaching out to her employer to terminate her employment.
She, however, clarified that she never killed their career.
"I did not kill their career. People think I did and they have gone ahead and asked my bosses to fire me yet they know nothing about the story. Unfortunately, social media is the way it is and nothing can be done about that," she said.
She went on to share that she has also kept the details of her engagement with Sailors including their fallout, away from the public to protect them.
"I have always kept quiet because I'm not only protecting myself but them also. And they know this. You do not relinquish your motherly care because of turmoil, and that motherly love has always been there," she clarified at the time.
Just last month, with unwavering confidence, Rachel through social media boasted about her immense power, firmly asserting that her achievements with the said group were unassailable and beyond the reach of anyone else.
"Sailors. Managed them with my team. In just two freaking years, they were a force. Won five freaking awards and got international recognition. I know who I am and what I am capable of. I am powerful. You can never take these achievements away. So y'all can choke on it. Respectfully," she tweeted.
Related Topics