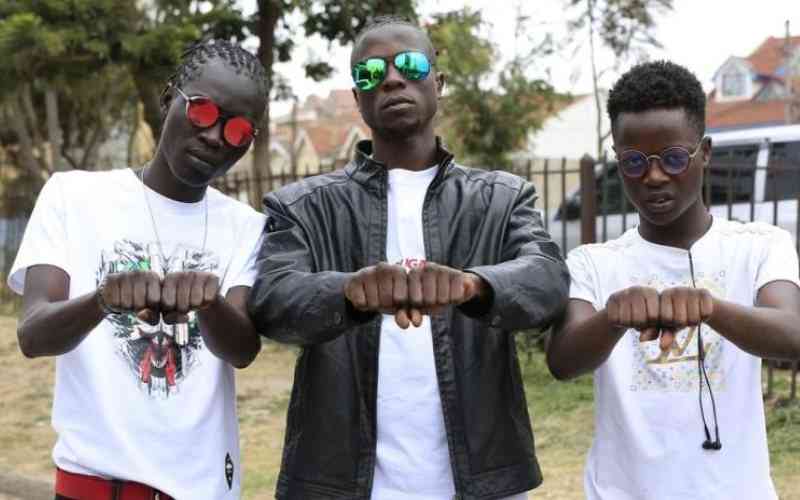 It is 12.02 am, on Tuesday morning. I am scrolling through my phone, and bump into Morio Mbwakni, Mbogi Genje's latest Dancehall/Rap song. My rudimentary sheng tells me the song is about a 'fake' man.
"Sidai morio mbwakni na mi linki," as hooked by Smady Tings seems to mean 'I don't hook up with fake dudes'. Knowing the snitch culture among low income communities, where the most crime and policing take place, the song captures the daily life of young men and women in here.
The video features souped-up Subarus with flashing lights, the crew openly enjoying cannabis and mogoka.
Forget Smady and Guzman, the one who can easily throw you completely off is Militan. As the name goes, he is very combative and has a much deeper range of their type of sheng.
Mbogi Genje is at the pinnacle of the Gengetone revolution, a generation of artistes that added a new perspective to what started as a new genre of contemporary music, which some boastfully say is an offshoot of Genge.
The trio from Umoja dropped Ngumi Mbwegze three years ago, and the game completely changed.
Not only did they fully represent their surroundings, but they also introduced an offshoot of sheng called Shembeteng to a wider audience and their signature two-fisted salute.
Politicians, including controversial former Nairobi Governor Mike Sonko, and other celebrities fell over themselves to get the group, who also goes by 'sheng masters', into their camps. Linguists tried to decipher this new language, which bastardised an already bastardised language, sheng. Shembeteng is sheng spoken in reverse.
According to Parroty of the 'Lewa' fame, Gengetone is beyond music. It's a lifestyle.
"Gengetone is a lifestyle. It's a hood culture that originated from Genge courtesy of our pioneers Nonini, Juacali and Clemmo."
Lewa, which has seven million views and is still a hit on dancefloors. Its signature "Leo niko out nimekuja kutesa, kesho siko job ni kulala fofofo," is a celebration of debauchery and the drinking culture.
"It's not just music bro. Kuna sheng hapo, tena latest, friends coming together to represent their streets and a community of young artistes who are always supportive of each other," Parroty adds, "And we thank God that our culture is finally being recognised internationally by Grammy awards."
To Zzero Sufuri, a rhymes master with an impeccable penchant for hooks that stick, Gengetone is a way of life.
"It's the way we live. Ni representation ya the way we party, the way we drink, and the way we live. It perfectly represents us kama ma-youth. What we do is nothing new. We just made it commercial," says the Zimenishika artiste.
Talking of language, no genre has transformed and spread sheng as far as Gengetone has. The genre thrives purely on the dynamism of language in different hoods.
According to a 2020 article, Shaping New Identities: Sheng, Youth, and Ethnicity in Kenya, in the Harvard International Review by Salome Garnier, a researcher at the University and the Managing Editor, unlike other shared languages, which are a bridge to understanding what's being said, sheng borrows heavily from everything in the realm of these youth.
It builds and "represents the cultural and linguistic diversity surrounding them as they grow up…. and symbolizes a desire to bridge the divides that pervade in Kenyan society."
Zzero explains that sheng will always be synonymous with Gengetone because "Sheng ndio language ya mtaa. Hio ndio tunabanja, and that is what everyone understands. We can't pretend to speak otherwise when the genre represents the streets at its rawest."
In a 1995 paper titled, Slang and Code-switching: The Case of Sheng in Kenya, linguistic professor and poet Alamin M Mazrui wrote, "…as an instrument and as a symbol, language is normally accompanied by attitudes (held by members of ingroups and outgroups) which could sometimes lead to passionate conflicts between its seeming protagonists and antagonists."
This is obvious in the pros and cons debate around Gengetone, which to many, is bad, lewd music that shouldn't even exist.
In the era of powerful gatekeepers, none of the songs we all love would have seen the light of day.
To Parroty, those who hate Gengetone are doing it out of preference for everything foreign, not based on content or patriotism.
"Like the saying goes a prophet is never accepted at his home. There is a fraction of people who hate because they don't want to see Gengetone artistes win. People would rather promote outsiders than their own. It is double standards."
Zzero agrees, saying it is natural for people to hate on things.
"It is really ok so long as the fans we create the music for loves it."
And the true Gengetone fans, Pulsers trying to find their space in this country we call home, connect.
Under Morio Mbwakni, the comments are a reflection of this, one writing, "The more they hate Kenyan music, the more the dope tunes keep dropping," another, "Kenyan sound is finally back....thank you so much, guys."
Another YouTube user, seconding the fact that these artistes are thriving careerwise, wrote, "Haki pesa wewe, who else has noticed that wame add weight na wakaanza kushine?"
In its truest form, Gengetone is lyrics that glorify sex, alcohol, mogoka, bhang and guns, and the videos regularly feature smoking up.
Google any lyric from Ochungulo Clan, Ethic, Sailors, Mbuzi Gang, Shekina Karen, Zzero Sufuri, Ssaru, Boondocks Gang to new acts like Trio Mio or Lil Maina, and it's not poetry you and your mum can sit and consume.
But more than that, it's the flexibility of the artistes to jump on to anything trendy and create hits from it.
It's the access to studios, finances and the internet, a race to see who can create the best jam from trending adlibs. It's about making nursery rhymes into hits.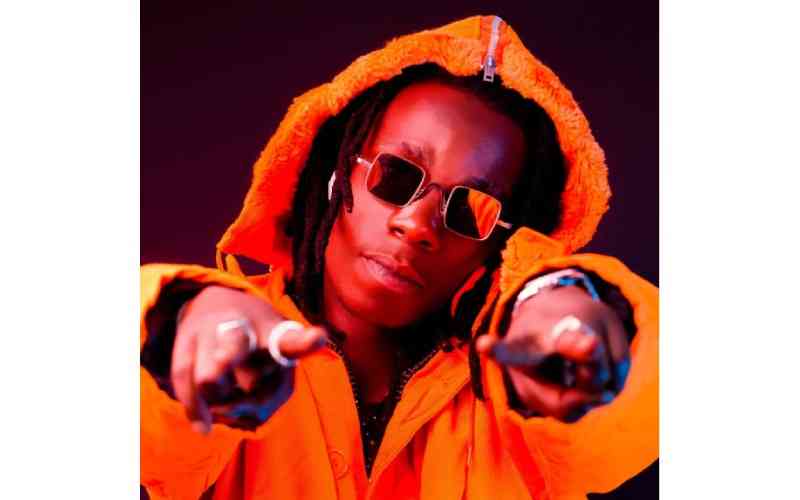 Take for instance Kaa na Mamayako (4.1m views) from Former West Pokot Governor John Lonyangapuo's speech; Kirimino (1.7m views) from Nominated Nairobi MCA Mary Njambi's rant; Pandemic (2.5m views) from lockdown lingo, while others, like Ngumi Mbwegwe (3.1m views), Wabebe (6.1m views), Pekejeng (1.4m views), Lamba Lolo (5.9m views), and Wamlambez became urban lingo still in use to date.
"I got famous from shaking my bum for free on Gengetone videos," said a once popular vixen who walked away from showbiz when she got married and would prefer not to be named.
"In all the early videos we did in 2018 and 2019, we were rarely paid but we had a lot of fun. It was for the culture."
Like any art that is rebellious in construction, it lacks formal structures. It's not made by musicians, not formally structured in a way that purists would take notice, isn't bogged down by the content in the lyrics, and is not made for fame. It's made as an expression of the youth.
Other than for a few artistes, most are unconventional in their approach, using friends as crew and vixens, and friendly mtaani locations to create magic. They celebrate who they are in every deed.
Think about Ngesh of Spider Clan.
On Rieng Genje, 3.7 million views, she rapped 'Ngesh tex ni mdem wa maform, Chain chain ifike hadi kwa dorm, Magalbase wangu ni madotcom, Cashcrop za Nyandarua ni mawaru...' and went viral.
Listen to the song keenly and it's made neither for the TV nor radio. It's made for fans. Spider Clan's family and friends, its community.
As Deejay Krowbar explained on the CTA podcast, "Some songs hit even when they are poorly mixed. They resonate."
The group's fame took them to Citizen's 10 Over 10, and a booking to perform at Club Volume in Mombasa.
How do these young artistes make it work to the point that Gengetone is now international? How do they finance their recording and video, and fast?
Parroty explains: "Most artistes ni support ya community, najua pia kuna majority wako kwa labels which makes it easier for them to record and shoot videos. Support mingi pia hukam from well-wishers na mafans kwa wingi. Ni ecosystem ya Gengetone, But I wish ningeona more cooperates wakuje on board ndio tupush level za International."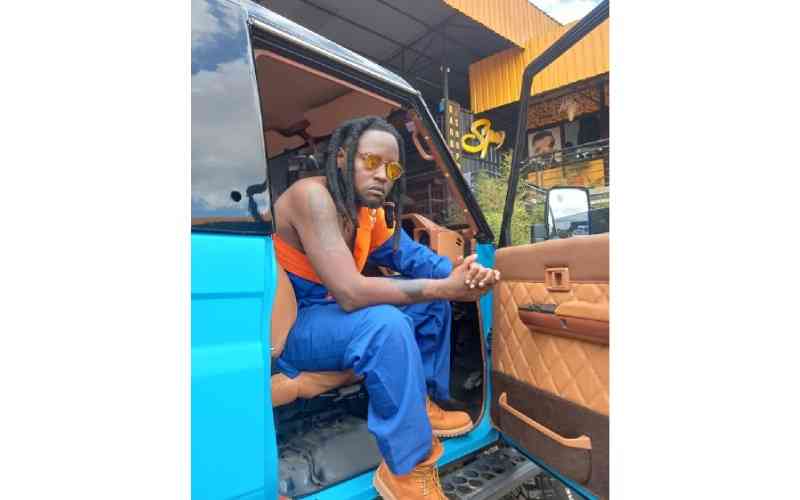 Gengetone's biggest credit though, is that, unlike Kapuka, Genge, or Ghipuka, which tended to be housed in specific studios or hoods, Gengetone is inclusive.
It transcends area codes, studios and generations, with older artistes like Kansol, Jua Cali, Octopizzo, Khaligraph Wyre, Nameless, Vivian, and Habib having jumped on its bandwagon.
But like any art form, some of the lyrics are not practised in real life. It's been documented that Militan who is half-Kenyan, half-Sudanese doesn't smoke anything or drink any liquor! Take it with a pinch of salt.
Related Topics