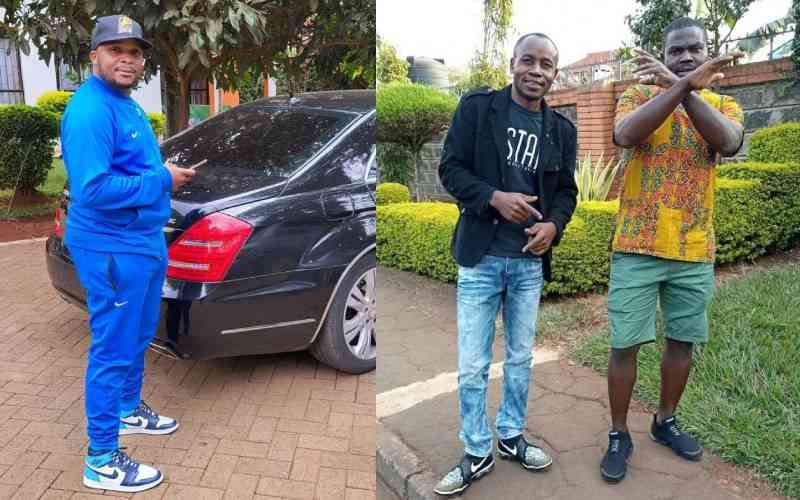 Langata MP Jalang'o has opened up on why he cannot re-employ his former employees, Elie and Litiema.
Speaking in an interview with Mungai Eve, the former radio presenter explained that since making the issue of theft public, the two had been barred from returning to the community where he resides.
Because of this, Jalang'o stated that there was nothing he could do to bring them back to work at his house.
"Eli and Litiema stole money from the house. Personally, I had forgiven them and even wanted to bring them back to work but the community where we live, they cannot be allowed around even if I wanted to. The pictures had already been circulated as thieves. You have come to my house, you've (seen) the place. Those are people once they know these people are thieves, they cannot allow," he said.
Despite the incident, the businessman assured that he would look for other job opportunities for them to work elsewhere.
ALSO READ: Why Jalang'o is considering return to radio
"I really want them back but I can't. Maybe I'll looks for jobs for them elsewhere because they are really sorry. They are saying it is the devil that made them steal. The truth is even if I wanted to, it would be very hard to have them in the same community because the whole community will not even allow me to re-employ them even if I wanted," he added.
This comes just a few weeks after Eli opened up on what transpired on the day they made away with their boss's money.
In his explanation, they were washing their boss's car as usual when Litiema came across cash in one of the cars and tried to convince him to split it between them.
Upon hesitation, Eli says his counterpart took all the money and left the premises. Then, for fear of being blamed for the missing money, he, too, decided to go.
ALSO READ: My net worth is more than Sh10m, says Jalang'o
"That day were washing our boss's cars as usual. My small brother took the BMW and I was washing the Discovery. While he was washing he came across some money and showed them to me. I told him to put it back and that it was for the boss but not long after I saw him going out of the premises with the money. I was so scared to stay there because we are friends, I would have been arrested and told to reveal Litiema's whereabouts," he narrated.
In Eli's defense, it was all the devil's work.
"We have been finding money, in fact a lot but we just left it there. It's just this time the devil tempted us. Maybe some people see where we work and see how good we are getting along then decide to bewitch us and spoil our jobs for us. Not many people are happy that we were working for Jalang'o, no. You can even see in our comments. Even my mother told me to stop posting pictures of us having a good time with Jalang'o but I never heard her, now this is happening," said Eli.
Related Topics