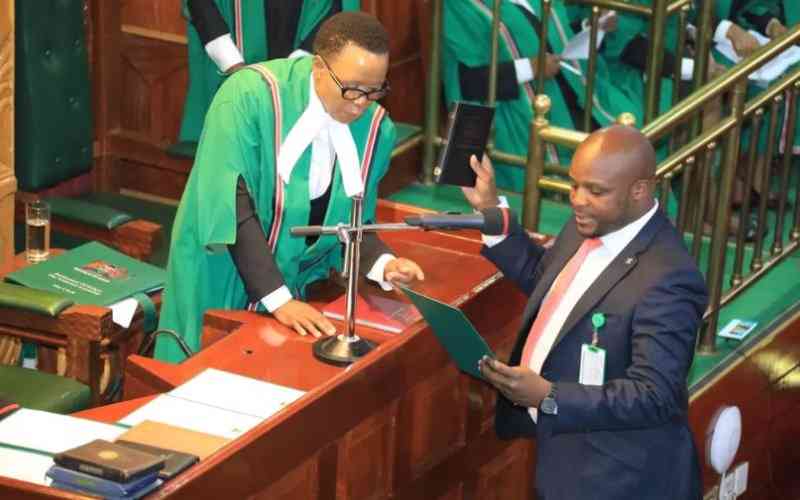 Langata Member of Parliament Felix Odiwuor alias Jalang'o has announced that he intends to resume his YouTube productions and is considering a return to radio.
Speaking during an interview after his swearing-in at parliament buildings, the former Kiss100 presenter said he is still weighing options since his schedule is flexible.
"I am going back to YouTube, I have two radio job offers. So I'm just trying to plan myself. Because here in parliament there is no meeting on Monday, on Tuesday it begins at noon, on Wednesday at 9 am, Thursday at noon, Friday no meeting and weekend maybe a seminar and probably just travelling," he said.
In his explanation, his job as MP will not take up much of his time so he will try to diversify his sources of income although serving the people will be his main priority.
"There will be so much time so I have to look for something to do. There are MPs who are doctors, lawyers and now comedians, who are doing their own things. Don't limit yourself because you are a Member of Parliament.
"Serve your people and at the same time do your own things. When you have your own things on the side even the money meant for the people you leave it to the people. You can even give them your salary. Because you have your own things going on for you," he added.
New changes as an MP
Not long after his election, the social media influencer shared a list of things he will continue to do and those he will drop.
Among them was dropping his radio gigs as he assumed his duties as MP would be too demanding.
"For now Langata is my No. 1 priority! Delivery of our manifesto and the promises we made to the electorate. Radio is my love and if I get a morning show that ends by 9 so that I can make it for Bunge on time then why not? I know many MP's who still do their jobs and deliver for their constituency.
"Will you still be hosting club events and club appearances? NO! My new job comes with a lot of responsibilities and time for clubs might not be there anymore," he wrote.
Of the things he chose to uphold, Jalang'o assured that he would use his influence and talent to better the lives of the people of Langata. With this, the former Churchill show comedian vowed to maintain being a brand ambassador of various brands that mirror his ultimate goal.
"We will actually be now working with the young people of Langata in concept development and filming! I want to train as many young people as possible in our resource centers.
"For me to be a brand ambassador of your product you must commit to take up and support a community project in Langata!" he added.
Related Topics