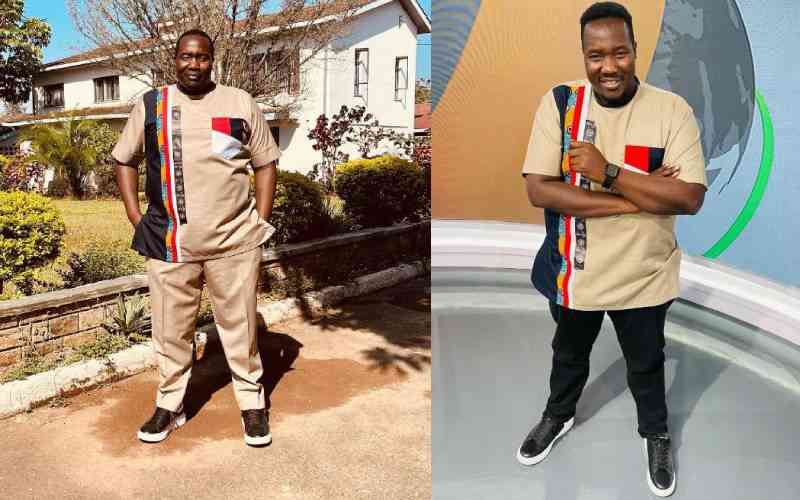 Media personality Willis Raburu has disclosed undergoing surgery to achieve his desired body weight.
Shedding light on the surgery in a recent interview with YouTuber Mungai Eve, the former news anchor said he underwent gastric bypass, "a surgery that helps you lose weight by changing how your stomach and small intestine handle the food you eat."
"I went for a gastric bypass. By the time I was going for the surgery I was 164kgs. I needed it because my blood pressure was high, my cholesterol was high. It was now a matter of taking care of my health because now I had a junior and also just for myself," he said.
Willis says the procedure was costly, but the gains were worth it.
"You have to love yourself enough to know that you need help and there is no shame in it by the way. Because people always attach such procedures to shame. It is expensive but the gains are evident. If you pay whatever you pay now and in the future let's say if I was to get, God forbid a heart attack, the money I would pay in hospital just for three days and you getting proper care, you burn out money very fast," he added.
Opening up on more changes he has made in his life, Willis said he gave up his dreadlocks after rocking them for close to two years and fulfilling his longest desire of having dreadlocked hair.
"One of the reasons why I put them is because I always wanted dreadlocks. So after I stopped anchoring news, I felt there was no better time to try them. People had all sorts of explanations as to why I got dreadlocks, some saying someone should check up on me... well It's true at the time there was ups and down but that was not the reason. I just got them because I wanted dreadlocks. It got to a point I felt now it's time for a change. I've had the dreadlocks for probably almost 2 years," he said.
The father of one who defended himself against cyberbullies said that despite having locked his hair, nothing in him changed as far as being a father to his son was concerned.
"I am not my hair. Hair does not make you or break you. There are people who have dreadlocks who are dads. Right here in Kenya we have Nameless for example, Nyashinski and all these people. But because I'm out there people target me and claim now I'm the real me yet I've been me all along. Also I wanted to break that notion that if you have dreadlocks you are a thug, you are lost, you don't believe in God, all those things. I think if people are thinking like that it is what is called a rudimentary kindergarten thinking. You are doing a great disservice to your brain capacity."
Related Topics