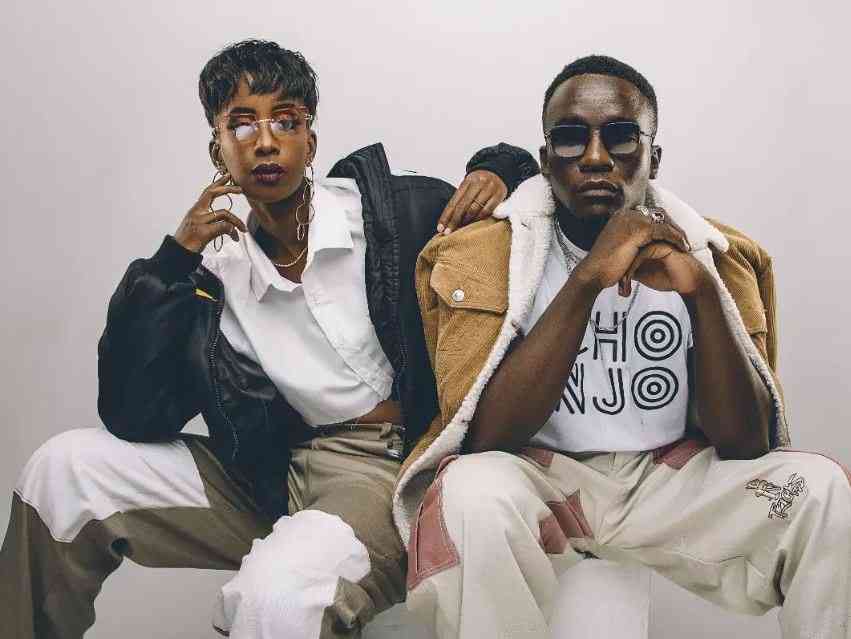 Fundi - Rich Mavoko
8/10
The 16-song album is pure gold, a testament to the artiste's maturity and ability to rise above the Wasafi cloud as an individual, having been the first artiste to leave the label. The writing is good and the emotions are deep, whether it's singing to his lover or celebrating dance in Kopo.
The sound borrows heavily from Amapiano (Sio Leo), Singeli (Blow Up), Chakacha (Kushanoga), and simple acoustics (Nisamehe). Besides his country people Saraphina and Fid Q, he features Big Zulu and the 254 in H_Art The Band, Nviiri, Ssaru, Masauti, and Cedo's work.
Highlights: Sio Leo, Twin
Chonjo - Wangechi x Scar
6/10
Their chemistry has been obvious for some time now, and it only made sense to do a collaborative album, much of which was mixed and mastered by Aress 66 of Big Beatz.
The two weave in and out of each other's thoughts so smoothly and it makes for an easy listen. In between the Drill and slow Rap, the biggest selling point is the 'east meets west' approach, with both artistes representing different rap styles, lifestyles, classes, and approaches to love, Nairobi ladies, romance, prayers, stepping out, and more in 10 songs. Some are playful, like Nairobi Pengz, while some are dead serious, like Pray.
Highlights: Pray
Vivi the Album - Vivian
7/10
The album was a breath of fresh air for Vivian, who had taken an extended break after episodes of unexplainable sickness. She said her album is a masterpiece; and with party, love, faith, and good vibes as the theme, she could be right.
Vivian showcases her amazing melodies and writing skills and does not shy away from trying out new styles, trendy artistes, and different deliveries. She has Kidum, Sossun, and Trio Mio for company in the 10-song journey.
Highlights: Do Do Do, Heart of a Lion
Invisible Currency - Khaligraph Jones
7/10
Khali's state in the rap scene and showbiz is now fully cemented, having taken more steps than his peers, with wide recognition and a relentless output that few can match. The album is an amalgamation of his dreams, his gratefulness (All I Need), the power of prayer (Maombi ya Mama), a chronology of his career (Khali Chronicles), and the versatility of his bars (Tsunami).
The album features, among other things, Mejja rapping in English, new age Ohangla singer Prince Indah, eccentric American rapper Dax, and a back and forth with Scar.
Highlights: All I Need, Khali Chronicles
First of All - Diamond Platnumz
8/10
Ali Kiba released a hot album in 2021, so there was only going to be one outcome. Diamond doing his. And he did it big, with three launches, one featuring him being his own deejay in his own livestream. Hilarious stuff.
With rumours that he was dating Zuchu, the album had a lot of hype around it, and he made sure the songs were a source of discussion. In Nawaza, an introspective look at his own world, he wonders why he keeps beefing with King Kiba, and why Harmonize keeps wishing him bad luck. He picks his features across the continent because he can, and packs enough sound for those who sing and for those that dance.
Highlights: Nawaza, Oka
Nilotic - Elsy Wameyo
7.5/10
It's hard to keep up with music. But it's not hard to acknowledge new artistes making waves with their boldness in trying out and popularising new sounds. Nilotic is filled with eclectic sounds, experimentation, vocal range, the infusion of tribal and cosmic chants, and hymns that make it loudly tribal. She doesn't work hard to level up to the sound engineer, who clearly had fun creating this. Which makes the EP a sound piece of art.
Elsy raps, sings, ad-libs, and does everything she can in six songs done in English, Swahili, sheng, and Dholuo. The work oozes pride in African culture, its people, and its sounds.
Highlights: River Nile
Focus - Arrow Bwoy
7.5/10
Arrow Bwoy doesn't play. The 14-song album is nicely packaged and features B Classic, Sanaipei, Otile Brown, Nadia Mukami, Nandy, Dufla Diligon, and Diana Spice, with Vicky Pon Dis, Ilogos, and Cedo doing the rest. Sonically, the album has Lingala, Dancehall, and contemporary Afro-sound that celebrate love, life, patriotism, hard work, and spirituality.
Arrow Bwoy has moved up the ladder and is now one of the top-tier singers the contemporary music scene has ever produced. So the work has to speak to that elevation, and it did.
Highlights: Njiwa, Simu
Savage Level - Savara Mudigi
7/10
Sauti Sol's in-house engineer went for an experimental African sound, with heavy percussions, rhythm arrangement, and a dive into Lingala, Chakacha, Reggae, and Afro-beat to make 14 songs that are all about him and his love for sound. And that's why only Nyashinski and Miss Karun get an invite.
Sababisha has a catchy hook that keeps ringing, Reggae ya Kinyozi is for a Sunday afternoon, More Than a Friend is groovy, Hallo is for the club, while the eponymous Savage Levels represent Afro beat-mix. In essence, every fan has something to pick at.
Highlights: More Than a Friend
Related Topics