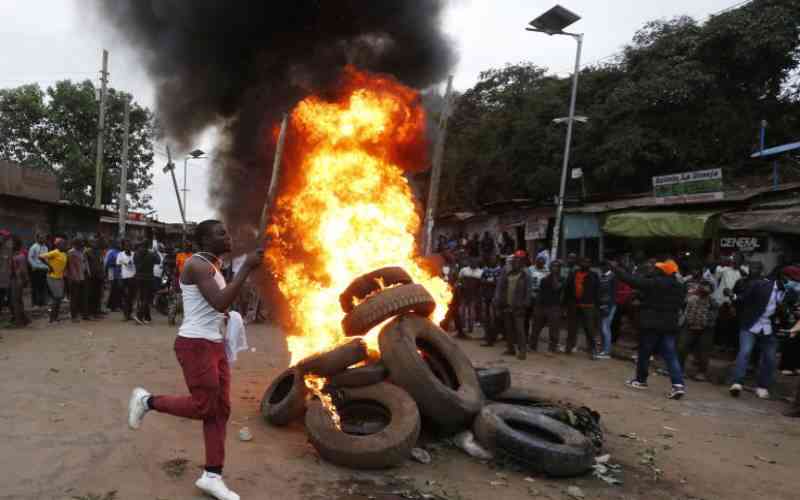 A total of two hundred and thirty-eight people have been arrested following yesterday's mass protests, Inspector General of Police Japheth Koome now says.
Koome said that thirty-one (31) police officers from both Nairobi and Nyanza regions were injured during the demonstrations.
"We arrested 25 people, while seven officers were injured in Nyanza. In Nairobi, ten police vehicles were damaged, twenty-four officers injured while persons arrested were 213," Koome said in a statement on Tuesday.
The police boss also said that they are investigating the death of a Maseno University student shot during Azimio protests, saying it was regrettable.
"It is regrettable that even after officers restrained themselves, and acted within the law, rioters invaded Maseno Police Station, hulling stones at police officers and property, and in the process, we lost one male student from Maseno University. In compliance with the Constitution and the National Police Service Act of 2011, we have commenced our Investigations into the matter," said Koome.
Koome insisted that the protests were illegal and aimed at "invading State House".
"What the organizers purported to be a peaceful demonstration turned into violent crime scenes with protestors engaging in running battles and stone throwing at the anti-riot police officers, barricading road and thus hindering freedom of movement for law-abiding citizens."
At the same time, the National Police Service termed the day-long stand-off witnessed in Nairobi and Kisumu as violence against police officers who were executing their national security mandate professionally, while upholding the rule of law.
According to Koome, the officers used force gradually and restrained themselves to contain the situation.
"The officers used gradual force beginning with the lowest threshold which is show-off force and barely reinforced by water cannons and lobbying of teargas canisters to prevent the protestors from accessing the CBD," the IG added.
Police say that they remain open to external scrutiny and investigations from external independent constitutional agencies.
Related Topics