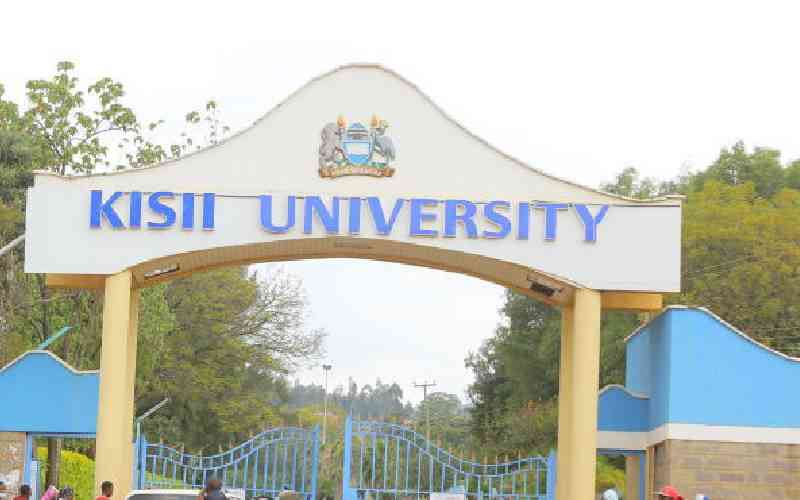 Kisii University risks having its accounts attached in two weeks should the administration fail to reach an agreement with more than 204 employees who were sacked a year ago.
On May 4, the decree-holder obtained a judgment against the debtor, in Employment Cause Number E0009 of 2020. Pursuant to the judgement, the university was directed to settle the decretal sum which consists of the schedule for the payment of terminal benefits and the equivalent of seven months' gross wages as compensation.
The schedule for payment of terminal benefits was tabulated by both parties and lodged before the court in compliance with the early ruling.
The applicant later, through advocate Cyprian Onyony, filed an application in a bid to enforce the judgment issued against the debtors. The applicant argued that unless an order for the attachment of the Judgment Debtor's account is promptly issued, the judgement debtor may withdraw the funds or close the bank account at any time thus rendering this application irrelevant.
In the application, Kenya Commercial Bank Limited, National Bank Limited and Cooperative Bank Limited appear as first, second and third interested parties.
In orders issued on August 25 by Employment and Labour Relations Court judge Stephen Radido, he directed the respondent and interested parties to file and serve the responses/affidavits together with submissions on or before September 13.
The Claimant Union was ordered to file and serve any further affidavit with rejoinder submissions of no more than three pages on or before September 20. The judge further directed for highlighting of submissions on September 22.
In the case before the Employment and Labour Relations Court Kisumu, Kenya University Staff Union appears as the applicant versus Kisii University which appears as the respondent.
Orders were issued on September 28 by the Deputy Registrar and called on the complainant and the respondent to discuss and come up with a compromise on or before October 14.
The interested parties in the matter are set to file their affidavits before end of business today while mention of the matter will be held on October 24.
In May, Justice Radido ordered the university to compute and file with the court within 30 days a schedule of terminal benefits due to each of the employees under the 2007 Employment Act.
"That the respondent, which is Kisii University, pays the dues within 60 days. The university is also directed to pay the workers remuneration up to the date of the judgment," ordered Justice Radido.
The respondent was expected to issue certificates of service to each of the 204 employees within the next 21 days from the day of the Judgement.
"The awards mentioned above will attract interest at court rates from June 7 until payment is made in full," the judge further ruled.
Related Topics