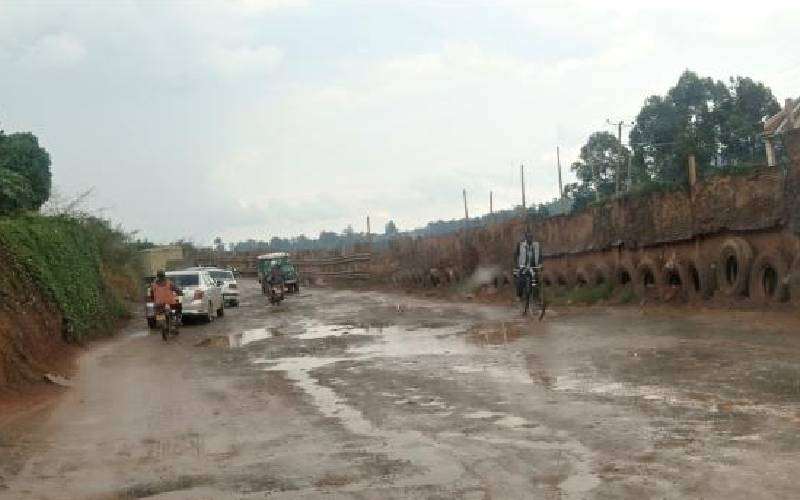 The contractor constructing the Kisii-Isebania road has abandoned the project over an outstanding debt of Sh1.5 billion.
The China Henan International Corporation Group was awarded the contract to build the 86-kilometre road by the national government at the cost of Sh8.6 billion.
The contractor has said he will only resume work after he has been paid the full amount, according to the project's engineer James Mageto.
The Chinese firm suspended the work two months ago, rendering its 550 workers jobless.
Deputy President Rigathi Gachagua, in an interview with KTN on Sunday, said the government has more than Sh500 billion in pending bills.
"We have met with Treasury officials in a bid to get resources to offset the bills. We need to clear those bills. The money will be paid to contractors to ensure that we have completed all stalled projects," the DP said.
Mageto said the project is almost done, currently at about 85 per cent complete.
"We were hoping to complete all the major works on this project by December. We have already wasted a lot of time because of the money owed to the contractor. The Chinese contractor has been away and says he will only return after his money has been paid," said the engineer.
With heavy rains pounding the region, motorists along the Kisii-Migori route have complained about the time they waste as the road has become almost impassable. It has deep trenches and potholes. It is muddy posing a danger to motorists, their passengers are well as pedestrians.
Gusii Matatu Owners Association chairman George Nyariki said the current state of the road means they are spending a lot of money to maintain their vehicles.
"We are spending a lot of money on repairs because of the poor condition of a section of the road that heads towards Kisii town," Nyariki said.
He added: "All we want is to have the project completed. This road is important to residents of this area. Being in its current state means local traders are also suffering."
Most of the businesses have reported a sharp drop in the number of customers since excavation and actual construction of the road started.
The existing road was constructed in 1969.
The construction period was initially set for between 2016–2019. The deadline later changed to 2021 due to the 2017 General Election, before it was again extended.
The project was part of the Sh18 billion Sirari Corridor Accessibility road project in Nyanza which aims at unlocking agricultural, fisheries, and agro-allied industrial potential industrialize the larger Lake Victoria basin.
The project is co-financed by the World Bank Group (81.4 per cent), Africa Infrastructure Trust Fund 4 per cent and the Kenya government.
The road works are being undertaken by the Third Engineering Bureau of China City Construction Company and China Henan International Cooperation Group.
Related Topics