Ripple economic effect as Nyanza's Sh18 billion road project nears completion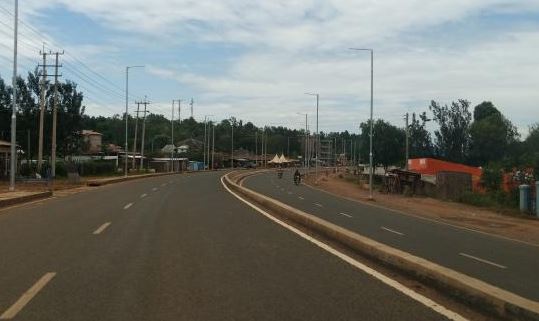 The narrow and heavily bumpy Ahero-Kisii-Isebania road has claimed many lives. Because of the many, frequent accidents, most public transport vehicle operators had quit using this road, leading to limited transport services.
Over the years, the key road linking Migori, Homa Bay, Kisii and Kisumu counties deteriorated, almost killing economic activities in one of the fastest growing towns in Homa Bay – Oyugis.
Just two years ago, Oyugis town had a single drive lane cutting through it. There were no walkways. The centre was initially characterised by makeshift structures erected on both sides of the road.
However, the situation is changing. The town is among the beneficiaries of President Uhuru Kenyatta's legacy project – the Sh18 billion Ahero-Kisii-Isebania road.
The town is now back to its busy self, with investors in the hospitality, real estate and many other industries streaming in to cash in on the development. David Ochieng', a boda boda operator in the town, says the number of accidents have gone down drastically.
"Initially it was a battle between matatus, boda bodas and long-distance vehicles," says Mr Ochieng'.
He says there has been exponential growth in the area. "We used to close business soon after sunset. Lights have been done, there is enhanced security and with increased population, more customers in our industry and expanded business opportunities."
The road, now a dual carriageway, is approximately 172km.
More than 2 million people directly served by the road network are poised to benefit from expanded market size and improved access to social services.
The project is divided into two; Isebania-Kisii road, which is 86km long, being built by China Henan International Corporation Group at a cost of Sh8.6 billion, and Ahero-Kisii road, about 84km being done by Third Engineering Bureau of China Construction Company at Sh9.4 billion.
Oyugis town, which lies along the second section of the road, has had three major feeder roads completed. They include Oyugis – Kendu Bay (20km), Oyugis-Rangwe-Rodi Kopany (30km), Misambi- Ekerenyo (15km) and Oyugis - Gamba (7km).
The construction of Oyugis-Kendu Bay road has improved access to one of the largest health facilities in the area – Gendia Mission Hospital.
The improvement to bitumen standard of Misambi-Ekerenyo road is a reprieve to fresh vegetable and pineapple famers from Nyamira County.
The other section of the road will benefit thousands of sugarcane farmers in the Awendo sugar belt. Many farmers ferrying sugarcane to Sony Sugar Company have died along Kamagambo -Migori road in the past, as large tractors battled to navigate the narrow road.
Soapstone sculptors and artisans also have something to simile about. The completion of Nyachenge – Tabaka – Ogembo road (20km) will open access for traders buying soapstone products from Tabaka town.
Charles Njogu, Assistant Communications Director at the Kenya National Highways Authority, says the main road project is 84 per cent complete, while the feeder roads are 95 per cent done.
"The projects have not experienced any challenges outside the projected implementation plan. Vital link roads have and are being implemented to ensure regional integration and economic empowerment in adjacent areas," says Mr Njogu.