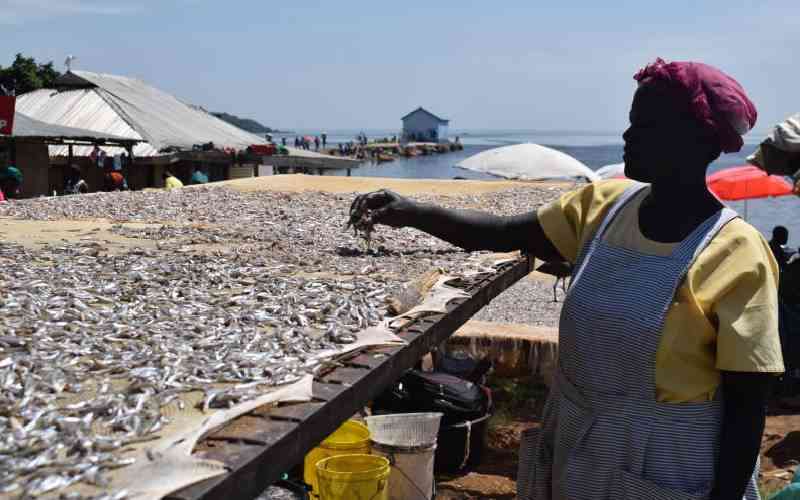 For many years under the darkness of the night sky, dozens of fishermen set sail from various beaches of Lake Victoria, and into the waters, in the hope of making a good catch.
Drawn by the lamps lit by fishermen on their night vigil, shoals of sardine fish, popularly known as omena or dagaa, leap out of the water and into the nets, which are then hauled into the fishermen's boats.
Although omena fishermen on Lake Victoria now use artificial light systems to fish, scientists and local fishermen say the best time to fish is when the moon is in full glare.
According to Dr Christopher Aura, Director of Freshwater Systems at the Kenya Marine and Fisheries Research Institute (KEMFRI), fishing during different phases of the moon is common because it affects fish behaviour.
"Fish are creatures of habit and therefore follow the same patterns day in and out. Fishing during a full moon can be very productive, mainly near sunrise or sunset because the fish are usually more active during those times, and they will be looking for food to eat," explains Aura.
Omena or dagaa fishers say the best time to make a good catch is during the dark phases of the lunar cycle.
"We normally use lanterns but when the moon is bright it overpowers our lamps, hence we get a low catch," says Okoth Odero, a fisherman on Nyenye-Misori beach.
Mr Odero, who has more than three decades of experience in fishing, says they operate between 15 and 20 days in a month.
"We always practice what is locally known as 'halo dwe', meaning that we get into the lake before the moon starts to shine and get out as it rises," says Mr Odero.
During this period, the prices of fish tend to go up with the rising demand. Benard Omondi, a fisherman majoring in tilapia fishing reveals the best time to make a good catch is at night during the full moon.
"The theory here is that the light of the moon enables fish to 'see better' and therefore lets them feed well into the night," explains Omondi.
Aura says the best times to fish are when the moon is above the angler's head and when it is on the other side of the earth below the angler's feet.
In Kenya, Aura says, artificial light is always used in the waters around islands where fishing also takes place during dark phases of the lunar cycle.
But while the lunar cycle affects the behavior of fish, Aura warns that other factors like the weather and air pressure also have a much stronger effect than the moon.
"If a cold front is approaching, even two full moons won't do you much good. The fish will probably shelter deep down away from the cold and become inactive," he explains.
Related Topics