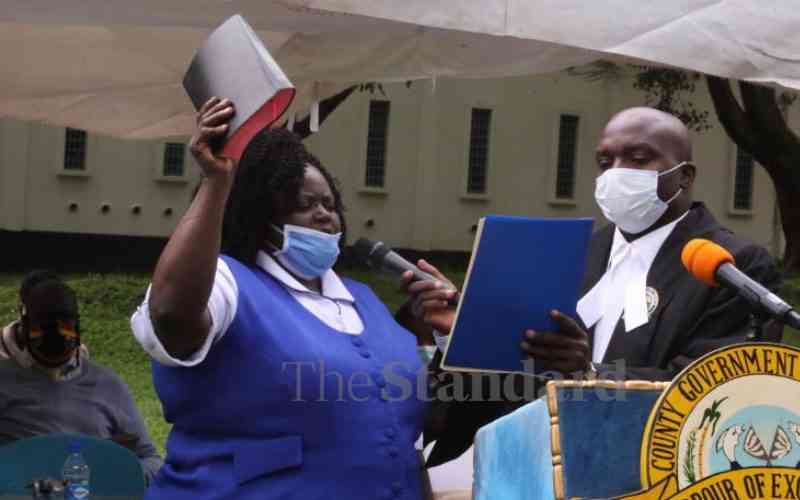 In the last three elections, securing an ODM ticket in Homa Bay County almost guaranteed you a win because of the popularity of the party.
The ODM ticket carried so much weight that most candidates would stop campaigning after party primaries, and only return to seek votes in the last one or two weeks before the elections.
This year's elections appear to be different, residents have embraced independent candidates and those vying on the tickets of parties affiliated to Azimio la Umoja.
ODM candidate for the woman rep position Joyce Osogo, popularly known as Bensouda, has been campaigning around the county due to stiff competition from her opponents.
Bensouda is, however, confident of winning the seat with a landslide. She has been conducting joint campaigns with other ODM candidates to strengthen her support base.
Also in the race is former Internal Security Assistant Minister Orwa Ojode's wife Mary Ojode, who is contesting on a DAP-K ticket.
The other candidates include Molline Atieno Marucha (independent), Tabitha Achieng Nyandiek (independent), Easter Elizabeth Ogweno (independent) and Melida Auma (UDA).
UDA's Auma is the mother of slain university student Sharon Otieno. She is hoping to make a successful entry into the murky political waters.
Interestingly, campaigns have brought her together with Migori Governor Okoth Obado who is the main suspect charged with the murder of her daughter. Obado is the chief campaigner of UDA in Nyanza and has been tasked with the role of consolidating votes for UDA presidential candidate William Ruto.
Marucha hails from Rangwe Constituency, Ojode comes from Ndhiwa, Bensouda comes from Karachuonyo, Nyandiek comes from Suba South, Ogweno comes from Kasipul and Auma comes from Homa Bay Town.
The six want to succeed the outgoing Woman Rep Gladys Wanga who is vying for governorship.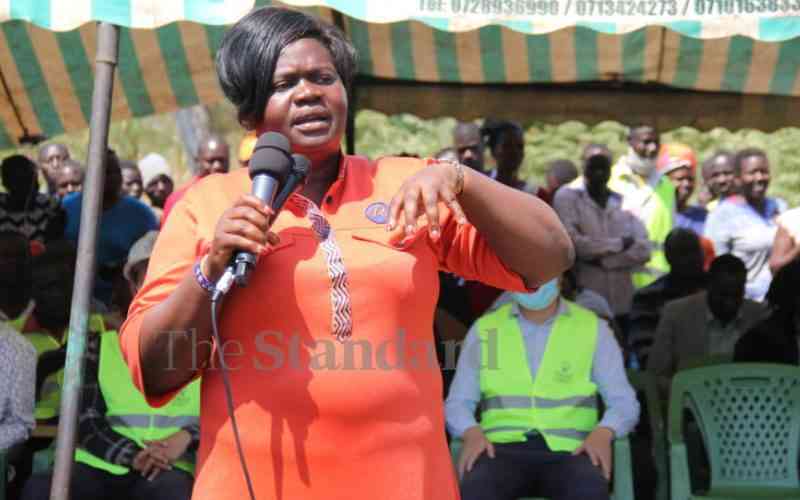 This is the first time the post of woman representative has become more competitive in the county. In 2017, it attracted only three candidates. They included Wanga of ODM who got 476,875, independent candidate Florence Rebecca Juma who had 16,158 votes and Jubilee's Lilian Achieng' Okuna who got 2,734 votes.
Homa Bay County has 551,071 registered voters. The voters are distributed in all the eight constituencies namely Ndhiwa, Karachuonyo, Homa Bay Town, Rangwe, Suba South, Suba North, Kasipul and Kabondo Kasipul.
With only four days remaining before the next polls, all the aspirants have intensified their campaigns.
On Friday evening, independent candidate Marucha got a huge boost in her bid after elders from Homa Bay Town Constituency endorsed her for the seat.
Through their organisation, Nyada Ralek, the elders endorsed Marucha at Kabunde Social Hall ground.
The elders said that they would not endorse any other candidate for the post of woman representative in Homa Bay.
"Politicians are fond of approaching elders for this type of endorsement after getting information that their opponent has been blessed. But we are saying that we no longer have any more blessings for any woman representative candidate in this county apart from Marucha," Arthur Opiyo said.
Akelo said they had scrutinised Maracha's manifesto and concluded that she is fit to be the second Homa Bay woman representative.
"We have evaluated candidates vying for this seat. This brought us to a unanimous conclusion that Marucha can serve this county better," Meshack Akelo said.
Oloo said they will persuade elders from the other constituencies to back their choice.
"Politics is about the community and the entry point in the community is elders. We will talk to our colleagues in other constituencies to support our candidate," Oloo said.
Marucha, who was born in Homa Bay Town constituency and married in Rangwe Constituency, said the endorsement has given her two constancies as her strongholds.
"Homa Bay Town and Rangwe constituencies are behind me. I am in talks with voters in the remaining six constituencies to humbly request them for their votes," Marucha said.
Marucha promised to empower women, the youth, and persons with disabilities and promote education if elected as the next woman rep.
In Ndhiwa Constituency, many voters have rallied behind the widow of former Internal Security Assistant Orwa Ojode, Mary Ojode.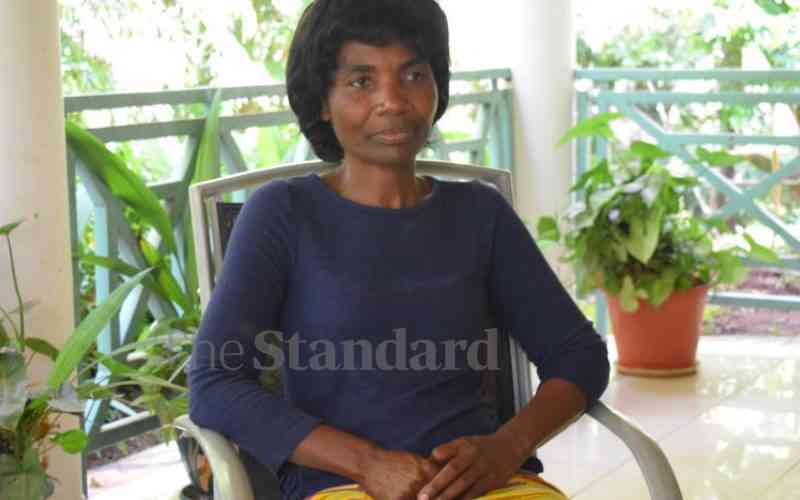 Ojode, who is vying on a DAP-K ticket, is seeking support from the remaining seven constituencies.
"I am seeking the support of voters in the other constituencies so that we can take this county to the next level," Ojode said.
She said her objective is to empower women, the youth and persons with disabilities.
"Being a widow, I understand tribulations which widows undergo. My intention is to empower women, the youth and persons with disabilities," she said.
In her campaigns, Ojode has been carrying out civic education to enable residents understand the functions of a woman representative.
Bensouda has also been conducting civic education and has promised to represent the people well in Parliament.
She said her focus is to empower women, persons with disabilities and the youth should voters trust her with the seat.
"I will ensure development of their skills in entrepreneurship. I want to ensure markets are built properly," Osogo said.
Sharon's mother, Auma, on the other hand, has promised to ensure that government funds are well utilised if elected.
Auma said she will devise better ways of utilising the National Government Affirmative Action Fund (NGAAF).
"I have better ideas on how the money will help our people," she said.
She plans to form partnerships with the county government to empower residents in agriculture.
Nyandiek wants to demonstrate what representation entails.
She wants any project implemented using NGAAF during her tenure to reflect the will of the people.
"I want to show true leadership of representation by ensuring that any project implemented in any part of the county emanates from the needs of the area residents," Nyandiek said.
She wants to change the lives of women, youth and people with disabilities through economic empowerment.
Related Topics