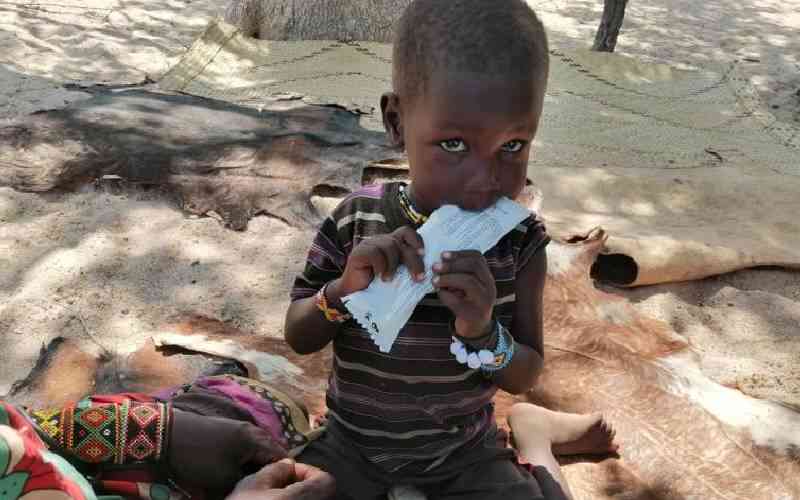 More than 500, 000 people in seven sub-counties in Turkana are in dire need of relief food assistance as the drought situation continues to worsen.
According to the latest Kenya Red Cross Society assessment, the prevalence of malnutrition among children aged 6-59 months old, the global acute malnutrition (GAM) level, is currently 20.4 per cent.
This is beyond the World Health Organisation (WHO) acknowledged global acute malnutrition rate of 15 per cent.
KRCS Secretary General Asha Mohammed revealed that pastoralism is the most hit as many families are losing their livestock due to insufficient water and pasture.
"The drought which is at an alarm stage is worsening because the October to December rainfall has already been predicted to be below average with Turkana North Sub County being the most hit," Dr Mohammed said.
Akutan Loger, a resident of Nabulon village in Turkana Central sub-county, said living near Lodwar town is a disadvantage to many vulnerable families like her.
"All the livestock that we were relying on for dairy milk and income when we sell at Lodwar Livestock Market have all died due to lack of pasture. We thank the organisation for reaching out to us with relief food as many response programmes targets far-flung villages," Ms Loger said.
She said that due to increasing urbanisation, a huge chunk of land that they used to rely on for pasture for their livestock in the town has been developed.
Another resident, Mary Lojere appealed to both the county and national governments to distribute more food.
"There are more deserving families that also see relief food as their only hope but were not captured by the organization," Lojore said.
She said that despite living near Lodwar town, she is jobless and her family does not have livestock to bank on.
Mr Elijah Aroto urged relief agencies to identify elderly people or people living with disabilities, most of whom stay indoors.
Pastoralists in Turkana County have been encouraged to embrace livestock trade as opposed to keeping animals for prestige.
KRCS is targeting a total of 5,000 families for the Sh65 million cash and voucher assistance programme as part of the ongoing drought intervention measures to buy food items.
At the same time, a total of 3,300 households are set to benefit from distribution of 165 Metric tonnes of livestock feeds that have been procured by Sustainable Approaches for Community Empowerment.
County Livestock and Veterinary Services Chief Officer John Tukei said supplementary feeds were meant to protect livestock from succumbing due to lack of feeds and enough vegetation by bridging the gap before regeneration of pastures/browse plants is realised.
Related Topics