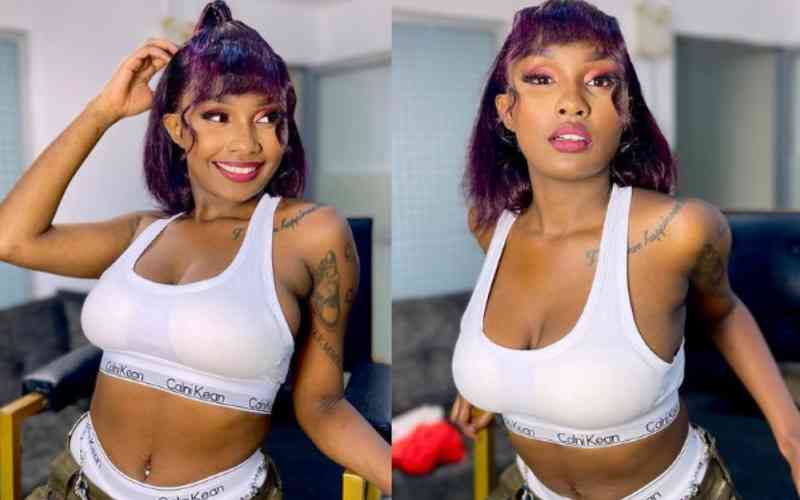 Content creator Georgina Njenga has come out to defend her choice of outfit after a section of netizens called her out for wearing a knockoff.
Georgina paused for photos in a Calni Kean shockproof bra and seamless underwear that many believed was a knockoff of the renowned luxury brand Calvin Klein.
"What labels are you wearing?" asked one Instagram user.
"Ati designer ni gani?" asked another.
"but mtu akiangalia haraka haraka huwezi notice si Calvin Klein," wrote another.
In her defence, Georgina said there was a brand called 'Calni Kean' and went ahead to post a screenshot of the matching bra and underwear plus the price.
"First of all there is a brand called Calnikean so mniache," she wrote.
Georgina on mummy shaming
Earlier this year, Georgina was criticised for attending a social event while she was still nursing a little one.
She said that questioning a mother about her baby's whereabouts while she is out having a good time is a form of mother-shaming that creates unwarranted guilt in mothers.
"It's crazy, I can be in the house six out of seven days, but that one day, everyone will try to make me feel bad for going out," said Georgina.
She called for an end to the behaviour, calling for unconditional support for mothers.
Further, the content creator shared her personal struggle with postpartum depression and how she was reluctant to seek help within the first three months of being a new mum.
She said she did everything by herself as she was afraid of being a lazy mother and didn't trust anyone with her child.
Georgina added that she didn't leave the house unless it was for clinic visits, which led to a loss of self-identity at the time.
Related Topics