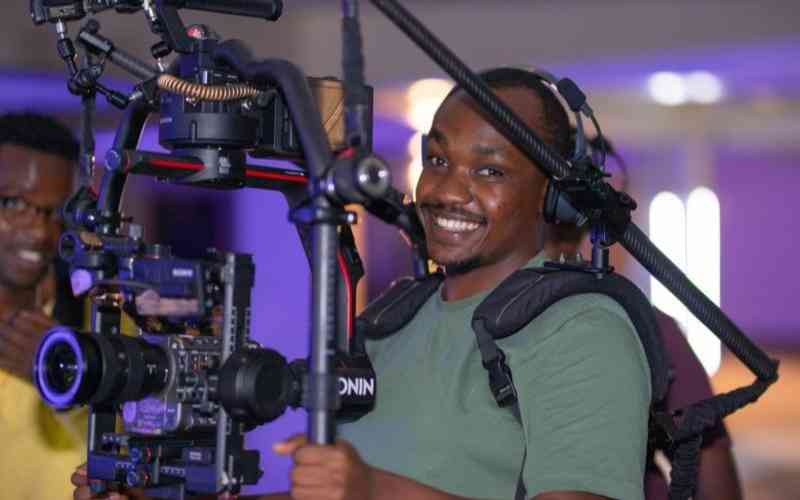 Kenyan superstar Nyashinski's 2020 video for the track Hapo Tu is a work of art, capturing the essence of urban Kenya in the most captivating way.
It starts off with a man, seemingly in deep contemplation under a bridge, but quickly cuts to the rapper floating on clear blue water, and then dancers showcasing their choreography in Nairobi city centre.
Nyashinski features Chris Kaiga in the chart-topping hit, and it's hard to imagine any other visuals going with the much-loved song, which has now been viewed over 15 million times on YouTube.
The man behind the video? Director Steve Mugo, who runs a video-directing company called Ambition Media House with his wife, Irene Muthoni, as a partner.
The video director, 29, says that he likes to think outside the box and capture moments in everyday life.
"The first time I got a text from Nyashinski's team, and it was just a heart-stopping moment. I knew that I could not afford to mess up," he says.
"We had a meeting, where I heard the song- and it was epic. There are some songs you will hear and realise that it's up to you as a director to measure up to its greatness. For those types of songs, you have to add value to the production."
It was a tense moment as the director awaited feedback on the project- but the tension soon turned into one of the most thrilling moments of his career so far.
"I got a few corrections from his team at first. But shortly after, I got a call from Nyashinski himself saying that the video was perfect as it was. He was like, 'bro ata usichange kitu, hio kitu ni noma'. He told me that I had delivered beyond his expectations," Steve says, adding, "It was a huge moment for me and I was very happy."
As the director continues to make his mark in the film and entertainment industry, he has worked with Nyashinski again, directing the video for his collaboration with rapper Femi One on the track Properly.
Steve Mugo is also behind the visuals for renowned gospel singer Kambua's track Shukrani, King Kaka and Nviiri The Storyteller's Manifest, Bahati's Unavyonipenda and many others.
The director is also actively involved in the advertisement space, having worked with brands like Darling Hair Nigeria, Mozzart Bet and Copia among others.
His start was humble and inspiring.
"It's interesting. The first video we did, tulitumia equipments za shule. We had a break in school (university), so I planned with my classmates. We were shooting around a slum where I lived, in Juja. My classmates supported me, they were my cast, then I got a small crew."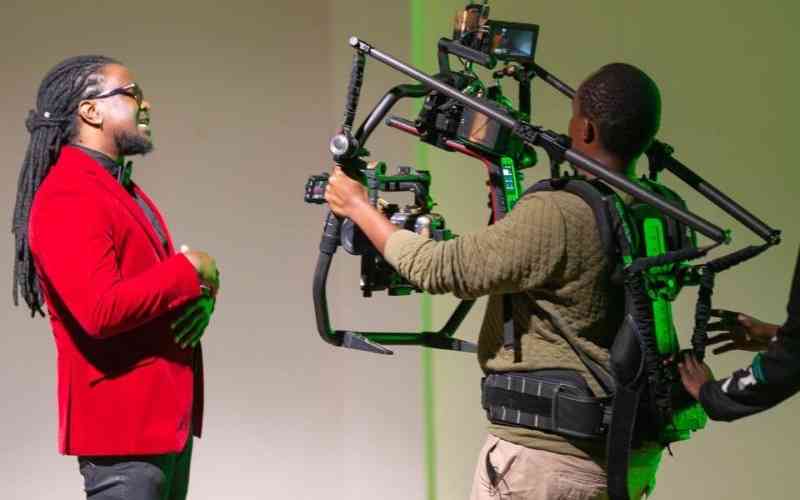 Steve says he jumped onto the opportunity to practice and learn when film equipment was first brought to JKUAT, where he was pursuing a degree in Mass Communication.
"No one was taking this new equipment, most students were hesitant to use them. For me, I took it as a challenge. I love challenges and risks, even all my clients know that about me," Steve says.
"I took the risk, asked for permission, took the equipment. We shot in the morning and came back again in the evening to shoot some more. I didn't know how to use it yet at that point. I just used general knowledge," he says.
The video was for a medical student who had an interest in music.
As though it was a sign to keep going, Steve's first video made it to national television and this, he says, inspired him to keep going more than ever.
"It was on Citizen TV's Mseto East Africa. And from that moment I knew that I had to keep going. I was like wow, this is my first video and it's literally on Mseto."
To position himself for more projects and more professional relationships, the director says that he worked closely with up-coming artistes, sacrificing almost every shilling he earned to make the video quality better.
"The A-lists came to me after seeing some of the work I was already doing for rising stars. When the upcoming artists would pay me for the videos, I wouldn't keep any of the money, I would just put it back into the business and go home with 500 bob or less at the end of the day," he says.
"I put all the money into the production. That way, famous artistes started to see the quality of work I was doing, and that is how my name and reputation grew as the calls started coming in."
The work that Steve does requires high levels of creativity and a healthy dose of art.
Columbia College Hollywood writes on its blog that a video director is the storyteller- making creativity one of his/her biggest strengths.
"It can be pretty hard to identify the editor or sound designer that worked on a film, but the director? The director is usually easy to pick out. Why? Because in filmmaking, the director is the storyteller. It is the director's voice that we hear throughout the film," the report notes.
"To become a brilliant director, you must learn to harness your creativity in a productive way. You must master your imagination to tell unique and original stories. If you don't, you'll end up with film projects that fall flat, due to a lack of distinction."
These qualities come naturally for Steve, who says he derives inspiration from his encounters with ordinary people living their day-to-day lives.
"I don't even like watching movies honestly. But I can look at something ordinary, and it will just catch my eye. I'll envision a video playing in the market or in the kinyozi. Or at the mama mboga stall- those are the types of things that catch my eye."
He adds: "So when an artiste sends me a song, and let's say I'm driving around and see something interesting, I'll park, take a picture and put it in what I call my idea bank. I listen to the song, then make a treatment. A treatment basically explains how I have understood the song and how I will approach it."
What motivates him
Steve has won many awards, including Best Video Director at the Groove Awards, Pulse Music Video Awards and Verse5ve.
He says he is motivated by his young family, especially his wife, Irene, whom he says makes major decisions for the company when he is in a dilemma.
"Having a supportive partner is crucial for your growth as a person- and it will take you to places you would never imagine. Someone who understands what you are doing," Steve says.
He says that he is always hungry for information, and although he had to drop out of University at the third year for lack of fees, he taught himself everything he knows.
"Shout out to my mum, Miriam Mugure, she supported my dreams by paying for the years that she did, and now, I'm ready to go back to finish up my degree."
Related Topics