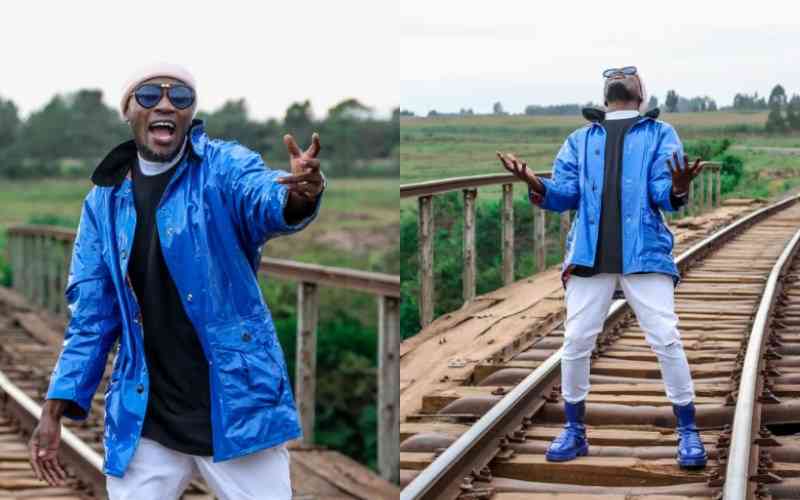 Gospel singer Daddy Owen has reflected on his life saying he would have done some things differently.
Speaking to former radio host Shaffie Weru, the Vanity singer said his failed marriage taught him some valuable lessons and looking back, he thinks he got married quite late.
Daddy Owen said getting married at the peak of his career was not the wisest decision but he is now at a better place mentally.
"I think I got married very late…I wish I got married before the fame. That way I would grow into the fame…
"Getting married at the peak of your career is a different story," he said.
On his divorce and how he became a trending topic for days, the singer said he was surprised at how people were publishing falsehoods about him and his ex-wife, with little knowledge of the truth.
He promised to narrate what happened at a later date.
"Kenyans do not really know the real story but one day I will sit here and tell you exactly what happened," he said.
Asked why he is yet to get a girlfriend despite his celebrity status, Daddy Owen said he is in no rush and 'getting ladies is not an issue'.
Describing himself as an elite man, the singer said he has been working on himself and despite the numerous DMs he gets, he knows exactly what he is looking for.
Also read: Daddy Owen looking for dark-skinned 'kienyeji' to marry
He added that some women go as far as sending him nudes but he blocks them.
"I count myself as one of those elite men in this country and as an elite man finding love is not an issue. I am single by choice.
"I am at a place where I get to decide. Getting ladies is not an issue..I decided to work on myself and after that, the rest can follow. I get all sorts of offers and some even send nudes. Instagram is quite something. There are some older women as well but I think sex is idolized. I know my purpose," he asserted.
View this post on Instagram
In November 2022, the singer told his fans that his mother was worried that he is lonely and asked him to look for a woman to marry.
The award-winning singer said he was ready to take the leap of faith provided the lady ticks some boxes.
"If I get someone right now I am very willing to settle down. I want her to be prayerful and from the village. The ones in Nairobi are already too spoilt. I want one from the village who by the time she starts knowing the ways of Nairobi I will have led her in the right path," he said at the time.
Related Topics