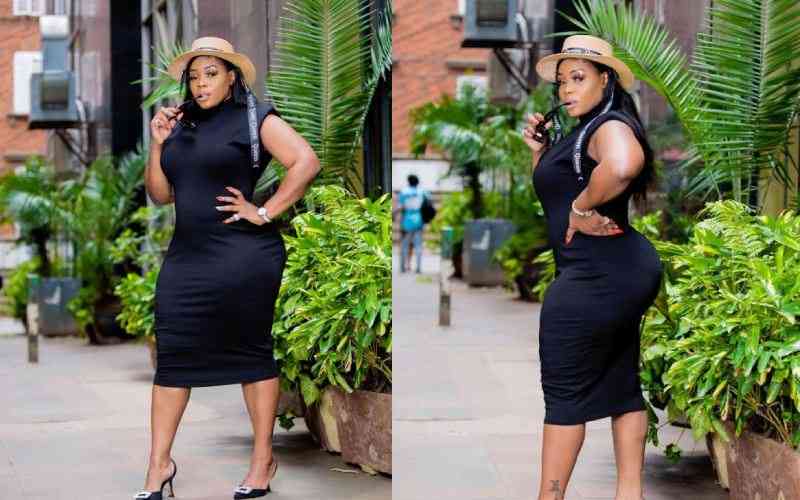 Former Nairobi Diaries actress Risper Faith has come out to address claims that she photoshopped her face on someone else's photo.
Addressing the matter during an interview with Mungai Eve, the former socialite admitted that it was all for content creation as her business was not doing well at the time and she needed numbers.
"After hizo trolls nimepata job. Nimeshalipwa mahundred thousand zangu kadhaa, niko hapa naenjoy pesa zangu. Si ni showbiz.
"But don't I look better than her? Truth be told. So I did a better job than her. I don't deny I did a photoshop," she said.
The businesswoman was busted for taking pictures from other social media platforms and posting them as her own buts he does not see a problem with that.
According to her, the pressure of looking rich on Instagram is too much and since she had no picture of a cup of coffee, there was no way she was going to post black tea and sweet potatoes that morning.
"I've gone to so many coffee shops in Nairobi, I have spent so much money on coffee so why can't I just take a photo and post it? That day however I was in the house taking sweet potatoes and black tea, I had no coffee picture so where was I to get the picture?" she added.
For Risper, downloading a picture from another page and posting it as her own is completely harmless and does not mean she cannot afford a decent life.
"It's not that I can't afford this stuff, you know, but it's just that you want your Instagram to look good because of the pressure and everything. I came across this picture and thought I should greet people good morning and because in the morning people take coffee, I posted it. I could not post I was taking black tea and sweet potatoes so that people don't start saying I don't have money to buy coffee. Everybody on Instagram is faking it.
"Im not setting fake standards, have you seen my house? Have you seen my lifestyle? I'm not faking anything. Furthermore, Instagram has no regulation saying we can only post our own content. We are just having fun, don't take life too seriously," she went on.
Manifesting
Speaking on why she photoshopped herself in front of a jet, the curvaceous influencer said that was her way of manifesting good things in her life.
"I'm just manifesting, I'll be on a jet one day. I know there are things you want in future too right? You want a big house, you want a big house, you want money in your account, don't you manifest it? So for me I manifest it through the photos. What's the problem?"
Related Topics