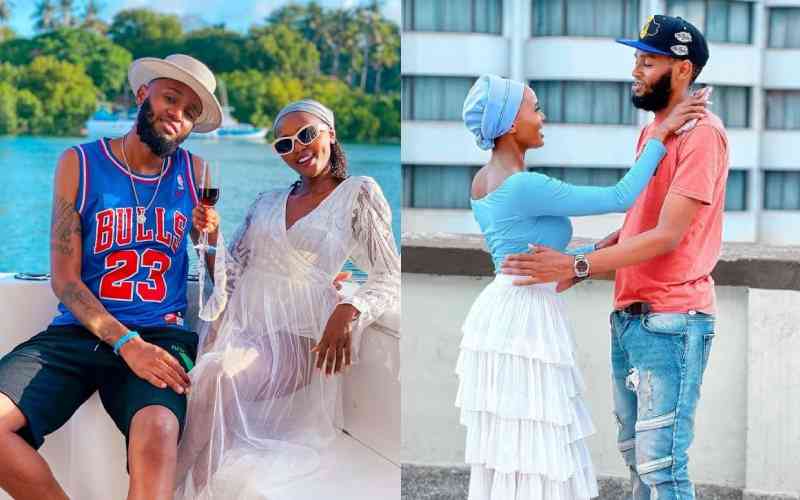 Akorino makeup artist Carey Priscilla has removed a tattoo that had her husband's name.
Opening up on their YouTube Channel, the Instagram model explained that she was elated when she got the tattoo but after a while she started feeling miserable because of the image she had portrayed to young girls who look up to her.
"There is a video we did where I surprised my husband with a tattoo of his name on my back. At the particular moment when I was doing it I was so happy and it was something I wanted to do. However, later after I did that video, it didn't go well with me and it started affecting me. I couldn't continue making content and all because I felt very convicted with what I did," she said.
According to Priscilla, her intention was never to make any individual go astray but because she made the post public, she ended up influencing a good number of young people to follow her path, something she deeply regrets.
"I know young girls especially from where I come from, my church, some of them look up to me and I got a lot of messages from them saying, 'This is really nice, something I have wanted to do…a tattoo.' I was like yes, I did it for me but the fact that I posted, I was therefore setting a bad example. In a way influencing these young girls who look up to me to take a different path that I wouldn't want anyone to go through if they weren't ready. I had to take a break and told my husband I wasn't in a position to shoot any more content because anything I wanted to put out inspiring stuff," she went on.
However, her husband Benito felt she only removed the tattoo for fear of being condemned. For Benito, he too would have gotten Priscilla's name tattooed on his body but because she removed it without consulting him, he will not get one.
"I think it's just fear. Maybe you are afraid you will go to hell because of the tattoo. Even I wanted to get a tattoo of your name but now I'm thinking I'm better off getting an eagle or something else, even and elephant or a lion and start calling myself Simba but not your name. I'm being very honest, I'm going to get my whole hand tattooed and not write your name," he said.
Priscilla, however, said that she now has peace of mind and asked those whom she 'misled' to forgive her.
"My point is I don't want anybody to go astray because of something I did. It might not make sense but for me one thing I value the most is having peace of mind, having a good relationship with God and at any particular moment I pray I don't want to feel like there is someone I wronged. I hope you all understand and if there is someone out there I misled, I am really sorry," she explained.
Related Topics