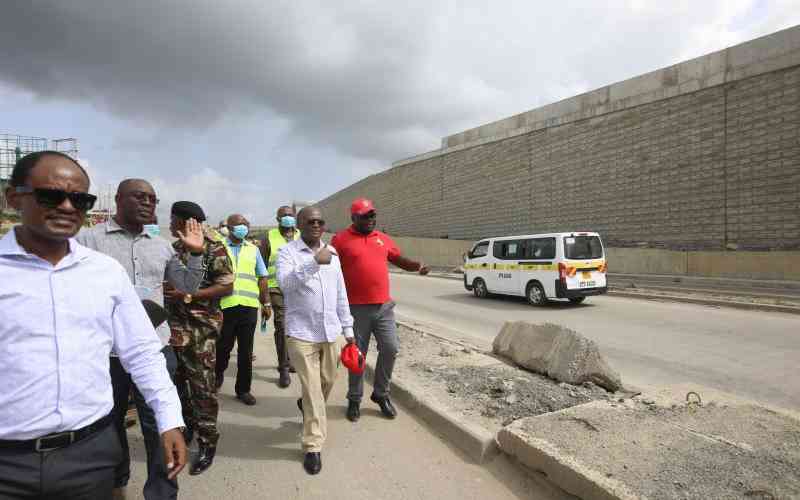 Port service providers at the Coast should brace for tough times following the government's plan to increase the volume of cargo railed to the hinterland.
Since 2018, the Standard Gauge Railway (SGR) freight business has been on an upward trajectory handling 393,152 containers in 2020, largely due to efficiency at the port of Mombasa.
But the service has also been a subject of debate in political circles over alleged transfer of port services and other businesses from Mombasa to dry ports in Nairobi and Naivasha.
President Uhuru Kenyatta's administration, however, says it was keen to complete major projects to open new business opportunities for those who have lost out due to the SGR.
Yesterday, Transport Cabinet Secretary James Macharia said President Uhuru will next month tour Mombasa to open the Sh24 billion bridge to connect Mombasa West and South mainland.
The infrastructure will serve the multi-billion shilling Dongo Kundu special economic zone (SEZ) being developed on a 3,000-acre parcel of land near the port of Mombasa.
KPA officials said the expanded port capacity, construction of the Special Economic Zone (SEZ), and the equipping of Lamu Port with modern equipment will spur the region's economic growth.
"Business is not moving from Mombasa, it is shifting and the businessmen in Coast must innovate to remain afloat," said KPA Corporate Affairs Manager Bernard Osero.
He said an efficient port and SGR freight service are expected to translate to a drop in the cost of imports which would ultimately reflect in the prices of goods and services.
A fortnight ago, KPA signed a grant with the Japanese International Cooperation Agency (Jica) for the development of key infrastructure like roads in the SEZ area to attract investors.
"Dongo Kundu is no longer a vision. Development of essential infrastructure is going on in the area. It will take some time but things will look better for Mombasa residents," said Mr Osero.
The SEZ project includes the establishment of a free trade zone, free port, logistics hub, and a mega industrial zone, which the government says will create thousands of jobs for the locals.
Yesterday, Kenya Railway Corporation (KRC) official Thomas Ojijo said the government was in the process of purchasing 500 new SGR wagons to enable it to increase the volume of cargo transported by rail.
This will increase the number of SGR wagons from the 1,620 to 2,120, according to KRC Coast Operations Manager Mr Ojijo, who said a wagon carries at least two containers.
The additional 500 wagons are expected to increase the capacity of the SGR freight services and reduce the cost of trade through the port of Mombasa and the dry ports in Nairobi and Naivasha. Ojijo said one freight train rails at least 56 wagons, which translates to an estimated 112 containers of Twenty Equivalent Units (TEUs)- the standard measurement of a container.
Meanwhile, KPA said it has completed the construction of a modern berth with a capacity to handle 450,000 containers per year. This takes the port's capacity to handle 2.2 million containers a year.
KPA General Manager Operations, Sudi Mwasinago, said Lamu port is being equipped with modern equipment to attract ships that will create business for road transporters.
"Once the road infrastructure is in place and we equip Lamu port, ships will start to dock and that will be business for trucks and Coast people," said Mr Mwasinago, adding that the equipment had already been ordered.
The business of truck owners who relied on the so-called last-mile business is expected to affect KRC's plan to start operating all its Meter Gauge Railway (MGR) feeder lines.
Ojijo said KRC has already rehabilitated Nakuru-Kisumu, Kisumu-Butere, Laseru-Kitale MGR lines, while the Gilgil-Nyahururu line was 60 per cent complete.
"Feasibility studies are complete on plans to revive the Voi-Taveta MGR line to link it with the Holili-Arusha line to enable the port of Mombasa to serve northern Tanzania," he said.
The linkage of the SGR and the MGR is expected to increase volume of cargo handled by train. Mr. Mwasinago said currently the trains transport 40 per cent of cargo at the port.
"With an expanded capacity of the port, SGR must operate as efficiently as possible," said Mwasinago. He said it was upon an importer to decide the mode of transport to use.
KRC also established parking area for trucks next to the Nairobi dry port and was negotiating with truck owners to reduce rates of transporting cargo from the ICDs to the importers.
Kenya Ports Authority (KPA) Head of Inland Container Depots, Paul Bor, said they had also reduced rates to attract more cargo from the roads to the SGR.
"Importers returning empty containers to Mombasa have found it cheap to use SGR than the road. But most are attracted to SGR because of security and safety," he said.
He said KPA was rolling out a joint monitoring centre to enable importers download a mobile phone App to track their cargo from the minute it is offloaded from a ship to ICDs.
"The App will show where the cargo is placed at the ICD once it arrives. This will reduce truck turnaround time and associated costs," said Mr Bor in an interview on Thursday.
Related Topics