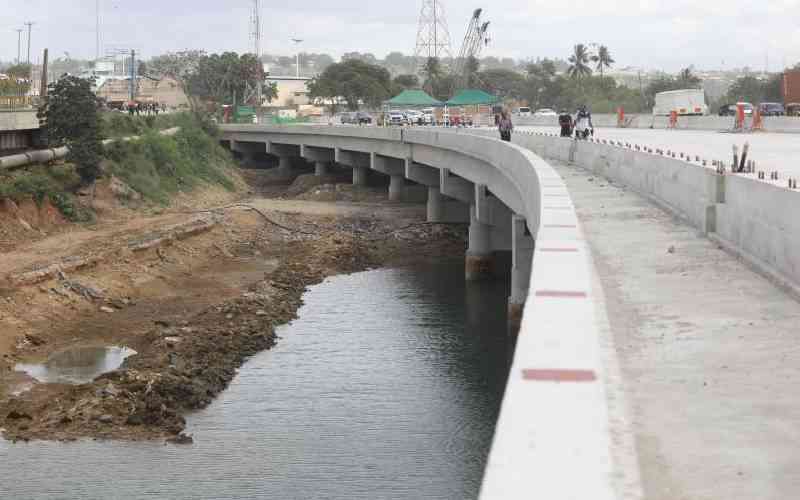 President Uhuru Kenyatta will commission some of his key legacy infrastructure projects in Mombasa County before the end of his term.
The President will next month launch the Changamwe interchange and Mombasa Kwa Jomvu road built at a cost of Sh85 billion and the Makupa bridge which cost Sh4.5 billion.
Speaking at Makupa bridge during an inspection tour yesterday, Transport and Infrastructure Cabinet Secretary James Macharia said the two projects were 95 per cent complete and would be commissioned by President Kenyatta in July.
The two projects are expected to end frequent traffic jams caused by trucks from the port of Mombasa and aid the growth of tourism through smooth flow of traffic through the island and the Moi International airport.
"The Changamwe interchange, Mombasa Kwa Jomvu road and Makupa bridge are almost complete. The president will launch these projects at the end of July," Mr Macharia said.
He said Makupa bridge was historic because it would see the causeway built by the British administration in 1929 demolished and return Mombasa into an island, hence a preferred tourist destination.
The Tudor and Port Reitz creeks on both sides of the bridge with undergo major dredging to ensure the flow of water around Mombasa island.
"The Makupa bridge project is historic because it returns Mombasa to one of the internationally recognised islands and help in marketing it as a tourist destination," said Macharia.
Macharia, who was accompanied by Coast regional commissioner John Elungata and senior officials from Kenya National Highways Authority (Kenha) said most government flagship projects were on course and that contractors were working 24 hours due to improved security.
He said the government would rehabilitate the meter-gauge railway line from Miritini Standard Gauge Railway (SGR) station to Mombasa island at a cost of Sh2 billion through Makupa bridge to facilitate passenger connection.
He also said the government has sorted out compensation issues for Project Affected Persons (PAPs) that had delayed dualling of 42km of the Sh6 billion Kwa Jomvu-Mariakani highway.
"The project was delayed because of issues of affected persons but they have now been sorted out. It is now set to start anytime," Macharia said.
Also set to start is construction of the Lunga Lunga-Mombasa and Mombasa-Malindi highway that connects with Tanzania, he said.
Meanwhile, the CS said Moi International airport will undergo upgrading to accommodate anticipated rise in traffic following application by major airlines to increase their flights to the facility.
He said he has received applications from Qatar, KLM, Turkey, and Ethiopian airlines. "We have received applications from several airlines which want to increase their flights but we have to first consider our own line as a strategic national asset," he said.
The CS said the Mteza-Mwache twin bridges are 56 per cent complete and are expected to be ready in March 2024.
The bridges are being constructed by Fujita Mitsubishi corporation of Japan at a cost of Sh24 billion to connect Mombasa west and south mainland.
The Mwache bridge spanning 660 metres and the Mteza one straddling 1,440 metres complete with viaducts are linked up with an 8.96 dual carriageway with an interchange at Kibundani on the Likoni-Lunga Lunga road.
The infrastructure will serve the multi-billion shilling Dongo Kundu special economic zone being developed on a 3000-acre land near the port of Mombasa.
"The bridge is set to serve the Dongo special economic zone. Already land prices are high because of the ongoing infrastructure projects," Macharia said.
He also said the design for the proposed Mombasa Gate bridge at Liwatoni to connect Mombasa island and the South Coast is complete.