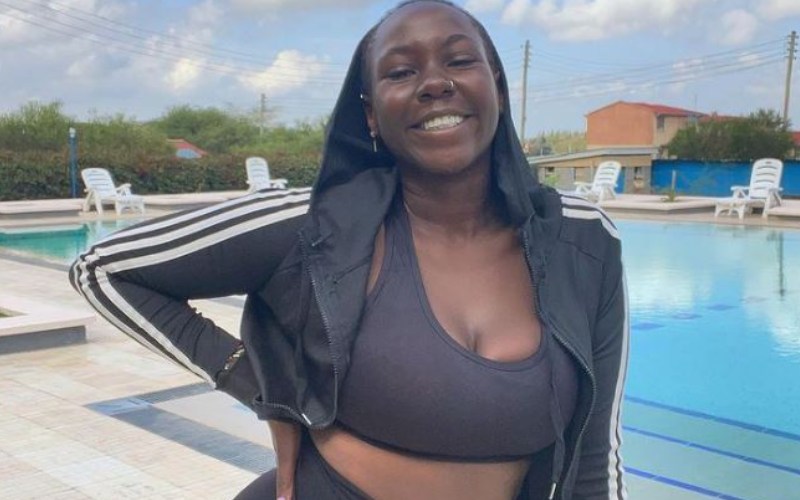 Since embarking on her fitness journey, social media sensation Chebet Ronoh has continued to wow netizens with her impeccable weight loss results and has equally not held back from flaunting her new body for everyone to see.
The former radio presenter who embarked on a healthy life journey sometime in 2020 has on several occasions sent social media into a frenzy with numerous racy pictures of her toned body and her fans love it.
Opening up on her efforts so far, the 21-year-old university student admitted that her initial goal was to just lose weight but in the process grew to mind her overall health and body which in turn gave her a more calm and peaceful approach to life.
"My body in 2020 / 2022, I dropped 25kgs. Although weight loss was my original plan and goal. I've ended up learning and growing so much in reference to my health and body in ways I never thought I would and it has honestly changed my life for the positive a whole more
"My mind is calmer and clearer. And I focus on what matters a whole lot more. It's been the most painful and pleasurable experience at the same time, mentally and physically had to push my body and diet with lots of discipline but I'm happy and content. To more months of hard work and results. "More love less Ego," she said.
Motivation
According to Ronoh, losing weight was anything but easy and on several occasions forced herself to carry on even when she wanted to give up because of the goal she already had in mind.
"My motivation to keep going = discipline cultivation learning, I pushed myself even when I didn't want to at all I just had to I cannot explain the drive but I couldn't let myself be somewhere I vowed to never be again. I think the question is HOW BAD DO YOU WANT IT?" she added.
Despite a few of her fans wanting to join her in her fitness journey, Ronoh cautioned against artificial weight loss remedies explaining that as much as they are an alternative, one should take the time to know their bodies and embrace it through every step.
"Many of you are asking the fastest way to get the "ideal" body or fat burning easy routes like supplements and other pills I've learnt of, BBL, fat freezing and lipo. When I started I honestly wanted to do all the easy ways and finally look a certain society standard way but I have shown you completely different as I post my morning runs and weight lifts and food intake. Because I want you to enjoy the process of getting to know your body and still create the body you would like!
"Don't get me wrong I'm not against anyone doing the above do what is okay for you. Although hard work really does feel great the discipline you cultivate! The mindset sees positive because of high dopamine and serotonin levels. What am I saying? Body movement! Is the ideal please get to know your body through each step."
My mum told me to celebrate my wins more often and I cannot downplay this. I finally did it after years of relapse and restarting.
Related Topics