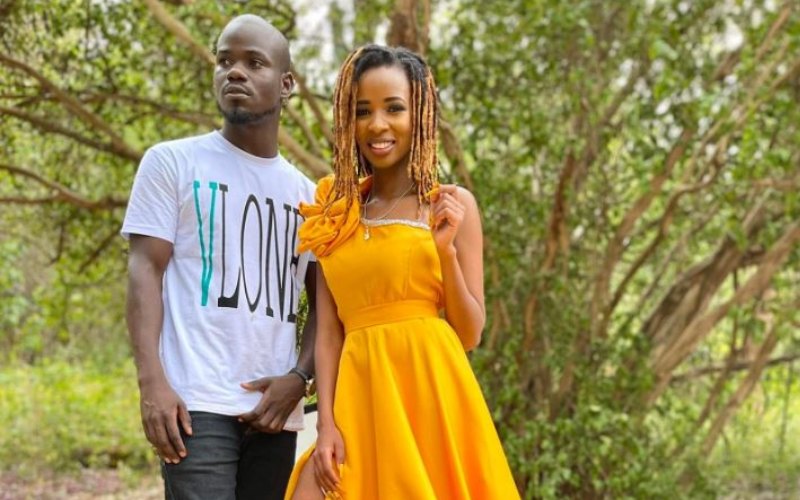 Since going public about their break up, former celebrity couple Kendrick Mulamwah and actress Carrol Sonie have been making headlines for different reasons.
A few days ago, things between the two escalated after Mulamwah accused Carrol of cheating in a lengthy post. He went ahead to say Keilah was not his child.
Fast-forward to Tuesday and the script has changed. Mulamwah now says the child is not his but his and Sonnie's. Really?
The revelation was then followed by a video of the content creator in the company of Sonie during what looked like a photoshoot.
Clout?
Following the alleged reunion, confused netizens have questioned the validity of the couple's brawl with many convinced they are just clout chasing.
Setting the record straight, Sonnie claimed that she had no knowledge of Mulamwah's visit and was surprised when he showed up at her photoshoot .
"Yesterday I was having a photoshoot with Kapedo, few minutes into the shoot Mulamwah showed up. I wasn't aware he is coming and he wasn't invited. I asked him what he was doing and he said he is there to apologize. I insisted he should do that online but he said he wanted to talk first. To avoid embarrassment and unnecessary altercation I listened to him. I took a few videos and photos but nothing has been solved between me and Mulamwah," she said.
According to Sonnie, the only way they can move forward is if Mulamwah, "Apologizes to his daughter, apologizes to her family and his fans for misleading them."
Following Sonnie's remarks Mulamwah confirmed that they are not back together and were only in talking terms for the sake of their daughter.
"True, we aren't dating, we aren't back together as lovers or partners. It all for K, just that. Don't get it wrong," he wrote.
The two announced their second break up about five months ago and have been on each other's throats over their union and child since then.
"This is to make it clear that Mulamwah and I are no longer together. We have both agreed to part ways for reasons best known to us. Thank you so much for the love and support you gave us for those four years, I personally do not take it for granted," wrote Sonie at the time.
Related Topics