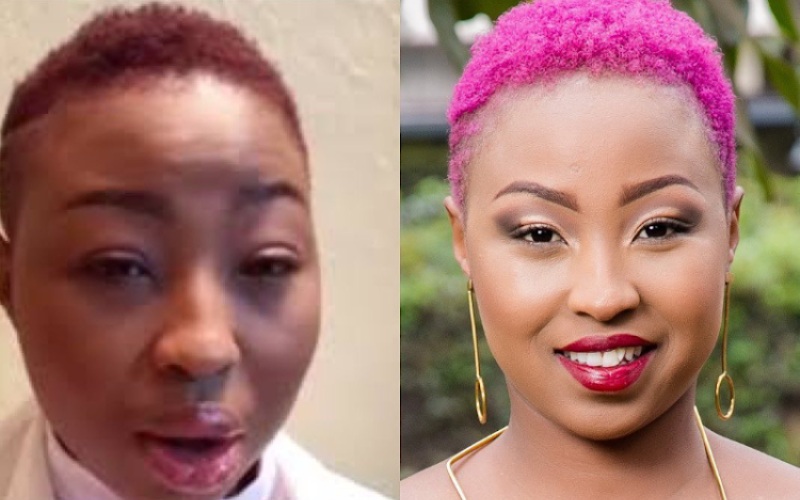 "I believe any sickness is down to the individual. Not enough sleep, overworking, the sort…" says the sassy, photogenic and talented Vivian Wambui.
"It is things I have come to learn later in my career as I mature. You develop proper coping mechanisms to the pressure of the work we do."
She does not sound sick, or sickly.
In fact, she is articulate, chirpy, and with a laugh here and there.
Early this month, she posted a since-deleted rant on Instagram, saying she was sick and at the same time fighting for her royalties.
"I do not believe in witchcraft, but there were too many things happening. But my sickness is down to an allergic reaction... change of weather, the pressure of work…" she says.
I ask her what this reaction causes, and she says she swells, especially on her face.
"Right now, I use the right medication and try to manage what I do, taking each day at a time. I am very well at the moment."
I prod for more, searching for answers and the source of the 'witchcraft' angle.
"When I started out, I thought I knew what I was getting into, but I did not. There were so many people and so many energies around me. I was not mature enough to know what my work would attract and the pressure was too much," says the Chingi Changa singer.
The grapevine implied that Vivian underwent a deliverance exercise through prayer to exorcise the bad spirits - a rumour that would counterclaim the fact that she does not believe in witchcraft.
The since-deleted post, which started everything, read, "My biggest prayer is for God to heal me completely so I am able to iron out my royalties. Lord, please do not take me before I make it work."
The gist of the post was a content aggregator company known for music management and promotion.
"I am so disappointed... because I have so much respect for the MD. Stop manipulating what you did not invest in! What is wrong with you? We helped you build your company, let me and many others go in peace."
Vivian clarified that the situation is about to be resolved, with positive talks going on between the artiste and the management of the firm.
Reached for comment, the MD's assistant said Vivian left in January of 2021, and they are not sure why she was roping in the company into her woes.
"Vivian left. There are emails to confirm that. We can't answer you as to why she is mentioning us," he said.
"There is no bad blood between us, and speaking out is okay. I am very optimistic about the talks, and I respect (the MD), because he is also a pioneer," says the singer who recently got braces.
According to Vivian, the process of letting go is not easy, adding, "He is like a father, who has a vision of how he sees things. But it is also good to let your children go and see the world for themselves."
"Content management has changed, say in 2014 when I started out, and now. The capacity of an artiste has also changed."
Looking back at the whole drama, Vivian explains that there were things she was not aware of due to lack of information, or miscommunication.
"A lot of miscommunication. But the contract is very clear in terms of responsibilities from both ends."
The artiste sounds positive, saying she is now focused on feeding her fans with whom she decided to purposely create a level of "missment" with.
"The growth has to be seen in the music I did. People should expect that," she says.
Related Topics