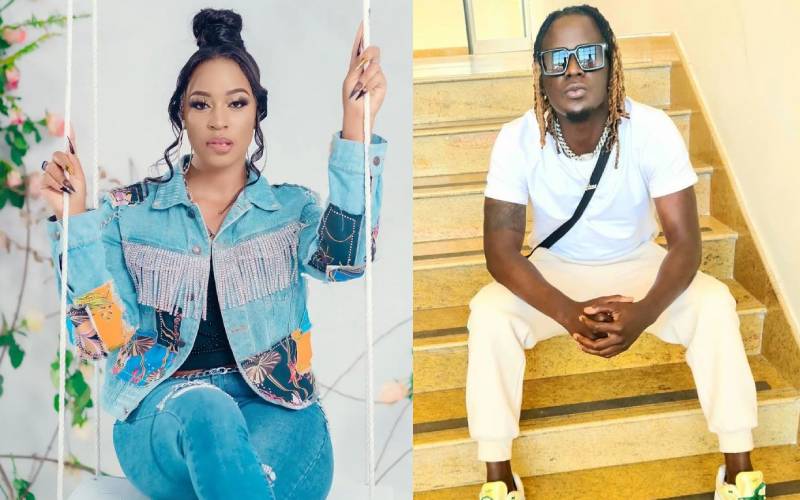 Diana Marua aka Diana B has responded to Willy Paul saying he is hating on her because her song Hatutaachana has already hit 1million views.
Just the other day, Pozze took a swipe at the Bahatis and apologized to Kenyans for having to endure what he termed as bad music by Diana.
While hyping his album 'The African Experience' the Saldido president described the Bahatis as 'the family of manduru na ma off-keys.'
"Tired of listening to bad music from that family? The family of manduru na ma off-keys?? I know most of you are still traumatized coz of that ka incident... don't worry I got you covered n ready to help.
"Go listen to #theafricanexperiencealbum on @boomplaymusicke now, thank me later... once again I'm sorry you had to go through all that...my album will heal you," said Willy Paul.
While speaking during a radio interview on Friday, Diana said Pozze might be hating because his last song is yet to get to the 1million mark despite being in the industry for a longer period.
"I released a song three days ago and right now it has over 1million views. This guy has been in the industry for so long…I have just joined music [sic] literally three days ago and numbers don't lie.
"I just feel like he is hating because I am ahead of him and it has just been three days…just give me a break," said Diana.
Earlier this week, rapper Femi One expressed disappointment after netizens compared her rapping skills to Diana B.
During an interview with PlugTV, the Utawezana singer said that anyone, including the social media personality, could try their luck at rapping.
"I mean it is showbiz and it is entertainment… she entertained me. So she is just okay. She is fine. Really… she is just okay. I am not a gatekeeper, so whoever feels they want to rap should throw themselves in the rap field with us and work hard," she said.
Femi One, however, told netizens not to compare her to Diana as she has been in the game longer than the YouTuber. She said she could only be compared to Nyashinski.
Related Topics