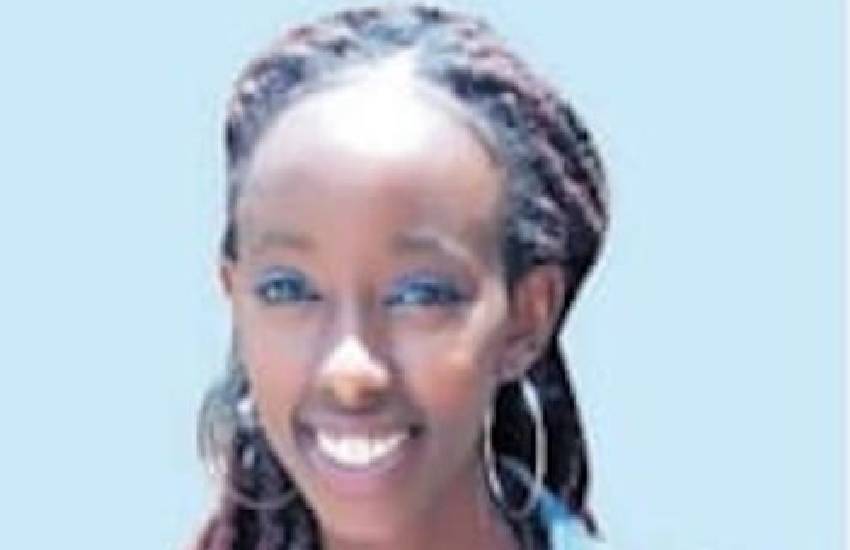 Fresh details have emerged on the last moments of a 24-year-old woman who later died after being assaulted by a man who left her in a city hotel.
What started as a night-out for Velvine Nungari ended in tragedy after she was found in a sorry state in a hotel room and rushed to hospital where she later died.
CCTV footage from the hotel where Nungari, a waitstaff, spent the night of February 23 has now helped the DCI to unmask the identity of the man believed to have been behind her attack.
Nungari succumbed to the injuries on March 9 at a city hospital where she was receiving treatment. She was buried at her rural home in Sabasaba, Murang'a County, on Wednesday.
Read Also: Shock as university student is raped, killed in Kisumu's Lolwe Estate
On Twitter and other social media platforms, her friends kicked up a storm, demanding justice for her. In the posts, they tagged, among others, Directorate of Criminal Investigations (DCI) boss George Kinoti and Inspector General of Police Hilary Mutyambai.
One suspect has since been arrested by the police, with Kiambu County DCI boss Samson Kiptum saying investigations were going on to establish what happened that night.
"The matter is still under investigation. The suspect will soon be in court," Kiptum told the Saturday Standard yesterday, while confirming that the police have one suspect in custody.
Tall, brown man
The CCTV footage is part of the evidence that Kiambu DCI officers will be relying on to bring to book the man accused of Nungari's murder.
Segments of the footage show the hotel's reception, capturing Nungari in the company of a tall man.
The two appeared to be happy and can be seen holding each other as they are ushered into the guestroom where they were to spend their night. Nungari can be seen holding a bottle, as the man occasionally lowers his head to kiss her.
It was around 9.30pm when the couple checked into the hotel. Two hours earlier, Nungari had called one of her friend and told her where she was.
She (Nungari) had even invited the friend to an entertainment place in Kahawa West but she could not make it because it was late.
Read Also: Tragic stories of Kenyan university students who kill for love
Nungari and her friend last spoke at 7.58pm. Nungari promised to call the friend as soon as she arrived home. She also asked the friend to call her back on the same line she was using in the event that something happened to her.
Fifteen hours later, Nungari called the friend and told her she was in trouble. She directed her to the hotel in Kiamumbi area, where she was. At the hotel, the friend found Nungari in pain.
Hotel workers told her that Nungari had arrived at the hotel in the company of a man who was a frequent guest and who is known to them.
The hotel management said Nungari was found lying naked, face down in one of the rooms. It was suspected that she had been injected with an unknown substance.
Her friends rushed her to hospital where doctors said she had suffered serious injuries to her spine.
The online battle to push the police to arrest suspects in Nungari's murder went a notch higher after her burial. The hashtag #JusticeForVesh was trending on social media for the better part of yesterday.
Kiptum yesterday said DCI officers have forwarded the investigations file to the Kiambu DPP's office for advice. He said the police want to charge the suspect with rape and murder.
Related Topics