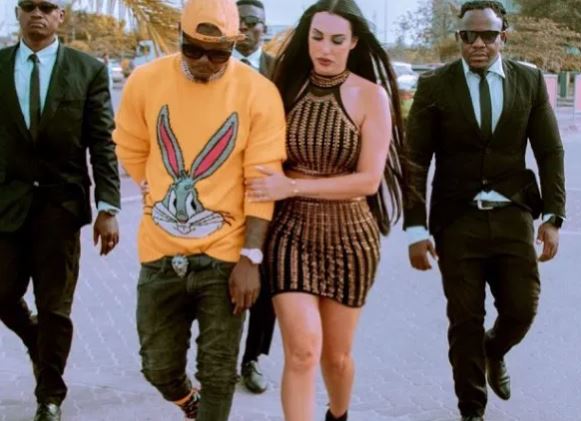 Famous Tanzanian singer Rajab Abdul Kahali alias Harmonize's Italian wife, Sarah Michelotti, has left a section of online users confused after she penned a breakup letter to her husband. In the letter shared on her Instagram, Sarah accused Harmonize of not having any regard for her feelings and efforts towards sustaining their relationship. According to her, the UNO hitmaker is a two-faced individual who only brings out his ugly side behind closed doors.
"I married you because I loved you. You we're everything to me and I chose you just the way you were. I gave you all my love and I did my best for your happiness something that you didn't do for me at all. Day by day I found you were completely different and you don't have any respect for anybody…
"You didn't even know how to keep a wife like me or to be proud of one person who give you the good life and you don't know how to respect people who really do love you and the ones who are there to support you. Most of the time I found out that you are just a lie and fake it. I've been through a lot in this fake relationship x married. If I put all here everyone will be shocked because you have another face completely. You always put a mask on your face," wrote Sarah in part.
The Italian beauty expressed her disappointment at her husband's unwillingness to make things work between them and, in turn, called it quits.
ALSO READ: Harmonize, wife Sarah Michelotti split? Manager responds
"I don't even have more words to say and speak now. You didn't ever appreciate what I did for you and now is too late. Life will teach you the lesson you deserve for what you did and now I will be focusing on my life ... be blessed now u have all the time to be with any women on the way and I advise you, learn to appreciate and respect what people do for you," she added.
Paternity test
Sarah's message comes a few days after the Konde Gang CE0 revealed he had fathered a child out of wedlock about a year ago.
"Let me start by saying I'm sorry to my princess for not ever being proud of you for one year and seven months. Please forgive me for not making time to pass by and see you when you were unwell for fear of breaking my current union, that which I respect so much. We have gone through so much and I believe toying with other women's feelings in not something to delight in," read Harmonize's message in part.
ALSO READ: You are not the father! Sarah Michelotti blasts husband Harmonize
However, Sarah was quick to counter Harmonize's allegations with papers from a previous paternity test allegedly done on the singer and the young girl identified as Zulekha that he is not the biological father.
"People are really desperate, you've done a DNA test twice on the baby and the results came back negative, showing that you're not the father. But since you've failed to father a child of your own you are now claiming someone else's baby," she wrote.
Related Topics