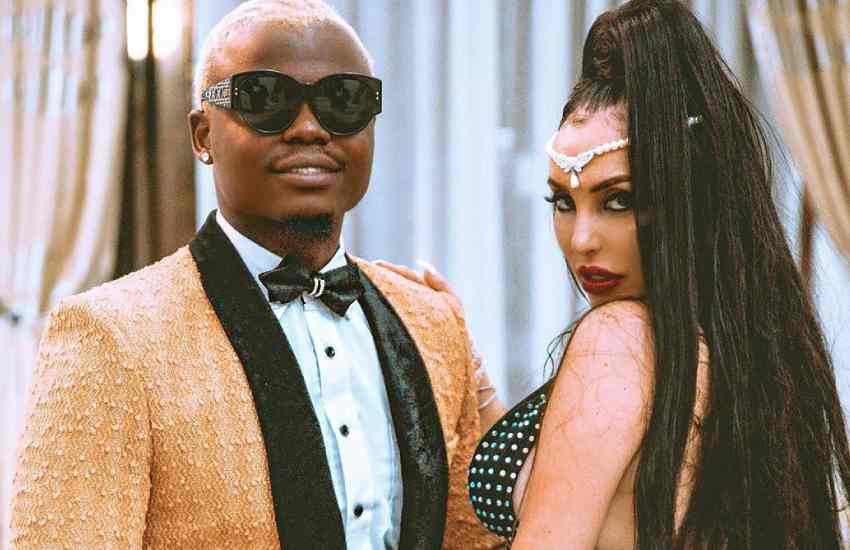 Konde Gang founder and CEO Rajab 'Harmonize' Kahali has not split from his Italian partner, Sarah Michelotti. This is according to the musician's manager, Beauty Mmari alias Mjerumani.
Setting the record straight in an interview, Mjerumani shrugged off rising speculation that Michelotti's absence from the public eye is due to a breakup. According to the manager, the move not to have Michelotti by the singer's side in recent months was a strategy crafted by Konde Gang's top management.
Read Also:VIDEO - Harmonize punched in the face by daring fan
"People need to first recognize that it is their private life. Claims that Harmonize has split from his wife is further from the truth. We as the management decided to spruce up his lifestyle and image, away from what had defined his career earlier. We saw it fit that she should not be in tow, wherever he goes," Mjerumani told Global Publishers.
This is not the first time reports of their breakup has surfaced. In 2019, the beauty who is pregnant with the singer's first child fought off accusations that she cheated with Diamond Platinumz's ex-bodyguard, Mwarabu Fighter.
"I smile for the novels of Instagram hahaha, really... I'm sorry for you but I'm not that kind of woman and as long as I stay with my man Harmonize there will not be other people in my life and I love him more than you can imagine....so if you want these kiki novels, go look for them on other pages... oh I forgot for all the people who speak badly don't worry that I will come to look at you,'' Michelotti posted.
When the cloud passed, he went on one knee and publicly proposed to her in front of her friends and family during a dinner event in Rome, Italy on April 2. Their exclusive wedding in Dar es Salaam in September that year was, however, shrouded in mystery, fanned by Mjerumani's claims that the two did not wed.
Read Also:Why Sh22 million debt is giving singer Harmonize sleepless nights
"Harmonize did not hold any wedding. The musician was shooting a music video for his new track called Marry Me. The concept behind it is similar to the one Diamond adopted, when he used his ex-lover, Zari, as a video vixen in the song called Iyena. There is no way Harmonize will exchange wedding vows without much pomp and colour. Should he hold a real wedding, a lot of people will be expected to attend," said Mjerumani at the time.
But as the dust settled, Harmonize was on the headlines again after reports surfaced of his relationship with Tanzanian socialite Nicole Joyce Berry - a vixen he featured in his hit song Bedroom. "Nilikwambia! I am a Rastafarian hatulagi nyama! On top of Dat married men! Ndiomana! @jabulant_ Ndio kanitia aibu daaah 3 days chumba kimoja na kaambulia patupu," he wrote. Responding to the accusations, Berry fired back, "Number 1 you can't buy a man's Love, number 2: Be your man's peace, otherwise he will go & find peace somewhere else!!!!! And ***ch please refer to "Proverbs 14:1". I am still enjoying bedroom song lyrics in my bedroom."
Then there is Jacqueline Wolper's shadow that has, despite Harmonize and Michelotti's blossoming romance, refused to go away. It reared its head early this year at a concert in Dodoma, central Tanzania when Harmonize revealed that he is enraged that Wolper keeps claiming that he left her for Michelotti in 2017 because of money. According to the singer, Wolper cheated on him and made passes at his then Wasafi Classic Baby (WCB) mentor and ally, Platnumz.
Read Also: Harmonize exposes Wolper, reveals his Italian wife Sarah is pregnant
"I have never talked about this because I do not like disparaging women. I have suffered silently but my ex in every interview says I dated Michelotti for money, that she is my sponsor... We were at a party at Diamond Platnumz's house and without shame nor fear made passes at him. Speaking from my heart, I have never said this but I am saying it so that she knows. She is not aware that I know… She told him she was just with me so she can get close to him. When I left, Diamond called me and told me to be at his house first thing in the morning. He couldn't face me, he had to imbibe alcohol in order to open up. I have never told her, I was not planning to, but when you call my wife a sponsor, it hurts."