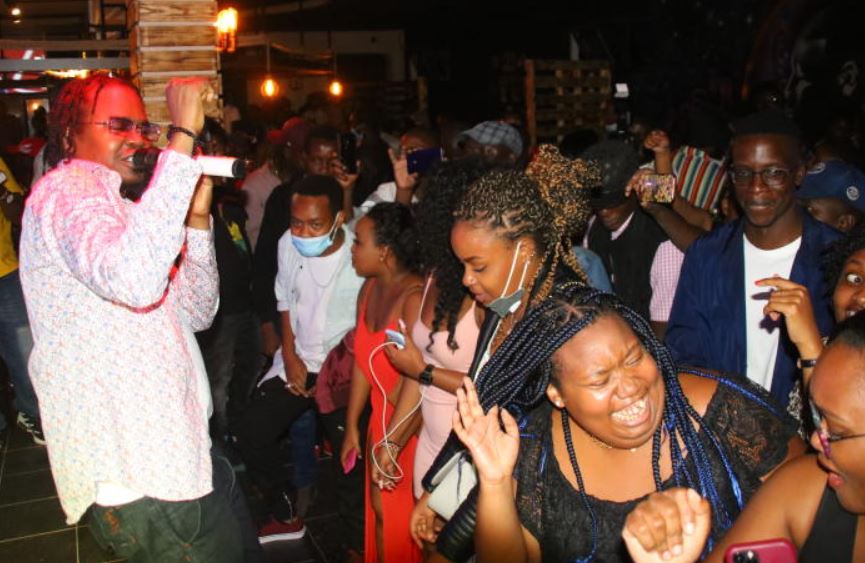 Gone is the dancing and the partying that accompanies the season known for its carousal festivity; that is if bar owners fully adopt the new guidelines that the government has mooted to help stop the spread of the coronavirus. The new guidelines announced yesterday by the Ministry of Industrialisation, Trade and Enterprise Development have declared dance floors closed.
They have also clarified new restrictions on the sale and consumption of alcohol. In a statement, Ministry of Industrialisation Cabinet Secretary Betty Maina said any physical activity that facilitates physical contact between partakers in an alcohol selling establishment has been banned.
Bars are also required to have counters shielded with a Perspex glass to separate the clients and sellers in order to minimise chances of infection. Customers are also not allowed to sit around the counter. Every bar must have a spacious waiting lounge for its clients and designated sections for couriers.
Signage displaying the maximum seating capacity is also mandatory with all forms of possible physical contact between revellers and sellers discouraged. The new regulations have also tasked the Bar and Alcohol Trade Associations to form a "Bar Kumi" initiative to monitor the operations of alcoholic business within defined jurisdictions.
ALSO READ: Night out in Nairobi as Kenyans hit bars and nightclubs
Point of contact
Bars owners must also identify a Covid-19 "point of contact" which will be responsible for monitoring and ensuring protocols are observed in every shift. According to the statement, the Pubs Entertainment and Restaurants' Association, Bar Hotels Liquor Traders Association of Kenya and the Alcoholic Beverages Association of Kenya were involved in the drafting of the regulations.
Other regulations include maintaining a 1.5-metre social distance, proper hygiene and the wearing of masks. Maina said although businesses had gone down to 30-50 per cent capacity, business players were encouraged to support efforts to curb further spread.
"Businesses are encouraged to lead through the Covid-19 crisis by managing risks in their operations," said Maina.
She said during the festive season that is drawing near, party-goers must observe utmost care by adhering to the protocols.
"Governments, media, businesses and the public should redouble their efforts to promote safety precautions because there will be a natural tendency towards complacency," she said.
ALSO READ: Dashed hopes for revellers as bars remain closed
Maina stressed that those looking for a colourful festive period should understand the difficult period the entire world is facing and shelve their plans for another time.
"Covid-19 being a very new disease is still not very well understood. Major modes of transmission of Covid-19 are through respiratory droplets and contact from an infected person," she said.
"When droplets from an infected person are inhaled by a healthy individual, they have high chances of developing Covid-19. Close contact with an infected person or touching surfaces and items contaminated with the coronavirus then touching one's eyes, nose or mouth may also spread the disease. That is why we must keep distance during this festive season."
The Cabinet secretary said in the near future, all alcoholic drink retailers will register with an alcohol trade or membership association registered and recognised by the government.
She said the alcohol sector associations and their operators will put in place mechanisms for evaluating and monitoring the levels of compliance with the provisions of the alcohol sector protocols and guidelines aimed at preventing the spread of Covid-19.
Maina said the associations will also ensure that the establishments are well ventilated and follow the protocols set out by the Ministry of Health.
Every establishment will also set aside a suitable Covid-19 emergency room for any suspected staff case.
Related Topics