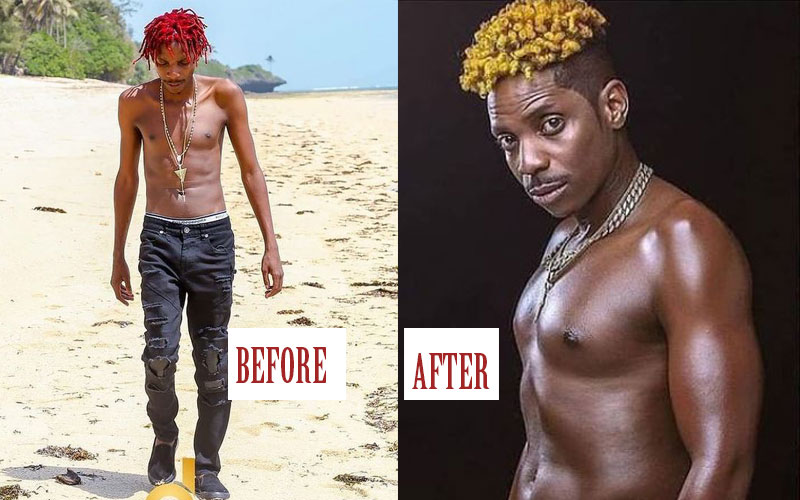 Since the reveal of his toned muscular body on November 17, 2020, comedian Eric Omondi has revealed that netizens have been asking him to share the secret behind his impressive transformation. Letting netizens in on his weight gain secret during an interview with Amina Abdi on The Trend, 'The King of Comedy' revealed that he embarked on his fitness journey sometime in February. According to the Big Tyme Entertainment CEO, he forced himself to eat more coupled with regular work out sessions.
"Naturally, I hate food and I have very poor eating habits so I was ingesting, not eating. I was on a mission and it takes a lot of discipline to move from 47kgs to 72kgs. I had even begun a community, 'skinny people united' which I have since left but it takes a lot of discipline and time and that is why from January to February, I kind of disappeared from the public scene," he said.
READ ALSO: Njugush's body transformation after hitting the gym
Opening up on the challenges he faced during his journey, Eric admitted wanting to give up on different occasions as he was not getting the results he was hoping for at the time.
"Do you know how many times I gave up? Between February, March, April… I was in and out. Constantly looking at myself and wondering why I couldn't see any muscles plus I was in so much pain. But because of the point, I had gotten, I couldn't go back. This has been 8 months of consistent work. I got a trainer and a nutritionist end of March, beginning of April. I started seeing results two months after that," he added.
Motivation
Eric attributed his body to Khaligraph Jones who embarrassed him by easily lifting him in front of 3,000 people during a concert, challenging him to gain more weight.
"Many people have been asking me why I decided to build muscle. So here is the story. Last year during a concert in Kisumu in which I was the Master of Ceremony and Khaligraph Jones was performing. After I introduced him to the stage his microphone malfunctioned and as a good friend and a professional MC I went to the stage to hand him my microphone... Instead of saying 'thank you', he decided to embarrass me by lifting me up and down in front of about 3000 of my fans. But who is God?" he wrote.
Although the comedian is extremely excited by his body transformation and is willing to flaunt it for everyone to see, Kenya Film Classification Board Chairman Dr Ezekiel Mutua feels showing too much. Speaking during a previous interview, Ezekiel called out Eric for walking bare-chested, stating that he was being a bad example to the youth.
READ ALSO: Eric Omondi's red dress, makeup stirs the internet
"Eric Omondi is, without a doubt, one of Africa's greatest talents and Kenyan's best. But he needs to respect himself and obey the law. Let him use his talents to promote positive social values. Youths who follow him must not think that good comedy is nudity or vulgarity!" said Dr Mutua.
In response, Eric asked the KFCB boss to stop using his name to gain publicity.
"Dr Ezekiel Mutua. This is your last warning. This is not the way to address the PRESIDENT of an entire continent. Stop using my name for these cheap PUBLICITY stunts…I have never understood exactly what you do for a living," responded Eric.
Related Topics