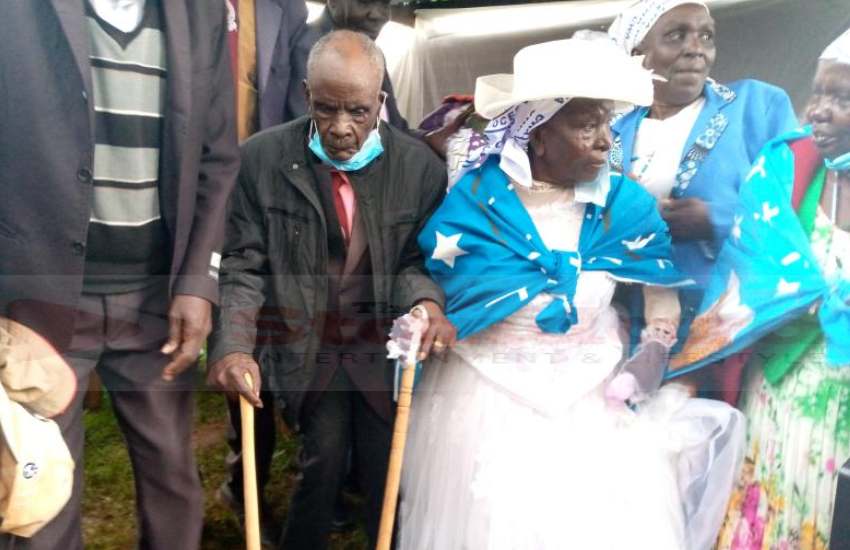 John Kimeli Yama,110, and his wife Mary Chemesunde, 90, treated villagers in Kipsebwo, Nandi Hills to a spectacular ceremony of renewing their marital vows first made 70 years ago. The jovial pair got married in the early 40s through a Kalenjin customary wedding and was blessed with four children.
Read Also: Elderly couple weds after living together longer than Kenya has been independent
They, however, resolved to renew the covenant in a modern ceremony presided over by Catholic priest Michael Langat of Nandi Hills parish on Friday. "My father requested me to organise for their anniversary wedding ceremony. I suggested it be conducted by the Adventist church but he insisted on a wedding in a church that baptised the two of them, Catholic," said one of the couple's sons, Benjamin Silqich.
Mzee Yama and Chemesunde could not hide their joy through the ceremony that took the better part of Friday afternoon. Despite their advanced age, which could not allow them to walk around steadily, their over 40 grandchildren kept holding them side by side in turns.
A pair of four best men and women, all senior citizens, escorted the couple to exchange the vows in Kalenjin dialect. Yama could not repeat the vows audibly but managed to mimic a few that his age allowed. "We have come a long way, facing the good and bad but have never separated. And I am his only wife," said Chemesunde.
Read Also: Former media personality Pinky Ghelani renews vows with her husband
Father Lang'at said the Church recognised monogamous marriage as the only form of union to be emulated in society. "The couple has remained faithful and has successfully adhered to the Church's doctrines," said Fr Lang'at.
Related Topics