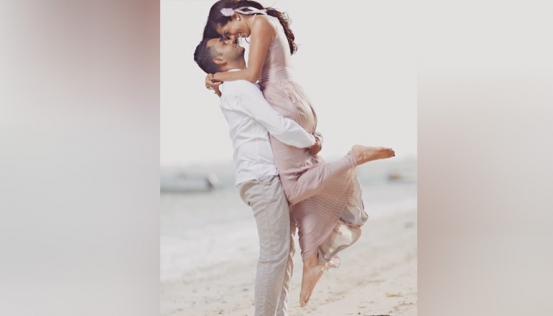 After years of courtship followed with marriage, for many couples romance dies a natural death more so as other things in life start taking center stage like children, career you name it.
But not so for former beauty queen and media personality Pinky Ghelani. After ten years of marriage, the couple held a beach wedding a few days ago in celebration of their anniversary.
''Marry someone who is driven. Someone who optimistically supports and uplifts you. Marry someone who is honest. Honest with you, with others and with themselves.
Don't marry someone you don't trust. Find someone who willingly shares responsibility, someone who doesn't expect you to adhere to silly gender roles. Find someone you cherish togetherness with and someone who understands the importance of alone time.
Someone who values your opinion. Someone with a willingness to learn. A person with an open mind. Ignorance is never attractive. Find someone who makes it easy to feel grateful, for everything. Keep in mind that marriage is not always beautiful - it can get ugly and murky. It requires strength. It requires loving both ways when neither is behaving lovable. Find someone who serves you and someone you want to serve, without reward.
I did.'' Pinky posted on her social media.
Saying 'I do' for the second time, she chose to wear a blush gown with diamonds and pearl accessories. The couple has two children together.