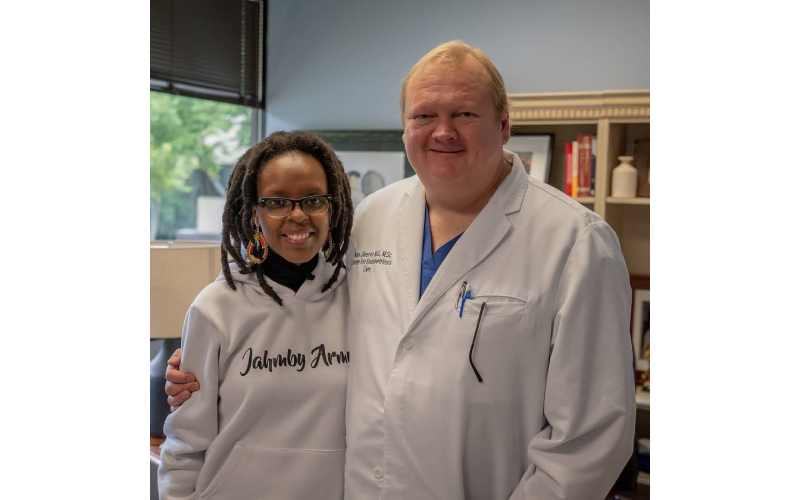 Thoracic endometriosis survivor Njambi Koikai has opened up on the frustrations endometriosis patients go through in the hands of medical personnel who at times care less about their condition.
Sharing her experience on social media, the media personality recalled when she was first diagnosed with stage 4 endometriosis, Thoracic Endometriosis and Adenomyosis and was advised by her doctors to seek specialized treatment abroad. This for Njambi meant moving to a foreign land to be cared for by foreign doctors, a transition she admits was not easy.
According to the former NTV presenter, most endometriosis patients endure painful procedures to aid in their treatment but as she explains, some doctors are not particularly gentle when it comes to handling them.
"It is important as Endowarriors or advocates to be honest with ourselves. We have been through doctors who care less about our bodies and pain. Doctors who literally butcher us through countless surgeries. Doctors who refuse to be honest with us. We go desperately searching for help regardless of those doctors' race, tribe, political affiliations, gender etc. Yet most of these doctors have misdiagnosed us, damaged us even further," she wrote.
Since Kenya is still not known to handle extreme endometriosis cases like that of Njambi, the media personlaity flew to the US where she found a doctor from the Center for Endocare where she was receiving treatment who understood her pain and handled her with so much care.
"As a patient from Kenya, my concern was to get well. To finally be free from pain. I had to go that far because I wanted to live. I fought hard. I had never been to the US. This was my first time to that side of the world. Dr. Sinervo treated me as a human being, who needed utmost care. He understood and acknowledged what I'd gone through to get to his hospital.
Also read: Emmy Kosgei and hubby close church following unrest in Nigeria
"Today I can do so many things I couldn't do before. I'm getting back. I met one of the most amazing doctors in the world. One doctor who listened to me and didn't dismiss my pain. One doctor who treated the Thoracic Endometriosis. I've been through 21 surgeries and since my major surgeries at the CEC, I've never had a lung collapse. Dr. Sinervo treated me with a magnificent team," she added.
Njambi called upon other endometriosis warriors all over the world to stand together and raise awareness of the condition. She also asked for individuals to show compassion and empathy to those that are already battling endometriosis.
Also read: Jua Cali's wife opens up about sexual abuse
"As Endowarriors and advocates, we should be calling out all the other docs who have caused us irreversible damage, years of pain, endless medication, depression etc. As we raise awareness on these platforms, let's be real, compassionate and show empathy. Let's also remember most of us on this side of the world don't have the privileges like those on that side of the world. This is a doctor who has restored the lives of countless women."
Related Topics