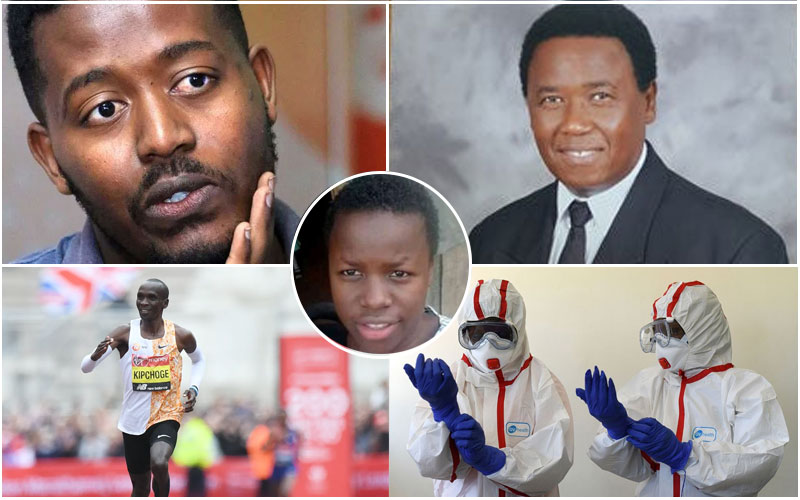 The Mashujaa Day celebrations are in full swing at the Gusii Stadium in Kisii County as thousands of residents have turned up to witness the event. President Uhuru Kenyatta is expected at the celebrations whose organizers say won't go past the two-hour mark because of the COVID-19 pandemic. As the government celebrates heroes, Kenyans on Twitter are also doing the same through the hashtag #ShujaaWangu.
READ ALSO: Horror as soldiers force Mombasa locals to swim in sewage on Mashujaa Day
Some of the Kenyans who've been hailed as heroes on Twitter include world-renown marathoner Eliud Kipchoge, Ali Gire, the Kenya Airways employee who exposed flights from China still landing in Kenya despite the coronavirus outbreak and pilot Captain Daudi Kimuyu Kibati, who died from the virus after evacuating Kenyans from New York. Health workers, parents and several police officers were also cited as heroes.
Someone once observed that being a parent is like watching your heart walk around outside your body. When kids scrape their knees, bump their heads, or break their bones, their hearts break too. I take this chance to wish a happy #MashujaaDay to all Kenyan parents #ShujaaWangu pic.twitter.com/WvgVJtPSOe

— R???????_N?????_? (@Roy_Wa_Sambu) October 20, 2020
Ali Gire, the KQ employee who exposed the China flight into the country when it was inadvisable to do so is a hero. #ShujaaWangu #MashujaaDay pic.twitter.com/ynz0dTgH7q

— kipkoech mitei Rober (@MiteiRober) October 20, 2020
Today I celebrate Peter Tabichi, the global Teacher Prize Winner 2019. He donates 80% of his salary to poor students.#ShujaaWangu #kenyakwetu pic.twitter.com/0G3yyvowwc

— Kenyan Khaleesi (@AnnKamaaKE) October 20, 2020
The matatu industry is male-dominated but this didn't stop Tsarah, who has a passion for design and brings a unique style and bold artwork to matatu culture. #ShujaaWangu #MashujaaDay pic.twitter.com/gqK4mHmep8

— Sibanduki (@Sibanduki2) October 20, 2020
Many Parents mostly have sleepless nights thinking about how the future of their children would be like. This day should be your day to celebrate them.#ShujaaWangu#Kenyakwetu pic.twitter.com/KL5YNf8lfv

— Mysterious (@Mwenye_Kiti) October 20, 2020
It will be quite sad if we forget to celebrate our Health workers this mashujaa day having been at the forefront in the fight against covid19.#ShujaaWangu#KenyaKwetu pic.twitter.com/eqipIN2CyV

— AfrikanQueenKE (@AfricanahQueen) October 20, 2020
To run a marathon in under two hours and to show to the world that when you focus on your goal, when you work hard and when you believe in yourself, anything is possible #ShujaaWangu pic.twitter.com/GZwumjeJZX

— Angie (@AngieMsafiri) October 20, 2020
RIP Mum On A Day Like This 2002, You Left Us. #ShujaaWangu

— Elee Global ???????? (@Elee_Global) October 20, 2020
Remember the mother who had improvised mask at Likoni ferry? Mombasa Police Commander Rashid Yakub who bought face masks for a woman and her daughter you are #ShujaaWangu Humanity still exists.#kenyakwetu pic.twitter.com/MvKgaVqlqk

— Rehema Baya (@RehemBaya) October 20, 2020
When New York City was being put on lockdown, KQ pilot Captain Daudi Kimuyu Kibati helped evacuate stranded Kenyans and paid the ultimate price for his heroic efforts. #ShujaaWangu. pic.twitter.com/xVvHt5r8LC

— Nick (@common_kenyan7) October 20, 2020
READ ALSO: Five heroes whose resting places might never be known
Today I choose to celebrate Amina Ramadhan a patriotic & an empathetic cop who has lived up to the Police Slogan 'Utumishi kwa Wote' yeye ni #ShujaaWangu #KenyaKwetu pic.twitter.com/3A2dKxEc0j

— Landlord™???????? (@jayp_morgan) October 20, 2020
Victoria is a police officer who has sacrificed her time to make masks for Kenyans who can't afford a piece. #ShujaaWangu #kenyakwetu pic.twitter.com/9gNvcOaWD7

— Kenyan Khaleesi (@AnnKamaaKE) October 20, 2020
if I ever do Halloween ... I would def go as Gen Mwariama #ShujaaWangu pic.twitter.com/1izohJLGMV

— ? (@jadethuo) October 20, 2020
Mary Njengo Mokaya Died in the line of Saving her fellow students. Today we still remember. Wewe ni #ShujaaWangu pic.twitter.com/0Awr1ogFw4

— HERDSBOY (@MoseMungai) October 20, 2020
#WangariMaathai left us but her legacy will remain with us forever. Her commitment in fighting for our green spaces was unmatched. We will live to celebrate her. Plant more trees and let's save this planet #ShujaaWangu #KenyaSAFI pic.twitter.com/kgX0K2aV8N

— Kenya Safi (@KenyaSafi) October 20, 2020
Related Topics