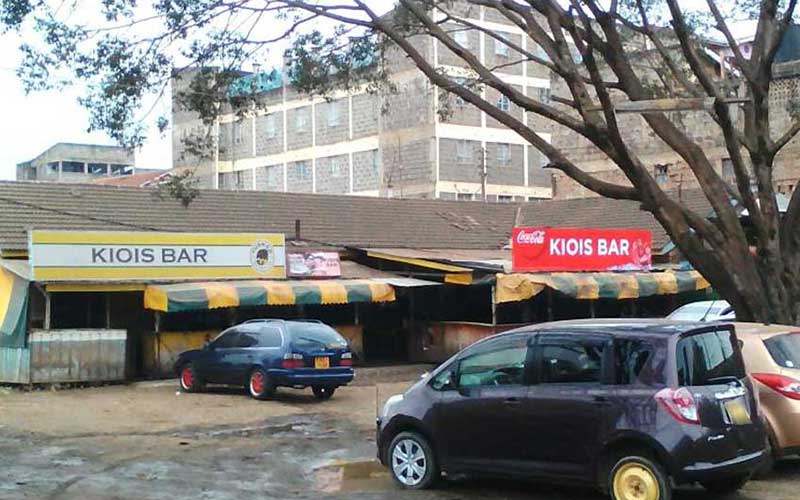 Charles Rubia and Joseph Kamotho would throw a party here, especially during elections,"
Kioi's Bar is an old structure with grey roof tiles along Kasarani-Mwiki Road in Kasarani, Nairobi. A pork butchery at the dusty entrance ushers you into what appears like a pub out of a 1960 scrapbook. Indeed in the 1960s, Kioi's Bar was one of the favourite joints for founding President Mzee Jomo Kenyatta, who loved its muratina, the Kikuyu traditional brew, which he drank on his way to his Njiru farm. Sitting on a section of a 20-acre land, Kioi's Bar has seen Nairobi and Kasarani change for the past 50 years. Kasarani is a corruption of gathara-ini (nappier grass), which grows in succulent abundance behind the expansive land behind Kioi's Bar, where zero-grazing takes place. Most of its former patrons, those who were around when it took root are now bending their 70s, 80s and 90s.
Still, they have sharp memories of the first president as a customer at Kioi's, named after its owner, the late Mwangi Kioi, a businessman from Kiriani village, Mathioya in Murang'a County. Mzee Kioi relocated to Nairobi in 1968, bought land in Kasarani and established Kio's Bar. He became a long-time friend of Kenyatta, who often requested him to get him a takeaway kibuyu of muratina when his schedule got tight, running affairs of the state.
READ ALSO: Good old Jomo Kenyatta was once sold alcohol
Mzee Kioi operated the bar before his death at 84 in 2008. Speaking to The Nairobian in a past interview, his son Chris Kioi, said his father bought the land from East African Meat Company and the building still stands.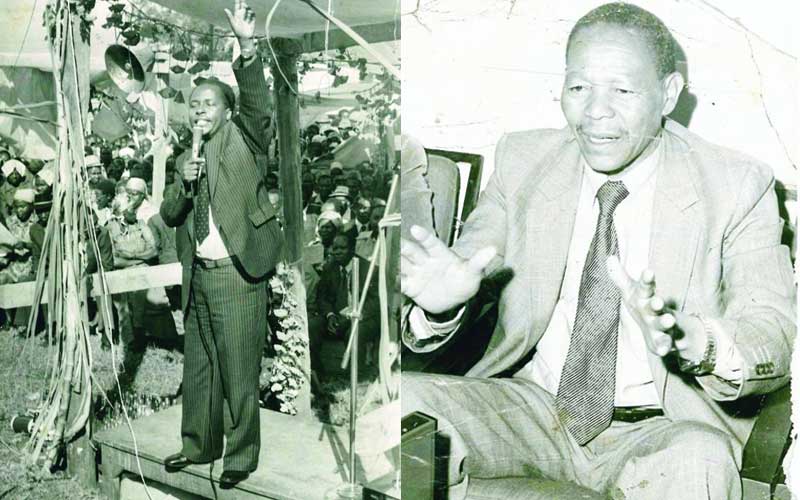 "In the early 70s, after our father bought this land from East African Meat Company, he started brewing muratina. The business grew because he had another outlet in Pumwani. Kariuki Chotara was the one who introduced my father to Kenyatta and from there, they became close buddies. The bar specialised in muratina section which was kept in ndingitho (muratina gourd) and cold beer. Kenyatta used to come with his children and we would play together. I was close to Muigai (Uhuru's half-brother) and we would compete to climb trees," Chris recalled.
While Chris Kioi was eight years old when his father opened Kioi's Bar, Njoroge King'ori was 37. He recalls that Kenyatta dropped by to cut pints and would order his escorts to swill their muratina behind Kioi's Bar.
"Kenyatta loved this bar a lot. There was no way he could go to Njiru without passing here and he used to buy muratina for us," said Mzee King'ori, then 94.
"He used to park his car near the tree and would call Mzee Kioi for a talk. Then he would tell us to enjoy the drink because he had paid, and ordered his escorts to go to the backyard and grab some muratina too."
READ ALSO: Why Jomo Kenyatta hated githeri, sukuma wiki
On why Kenyatta loved the muratina at Kioi's, his son Chris explained that "My father used to get honey from Kibwezi in large quantities. That's why his muratina was the finest. He used to sell a glass for 40 cents. Most people who were licensed to brew muratina used to come to our place for milling".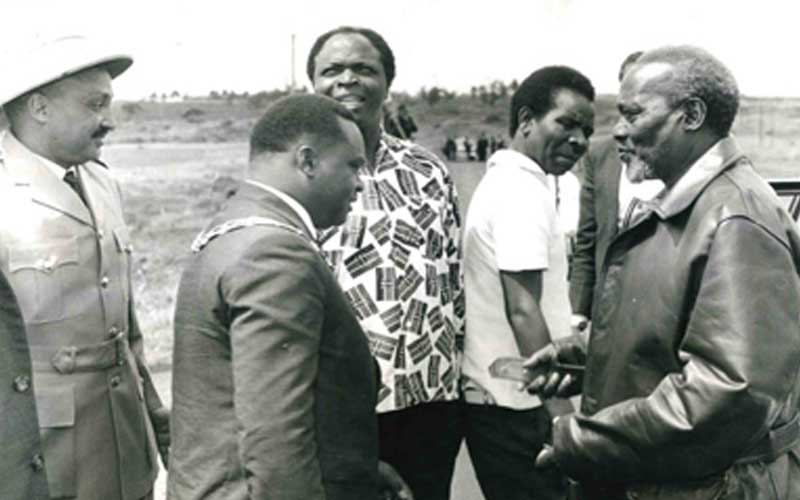 Kenyatta was not the only political heavyweight in Kenya's history to frequent Kioi's Bar. Many politicians thronged Kioi's, the likes of "Charles Rubia and Joseph Kamotho would throw a party here, especially during elections," says Chris.
Just so you know, Charles Rubia was the first African Mayor of Nairobi, later MP for Starehe and Second Liberation hero, while the late Joseph Kamotho was the MP for Mathioya. Others who came to Kioi's included Maina Wanjigi, the former MP for Kamukunji, the late Fred Waiganjo, Mayor of Nairobi and Kariuki Chotara, the fiery Nakuru politician who introduced Mzee Kioi to Jomo Kenyatta. Interestingly, Kenyatta would even share drinks with Chotara, yet he almost killed Kenya's first president while both were imprisoned in Kapenguria during the State of Emergency in the 1950s.
Chotara had been jailed after committing three murders. But being 16 and thus a minor, he could not be hanged. Chotara was transferred to Kapenguria from Manyani Prison and was incited by Kenyatta's fellow inmates - Paul Ngei, Kung'u Karumba, Fred Kubai and Bildad Kaggia - to knife Kenyatta in March 1957. But Kenyatta was saved by another inmate, General China (Waruhiu Itote), as we are informed by Elizabeth Watkins in her 1996 book, Jomo's Jailer. Chotara was a frequent drinker at Kioi's, alongside Bill Martin, the Provincial Commissioner for Nairobi.
READ ALSO: Ichaweri, village where Uhuru played football, danced with market women
On what kind of patron Kenyatta was, King'ori recalls Uhuru Kenyatta's father as a "humble and kind man and this made people come all the way from Mwiki. There was a lot of discipline during those days because they feared he might cane them!"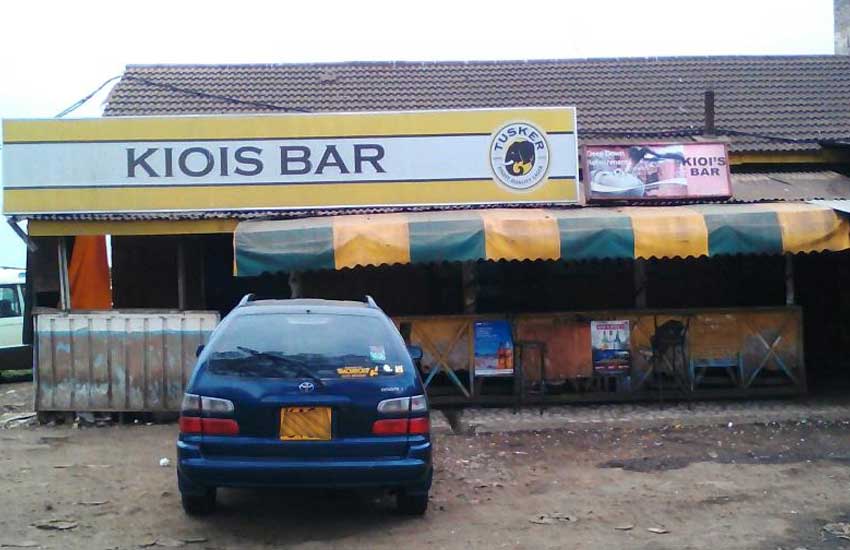 Mzee King'ori explained that though it's rare for a sitting president to stay for long in a 'local', Jomo would clock an hour at Kioi's while chatting with the owner at a corner "and nobody would dare go near them, even the bodyguards. Sometimes he would remind us on his way out to form a habit of eating cassava and roasted bananas before drinking muratina".
It was, however, easy for Kenyatta to stay long at Kioi's Bar since as Mzee Stephen Thuita, then 68 explained, the Kasarani-Njiru road was a no-go-zone since Kenyatta used it often and "was heavily guarded. Only close friends to Kenyatta and customers were allowed at the bar. Those days, Kioi's Bar was a prestigious place that was reserved for a chosen few".
Related Topics