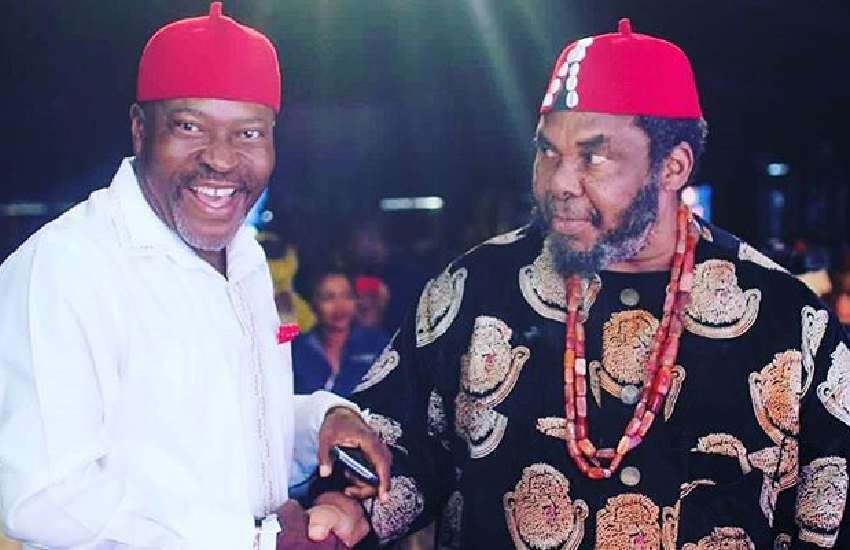 What is in a marriage proposal? Well, for men planning to go down on one knee to pop the question, culture –especially in West Africa - is paramount. This is according to two renowned Nigerian actors; Kanayo O. Kanayo, 58, and Pete Edochie, 73.
According to Kanayo, the act of men kneeling to propose is not part of the African culture. Kanayo explained that he supports a view held by Edochie with whom he has starred in Brothers of Wealth, The Red President and The Burnt Sacrifice, among others, that kneeling is concept copied from the west.
Read Also: PHOTOS - Reverend Natasha in Ghana, meets actor Desmond Elliot
He stated that while he appreciates the transformation of indigenous societies, there must be an acknowledgement that not all things can be copied in the race for globalization. Kanayo went on to add that their position may appear archaic but do not negate their emphasis on why traditional norms and values hold water.
"I'm an African and I stand with Pete Edochie on what he said. It is un-African today to kneel down to propose to a woman. I'm an African to that level. Like we always preach it is not all you see on TV that you copy. It is an Instagram lifestyle. It doesn't stop you from living it. Live it the way you want. We are not also saying you must live with us in our stone age. Because when we talk about this, some people who think they are more intelligent than us tell us we are coming from the Stone Age. Don't worry, live your technology age but it is not part of our culture," said Kanayo.
Edochie in an interview six months ago with Igboezuo - a program geared towards the promotion of Igbo language and culture - was more clinical with his argument. He highlighted that among his people, the Igbo - an ethnic group located in southeastern Nigeria and Equatorial Guinea, kneeling is more than just a symbol of love.
According to Edochie, among the Igbo, men should never kneel as it is akin to the relinquishing of authority. He pointed out that it is the woman who kneels when presenting wine to her man on engagement as her acceptance and a nod that he is the head of the family.
Read Also: Actor says Nollywood is full of prostitutes and internet fraudsters
"Kneeling down to propose to a woman is totally wrong, it is not our lifestyle. Kneeling before a girl in Igbo tradition means you are handing over the authority to her. She becomes the head of the family. Marriage in Igbo tradition is when a lady gives her husband to be wine while kneeling down. What does it signify? That the man has been accepted as the husband of the lady. It is the lady who knees before the husband, not vice versa," said Edochie.
Related Topics