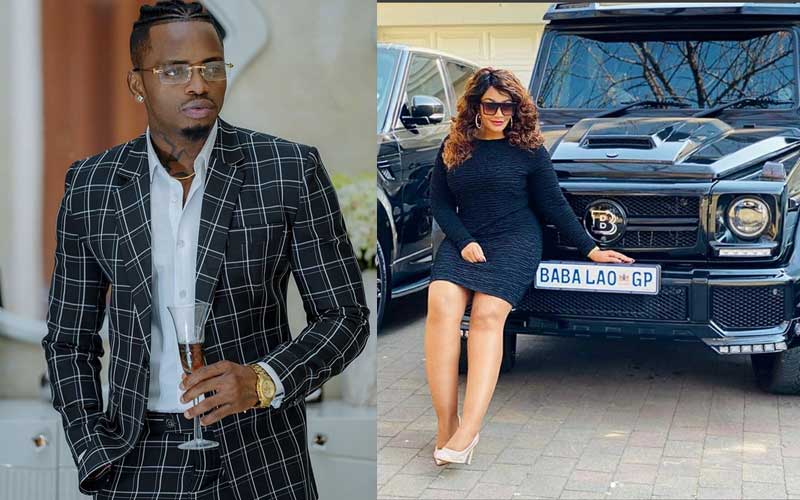 Seems like Diamond Platnumz and Zari are continuously improving their relationship day after day if their social media interactions are anything to go by. Just a day ago, Diamond sneaked in a comment on Zari's Instagram post. This fueled rumours that the two are heading for a reunion. It all started when Zari shared a video dancing to Diamond's 'Baba Lao' track. In the video, Zari showed off her brother Adams Ddumba's pimped up Mercedes G-wagon with a custom plate reading 'Baba Lao'. Curious fans immediately started inquiring why her brother had used the name.
She then shared a cheeky caption telling her brother how they will give Diamond the ride when he visits.
Moments later, Diamond was on the comment section appreciating her dancing skills writing: "Mama Tee at her best element, kiboko yao," and Zari and responded, "say it again."
READ ALSO: Mending ties? Diamond Platnumz gifts Zari Hassan brand new Bentley
This comes just a day after two of Diamond's baby mamas publicly supported each other and bragged about their new-found friendship. Despite their not so pleasant history, Hamisa Mobetto and Tanasha Donna proved the world wrong. They worked together in Tanasha's new hit 'Liar' featuring Masauti, where Mobetto styled their outfits, leaving many tongues wagging.
On the flipside, Zari had refuted claims of getting back with Diamond or being friends with either of the two women who have sons with Diamond. A fan recently enquired about her relationship with Diamond, insinuating that the singer was trying every means possible to win back Zari's heart. The mother of five dismissed the social media user by writing: "So, tell me more. You seem to have details and all figured out."
READ ALSO: Four times Diamond Platnumz has given out expensive car gifts
Zari said that Diamond was back in her life just to provide to their two children. In a bitter rant, Zari wondered why people thought that she was desperate to get back with Diamond.
"The reason that he is back a lot of you are saying ooh she is so desperate, Diamond is desperate, how are you benefitting if he takes care of his kids? Two years down the line Diamond realized what his problem was. I do not have to prove a point to him that I need to get back to him. Whatever we are doing right now is for the best interests of our children. My kids are very happy, Papa calls all the time," she said.
Related Topics