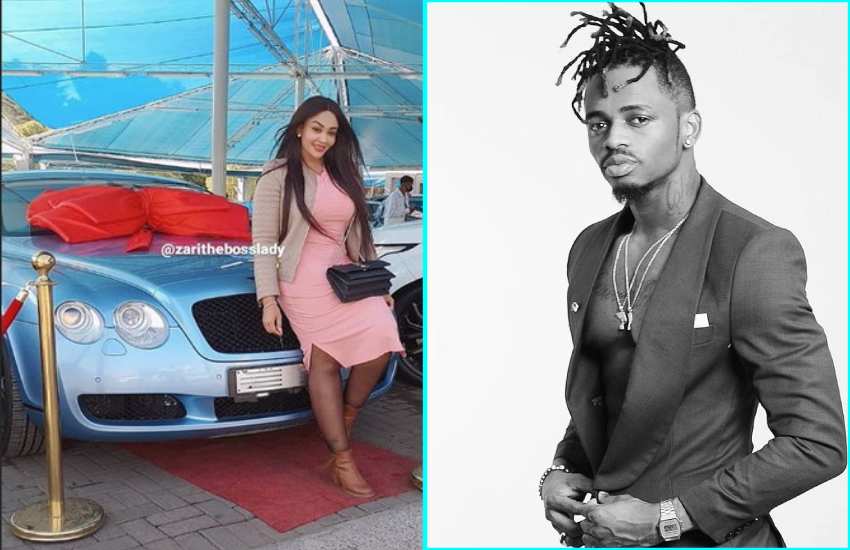 Bongo Flava star Diamond Platnumz and his ex-lover Zari Hassan's 'co-parenting' relationship seems to be getting better by the day.
The Tanzanian singer recently gifted the mother of his two firstborn children a brand new light-blue Bentley.
Flaunting her expensive gift on social media, the South Africa-based Ugandan socialite posted a picture on her Instagram account posing next to the car with a huge red ribbon wrapped around it.
She went on to thank Platnumz for the gift.
 "Thank you T's dad (Princess Tiffah) for the top-up," she wrote, with a prayer emoji at the end.
Read Also:Zari Hassan addresses claims she was excluded from deceased husband's will
Zari's newly acquired Bentley is an addition to her already existing impressive car collection worth millions that include an Audi Q, a Range Rover Evoque and a Black Mercedes Benz E250 among others.
Responding to claims that the collection was bankrolled by suitors, the businesswoman, in a recent interview, however, clarified that all her car purchases were from her own earnings.
"Good morning to all. From last year I knew I wanted to buy this car. Been working so hard waking up at 4am at times, even taking gigs I shouldn't have but I knew every cent will count. I don't have a sponsor nor am I dating. I earned it, I paid it," she said.
Diamond snubs Tanasha Donna
The timing of the gift has, however, raised eyebrows among netizens who were taken aback by the fact that he bought Zari the car estimated to be worth Sh30 million when his ex-girlfriend Tanasha Donna - the mother to his last born son Naseeb Junior - turned a year older a day before and he did not celebrate her nor mention anything about it.
Read Also:Zari Hassan's advice to women dating men who are not ready to settle
After their split, Donna came out to and revealed that he does not financially support their child, Naseeb Junior.
"No, I have been doing it all on my own, to be honest. I will be 100% honest with you. I am very real you know and I am not going to say something that is not the case and with all the respect I have for him, no he is not supporting," she said during a previous interview.
This was, unfortunately, Zari's song for the longest time until recently when she publicly shamed the singer for helping other people when he had neglected his own.
"But you don't know what your kids eat, or how they sleep if fees and medical insurance is paid. You will never please the world when your own are not happy and taken care of. You are selling a lie. Some people have become clowns to some of us," Zari wrote.
As a result, the WCB heavyweight reached out and asked to be involved in his children's lives and co-parent with Zari.  Judging from the adorable video calls with Tiffah and Nillan, they seem to be doing well.
Not too long ago, the singer gifted his son, Prince Nillan, a puppy and his only daughter a massive kitchen set to enjoy until he is able to visit them in South Africa.